When was the last time you and your leading love went to the movie theater? A night at the movies was once considered the best outing for couples. A dimly-lit space, plush seating, two hours of uninterrupted time to hold hands, a romantic love story unfolding on the big screen and, well, a yummy tub of buttered popcorn. Today, in the world of Redbox, Netflix, Hulu and the likes, convenience seems to trump the standard movie theater date night experience. But does it?
Date Night Guide investigates…
The Stay-at-Home Movie Date
PROS
Convenience: My husband and I have fallen prey to the ease of being able to watch a movie at home — and I'm sure we're not alone. At the end of a long day at work and/or with the kiddos, it is much easier to throw on our jammies, toss the popcorn bag into the microwave, pour two glasses of wine and just settle into the sofa. Oh, and we can hit pause for potty breaks whenever you want!
Options: There are so many movies right at our fingertips through live streaming on Amazon Prime Video, HBO and Showtime – just to name a few.  We get to choose the movie our hearts desire without checking showtimes, booking the babysitter and we can even change our minds part-way through if the flick is a flop.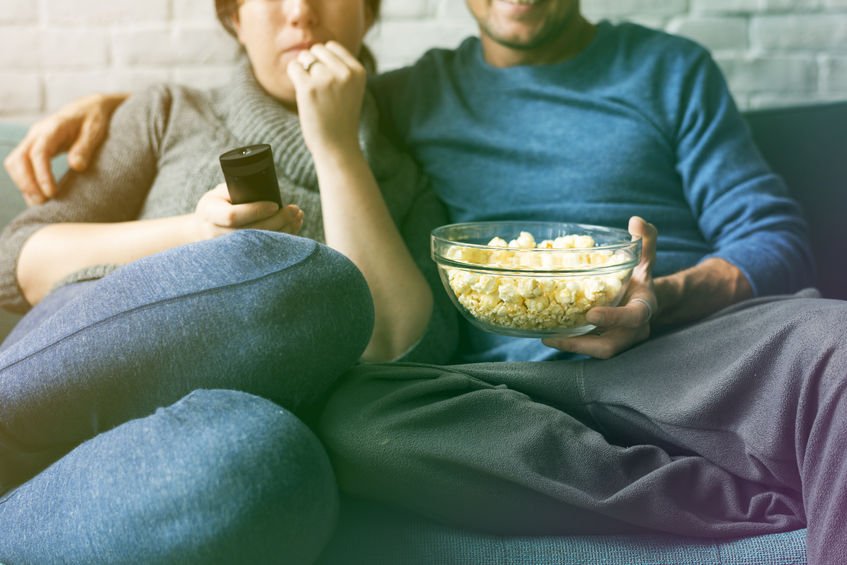 Cost: Since the remote control serves as our ticket, entertainment is often free (not counting the normal cable bill or monthly viewing subscription). Of course, there are pay-per-view options at additional fees if we opt for such films. Movie theater date nights can add up when you factor ticket prices and the can't pass up snacks because, admit it, you're addicted to those large boxes of candy too. That's in addition to the cost of the sitter too, if applicable. So couch potato status definitely pays off with this freebie deal.
Silence is Golden: You want to hear every word delivered by your favorite movie stars. You can turn the volume up or down as you wish and not have to worry about noisy co-viewers laughing, talking or loudly chewing on snacks.
CONS
Complacency: With such accessibility comes complacency. You might have once chosen to sit close and cuddled up on the loveseat with your lover. But, be honest, at-home movie night just isn't that sexy anymore. Do you still snuggle side-by-side, or have you each claimed your favorite spot on separate couches? The at-home movie date may not be as special as it used to be out of mere convenience. But hey, you can always jazz it back up again.
I get it… staying home is just easier sometimes and if the movie theater is not for you two, then that's alright. If you do stay home for your movie date, I implore you to make an event out of it. Break out your cute comfy clothes and a special bottle of wine (and perhaps use the nice wine glasses for once). Make a special snack like Panko-Crusted Chicken Bites with Apricot Mustard Sauce from Martha Stewart or Rachel Ray's Super Nachos. Light a candle, cuddle up together under one blanket and relax.
The Movie Theater Date
PROS
Excitement: We're a society that doesn't like to wait and we seek instant gratification. We want the latest and greatest with just about everything, like technology products and snagging a date night table at the new trendy restaurant as soon as it opens. The biggest perk of opting for a movie theater viewing versus a night in is that you get to see the film you want as soon as it hits the big screen. Immediate satisfaction for your movie madness needs! Plus, the image is larger than life on the big screen with impressive audio that beats your standard living room TV.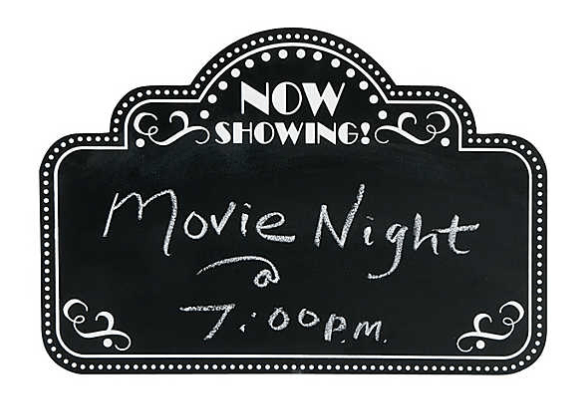 Deals: OK, we previously noted that theater date nights are more expensive than at-home screenings. But theaters have caught on to the ease of enjoying blockbusters at home and want to maintain your business. In fact, they're going out of their way to bring viewers back to the cinema with enticing discounted rates. AMC, for example, launched its AMC Stubs A-List where you can see up to three movies per week for just $19.95/month. MoviePass has an exciting deal where you can see three movies per month (from their rotating list of movies) for just $9.95/month. Talk about a cheap date!
Upgrades: Luxury theaters are popping up. Picture this royal treatment: a bar and full-service food delivery right to your reserved reclining leather chair, all with just the press of a button. Ta-da! Talk about service. I bet you're not catered to like that at home, right? You can even arrive early or stay late to have a drink at the bar. This is a full redefine of the movie theater experience. Comfort, romance and enjoyment… it's pretty enticing.
Making Memories: After all, it's date night… and, for many couples, that means a night out. Maybe you'll go to dinner first or grab a nightcap beverage after the movie to make a night of it. Getting out of the house can fuel fun memories that may otherwise never happen.
CONS
I am hesitant to list anything as a con because certain factors may be bothersome to some and not a big deal to others. For example: Yes, theaters are more expensive than at-home viewings but going to the movies is still a very affordable date night. Perhaps you'll have to wait in line to get your tickets… but that's just more time to connect through conversation before you're quiet inside. And maybe you'll need to hit the gym for a bit longer because you binged on soda and gummy bears… but that delish sweet with your sweetie was worth it!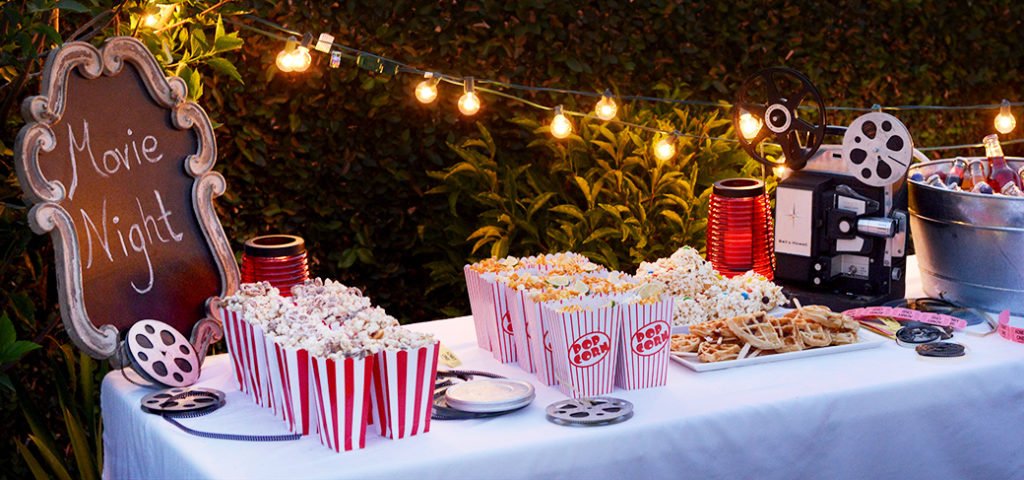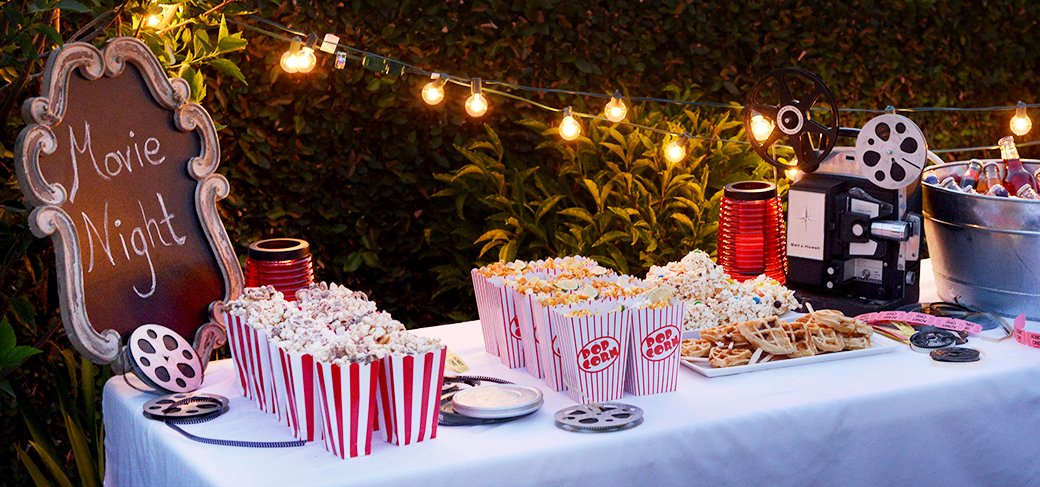 Conclusion…
So, is the movie theater date night extinct? I don't think so and it shouldn't be! Both options are fun but movie date night is a tried and true experience thanks to theaters, so we vote that movie date night at the cinema still takes the cake. Yup, we're all for checking box office times instead of streaming to make the traditional movie date night happen on occasion! Oh, plus enjoying at-home movie night in between too. Here are some other ideas: For an upgrade to your at-home experience, try a backyard movie night or at-home film festival for two. And for a cool time out, head to the drive-in theater. Date Night Guide has tips on these ideas!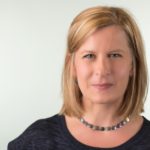 About the author: Jennie Clarke is a Central Florida based mom of two boys, wife to her supportive husband Jason, a Certified Pediatric Sleep Consultant with Good Night Sleep Site Florida, allergy-friendly food enthusiast and lover of the outdoors. Now in the midst of life after kids (and blogging about it), she and Jason work to bring focus to their marriage… (hello, date night!).