What's the glue helping couples stick together? Laughter! Laughing with a romantic partner is like sipping love potion, according to a study published in the journal Personal Relationships. Laura Kurtz, a social psychologist from the University of North Carolina, explained her conclusions in a Time article:
"Moments of shared laughter are potent for a relationship," she says. "They bring a couple closer together."
And there's also a correlation to how couples recount stories about their relationship. Findings show that the more giddy couples are when talking about joyful moments together, the more likely they are to stick together. So, how do you achieve these laughable moments and happily stick out your relationship? Try working your funny bones with these laughable activities:
1. Stand-Up 
Want a good giggle with your love? Go straight to the experts! Many of today's top comics poke fun at themselves and, in turn, invite you to laugh at them as well. And since you can probably relate to the humor, go ahead and laugh at yourselves, too.
When you go to comedy club, everyone has the same goal: a night of laughs! And there's plenty of time to chat with your partner in between stand-up acts and, of course, again on the ride home as you laugh about the evening's best jokes.
In recent years, comedians have sold out huge performance venues, produced tons of Netflix specials and even streamed on Pandora.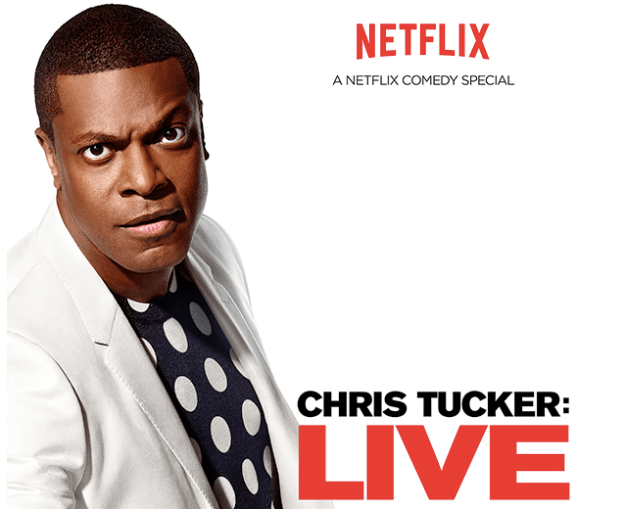 2. Improv Show
Perhaps improv comedians deserve a second round of applause. There is no prepared set but, rather, impromptu hilarity fueled by audience participation. Yup, you get to add to the show and test the skills of the funny stage performers. I think the originality and fresh fun makes for even better laughs, don't you? Bonus: A Huffington Post article explained how an improvisation approach ignites a wonderful mindset for life.
3. Comedy Theater
Why settle for funny TV screen time when you can amp up the laughs with a live comic theatre performance? Some associate the stage with drama but hilarious plays, like Book of Mormon, allow couples to forgo formal theatre etiquette and laugh out loud to their heart's content. Check out comedy theatre schedules in New York, Chicago, Dallas or wherever you live.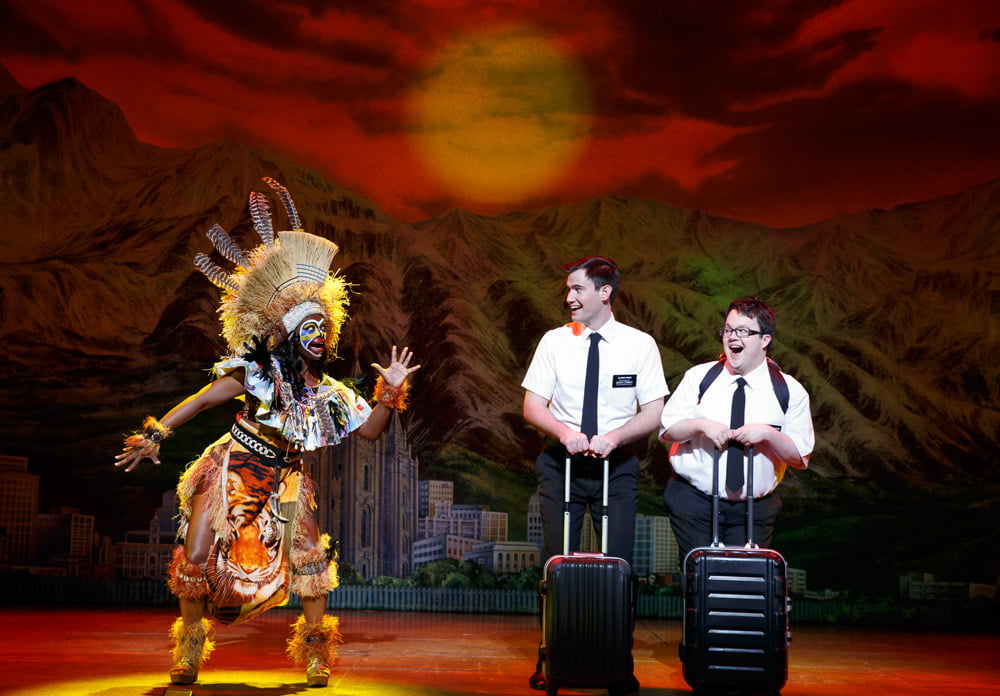 4. Ask a Question
You may already know that Date Night Guide suggests fun conversation starters. They are really useful! But when my husband and I first got together – you know, the "getting to know ya" phase" – I would ask him a simple question, "Tell me something I don't know about you?" I have no idea why but that question always evoked the funniest conversations as we discovered random tidbits about each other. Think about it… Aren't there hilarious things from your past that your partner may not know? Share!
5. Laughter Yoga
Stretch beyond your standard date night routine with a unique yoga class because, after all, increased flexibility, deep breathing and amped up endorphins are good for your relationship! Ever heard of laughter yoga? Yup, it's a revolutionary well-being workout good for the mind, body and soul. Laughter yoga is a combination of deep breathing exercises from yoga and laughter, which oxygenates the body and brain and, therefore, makes us feel healthy, happy and energetic. Playful giggles in a group setting can quickly work up to real, contagious laughter. Find classes through Laughter Yoga University.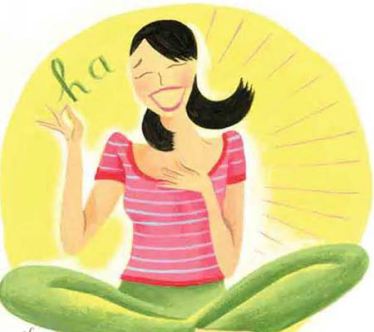 6. Board Games
I admit that I haven't purchased a new board game in years. But that's because the oldies I have still bring out the laughs. Gaming may seem simple and silly, but this playful activity allows couples to interact face to face with opportunities to giggle and even learn something new about each other. My husband is not so good at board games and, so, that results in big-time fits of fun. For Scrabble or UpWords, he often makes up words and offers a definition to see if I call bluff; and for Scattegories, his responses are usually ridiculous (in the best way)!
Two of favorite board games are best played when hosting other couples. (1) Heads Up: If you like playing Taboo or other charade-style games, you'll love this hilarious, seven-category, timed challenge created by comedian Ellen DeGeneres. You may have seen this segment on her daytime talk show and now you can play with your partner and friends by using the mobile app. Premise: Hold your phone up to your forehead and guess the words based on clues hilariously acted out by friends. Oh, and you can record the shenanigans as well on your smartphone to watch it all back later for more laughs. Available on iPhone and Android. (2) 10. Loaded Questions: This question-fueled "who said what" game evokes laughter, discussion and the chance to reminisce. Premise: Players answer loaded questions and one person guesses who answered what. Answers can be as innocent, racy or funny as you desire. There is also an adult version with more suggestive queries.
7. Streaming Funny Videos
I'm not talking about crazy cat videos, though those are pretty funny, too. Sometimes (ok, all the time) I fall asleep before Jimmy Fallon but, luckily, his YouTube channel houses all of The Tonight Show's #hashtag segments. Jimmy asks viewers to tweet a funny story using a specific hashtag; for example, #ThatWasTMI, #WorstDate #TextFail. The videos are short so my partner and I don't have to commit to a two-hour comedy flick. Watch for just a few minutes or go ahead and binge on these tweet-tastic clips.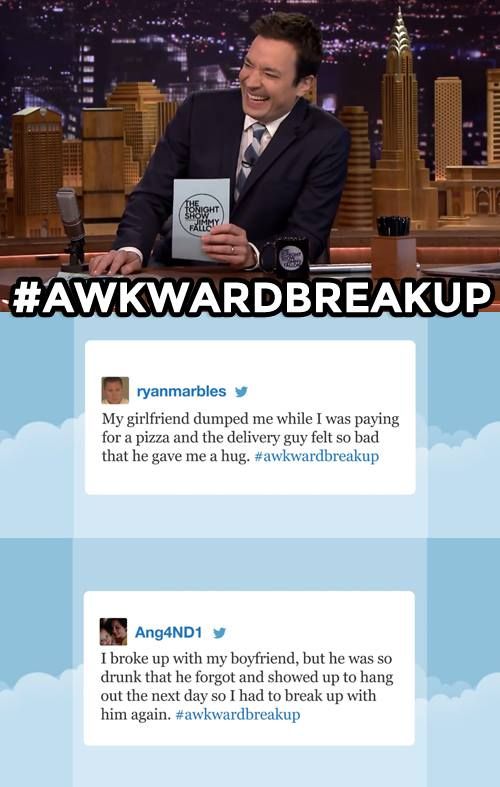 8. Laughter Therapy
Many couples find clarify as individuals and as a twosome through couples counseling and life coaching. Well, who says that therapy has to be totally serious all the time? Laughter can reduce stress and boost the immune system, and that sounds like a healthy balance for oneself and one's partner. Laughter Online University offers many wellness methods centered on laughter, including coaching and mentoring.
9. Go on a Playdate
I find that classic date nights encourage goofiness. I mean how can you keep a straight face as you bowl or putt-putt golf with your love? And don't get me started on hitting the roller skating rink or ice skating rink! Come on… the cliché of circling round hand-in-hand while knowing that one of you will surely wipe out and create the most epic date night memory. How about dressing up to go country line dancing? Dancing is fun in general but laughing at yourselves as you mess up the moves and step on each other's feet will bring on the chuckles.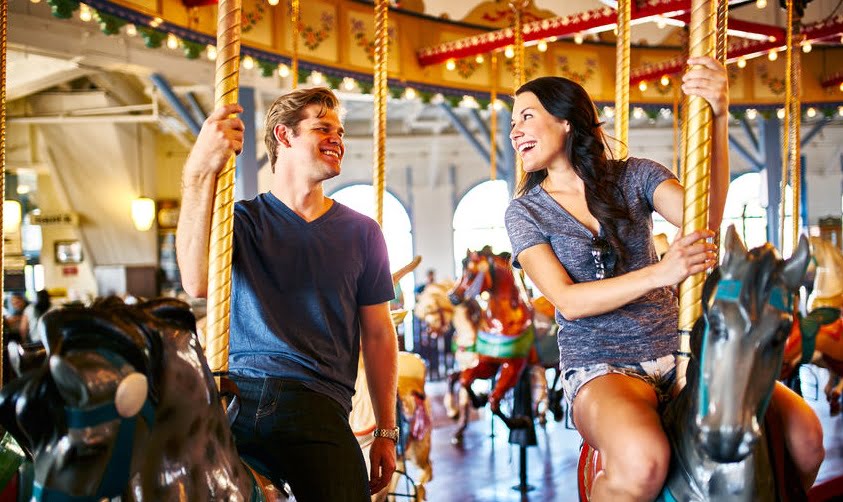 10. Play Minute to Win It
NBC's Minute to Win It show featured fun couple challenges using household items that had to be completed in 60 seconds. With the clock ticking, adrenaline is high and so are the high-pitched laughs. This game is best with other couples. Can you and your partner shimmy an oreo cookie down your face faster than your pals? Find out!
Need me convincing…
Ok, let's be serious for a moment! A Better Marriage article boasts that couples who laugh together may:
Strengthen their friendship
Cope more easily with difficulties
Better encourage and support each other with personal growth
Increase energy and productivity
Deepen emotional and physical intimacy
Increase marital satisfaction
Add balance to lives
Encourage selves to loosen up
Increase feelings of gratefulness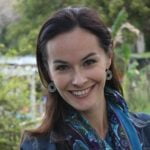 Nancy DeVault is the managing editor of Date Night Guide and a contributor to publications such as Babble, AmeriDisability Services Magazine and Orlando Magazine. She enjoys outdoor adventures with her husband and toddler.