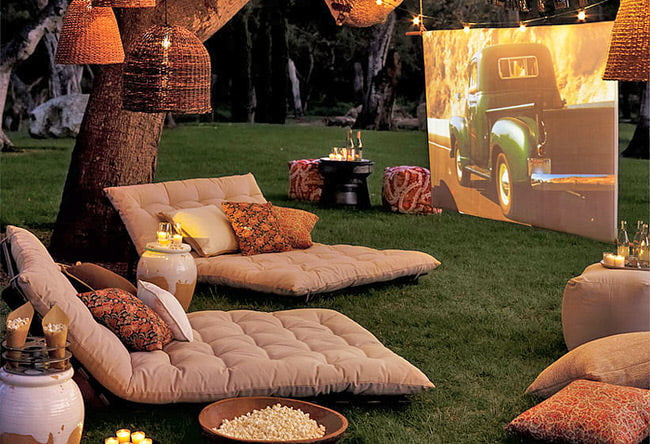 From vintage drive-in theaters to modern stadium-seating cinemas, couples have maintained a long-standing love affair with movie date nights. Amp up "reel" fun with a backyard movie night date! Here's what you need for a DIY production…
Screen
Wall: You can project a video image onto any light-colored flat surface, like the side of your house or the garage door.
Household Linens: Go low-tech (aka cheap) simply using a white bed sheet. Fasten the top of the sheet to a clothing line and anchor the bottom with rocks or stakes. Or, build your own screen stand with two-by-four planks and two rock-filled buckets as stands; then, secure the sheet to the wood with a staple gun.
Black-Out Cloth: For just $9 a yard, you can greatly improve picture quality (vs. a bed sheet) by creating a screen out of black-out fabric from your local craft store.
Inflatable Screen: If you plan to make backyard movie night a standing date night, invest in an affordable inflatable screen. Just plug in for fast set-up and breakdown. Or rent an outdoor screen from a company like Fun Flicks.
Self-Standing Screen: Forgo DIY assembly by opting for an outdoor self-standing projection screen. Simply pop up and you're ready for opening credits.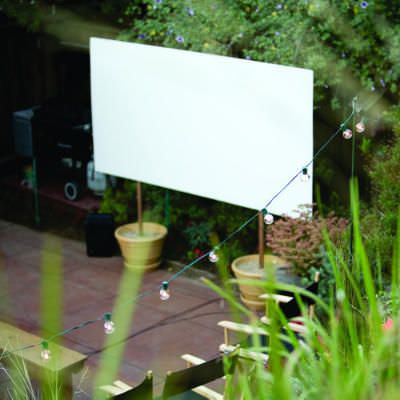 Projector
Television: Consider re-positioning your television from the living room onto the outdoor patio! No need for added screens, projectors or speakers with this easy fix.
Portable Projector: For less than $100, you can buy a portable projector that is compatible with your laptop, tablet, DVD player and smartphone.
Phone Projector: Dial into movie night with your film buff using your mobile! This portable device fits most smartphones without electricity to amplify videos onto a flat viewing surface.
Rentals: You may be able to rent a projector from your local library or school.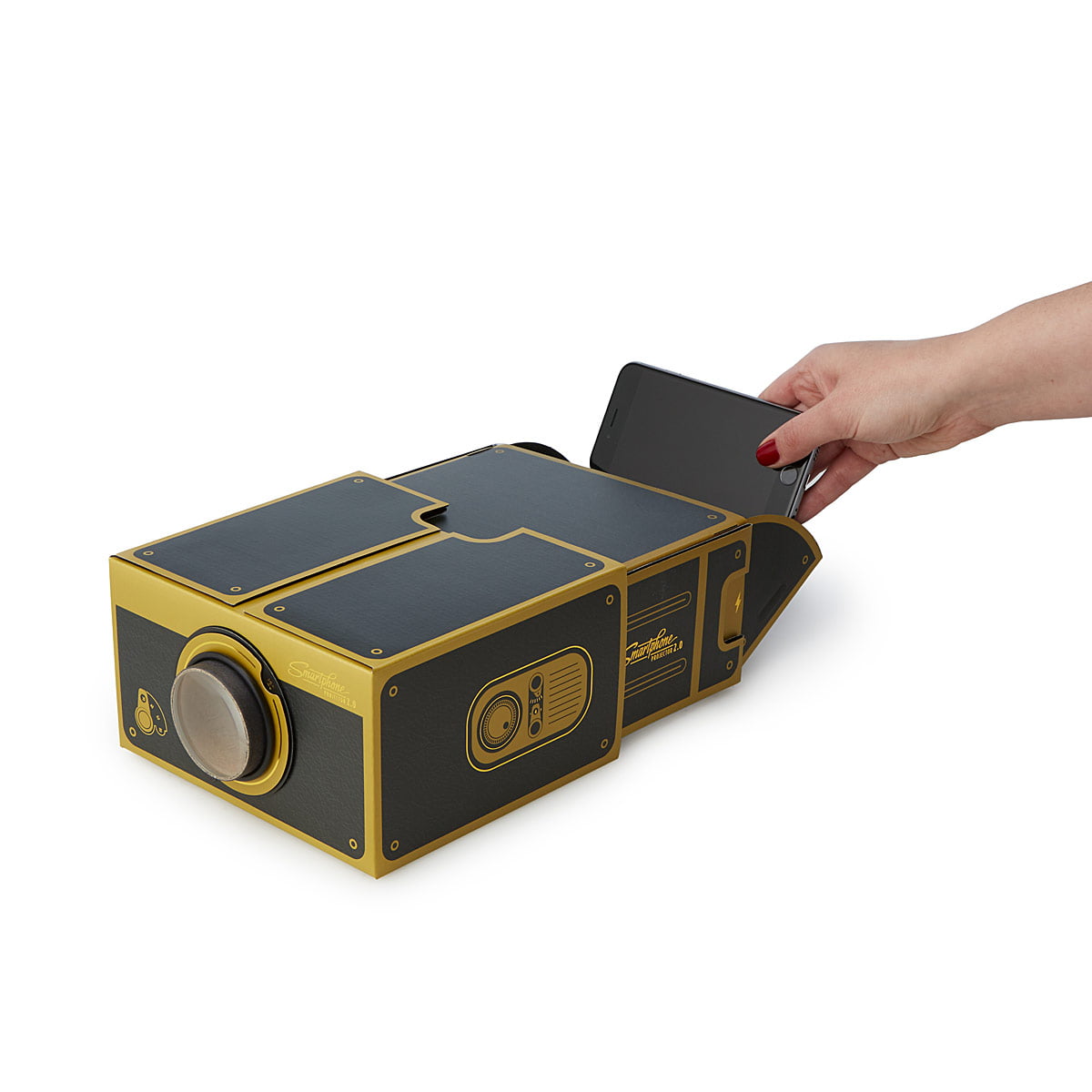 Miscellaneous Equipment
Don't forget portable speakers, an extension cord and, depending on selected equipment, either a folding chair or table to place the projector on. And, don't forget bug spray or citronella candles.
Seating
Cozy up on a picnic blanket, blow-up mattress, sleeping bags, tailgate chairs, patio furniture or bean bag chairs.
Movie
How private is your backyard? While you might want an adults-only movie night with your date, consider the film's rating if neighbors might be able to get a glimpse of the show. You don't want the neighboring children to see a R-rated sex scene streaming in your backyard theater! Maybe opt for a PG-13 rom-com or action adventure.
Snacks
Eat up movie night with upgraded popcorn snacks. Use a DIY popcorn box template, a gourmet kernel and seasoning set or try a flavored popcorn recipe. Stop by the store to pick up classic movie candy or order a complete assortment online. Stock an ice-filled cooler with water, soda and adult beverages.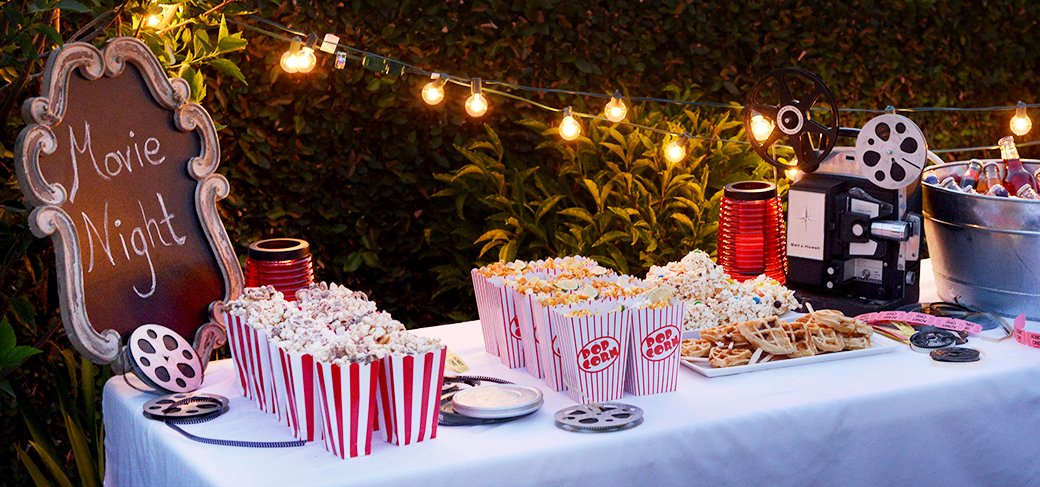 Lighting
The movie screen will emit light but you can add ambient mood lighting with camping lanterns, tiki torches, patio lights, candles and old school Christmas light strings.
A backyard movie night is also a great idea for double dates, a couple's gathering or block parties. Check out BackyardTheater.com for some more inspiration.
Feature image courtesy of The Garden Glove, a resource for creative gardening tips, ideas and DIY projects.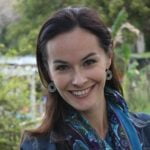 Nancy DeVault is the managing editor of Date Night Guide and a contributor to publications such as Babble, AmeriDisability Services Magazine and Orlando Magazine. She enjoys outdoor adventures with her husband and toddler.