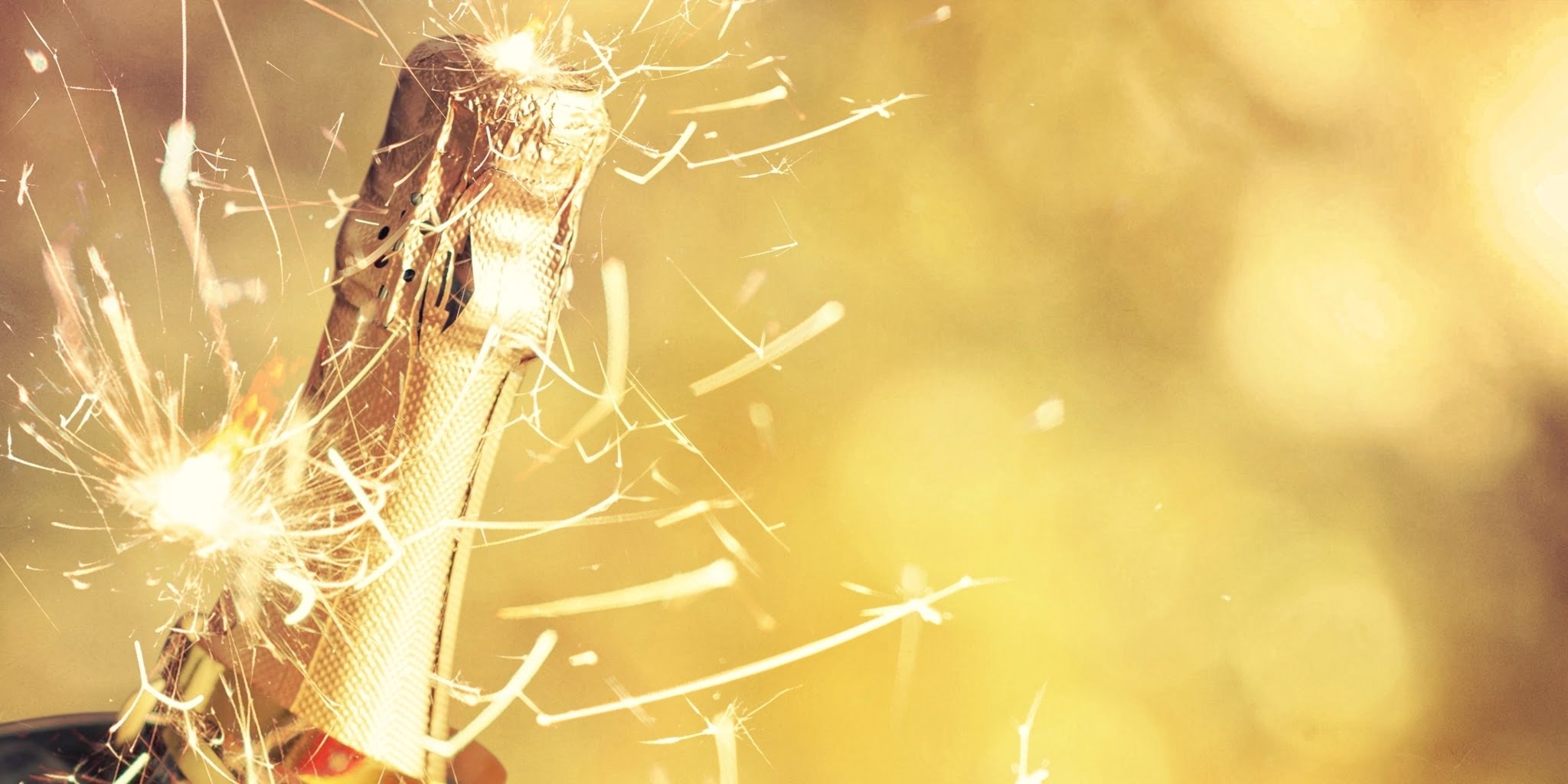 If you're looking for ways to bond in the hours leading up to the ball drop, we've rounded up some of our favorite ways to make New Year's Eve for two extra special. From cocktails to countdowns, resolutions to reservations and fondue to foreplay, we've got something for all couples. No matter how you spend your hours counting down to midnight, do it together and topped with a kiss!
1. Play the NYE Couples Game
This cute and clever couples card game comes with 32 cards featuring true or false, multiple choice or open-ended questions that you can download and print to play anywhere. The pretty pack was designed by January + May and is a great way to reflect on the past year and stir up some laughs at the same time.
2. DIY Countdown Bags
If you're looking for a way to pack in as much fun as you can this New Year's Eve, why not craft up some countdown bags? Open one bag every hour on the hour as you countdown to midnight to reveal a new surprise waiting inside. You can completely customize this idea to suit yourselves and how you want to spend your evening. For example, include everything from a candlelight dinner, holiday movie, photo prop fun, a game, writing out resolutions and much more. For the element of surprise, coordinate this effort to wow your love with an unexpected pop of festive fun!
3. Create a 3-Course Meal for Two
Skip the reservations and simply stay in. Decide on your menu ahead of time and shop for ingredients days in advance. Then, on the night of NYE you can work together to create a magnificent meal hand-in-hand. Set the table, dim the lights and turn on soft music to create a restaurant-like atmosphere. Go ahead an indulgence in romance and a rich meal! Your diet doesn't begin until tomorrow, right?
4. Write Twosome Resolutions 
Sip champagne and toast to the future. Set lofty goals, kick old habits or simply put plans in motion for things you would like to cross off your list in the coming year. Just putting pen to paper can help you set the course for success. You can draft individual lists or, even better, make a collaborative couples resolution agenda.
5. Capture a Moment in Time
Create a time capsule together by jotting down some details about yourselves in the here and now, and seal it up to be opened at a later date. You can include love letters to each other, a current photo of the two of you and perhaps clippings from the day's newspaper. Or, use these handy templates to recount your favorite things and write predictions for the future. Pack everything up in a mason jar or large envelope and put a "do not open until 'X' date" on it.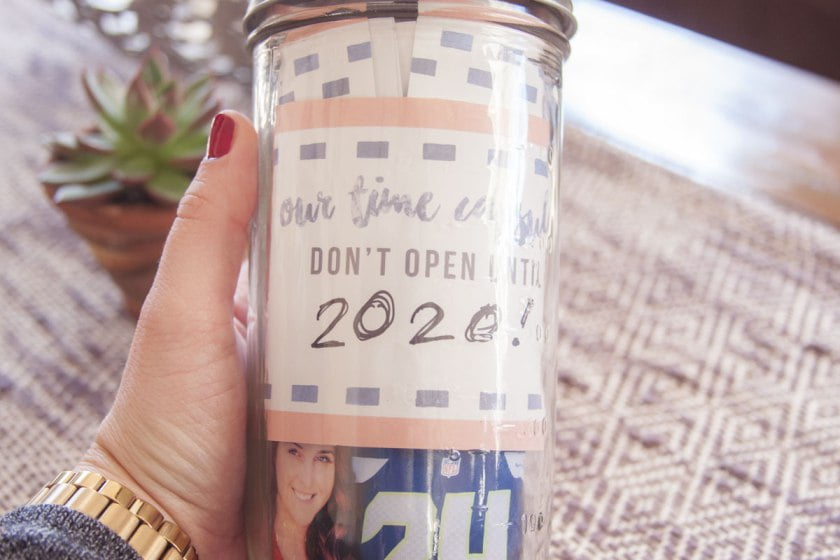 6. Host a (Double) Cocktail Party
Mix up some of your favorite libations and don't forget to include all the trimmings to make the evening feel special. Sample different beers or wines, or create a signature cocktail. Then pair it with an impressive charcuterie board or cheese plate and enjoy sipping the night away while you wait for the ball to drop.
7. Make a Commitment
If goal setting is your scene, why not shoot for the moon and sign up for something spectacular in the New Year to look forward to together. Book concert tickets for your favorite band, register for a mud run or marathon or book a vacation to a must-see destination you've always dreamed of traveling to.
8. Have a Pajama Party
Climb into your cozies and cuddle up on the couch for a night in. Have a movie marathon or binge watch a Netflix series. Pair your sofa session with your favorite snacks and beverages for a relaxing rendezvous for two in the comfort of your own home.
9. Channel Your Inner Child
Bust out the board games, fire up the Xbox or DIY some awesome Minute To Win It Games and challenge your partner to the ultimate showdown of skills. A little healthy competition is a great way to add some spark to your relationship.
10. Indulge Yourselves
Book a massage for two at your local spa or stay in to pamper each other at home. Draw a romantic bubble bath and sip bubbly! What a great way to wash away the stress of the holiday season and enter the New Year refreshed and ready for anything.
11. See Your Year in Review
Spend time reflecting on the past year with these cute printable cards that help you recall everything from your most memorable moment to your biggest lesson learned, and lighter fare too including your top movie and song picks of the year.
12. Get Outside
Escape to the great outdoors and spend the evening hand-in-hand strolling the streets, skating on a frozen pond or attending a local ball drop celebration. Whatever your stride, take in the sights and smells of the season and enjoy time for two in the wide open. Don't forget to gaze up at the stars at midnight and make a wish for the New Year.
13. Stay Overnight in a Chic Hotel
Splurge on overnight accommodations at a local hotel and order room service right to your door. Explore the hotel and make use of the amenities like the hot tub or hotel lounge, or simply enjoy "do not disturb" time behind closed doors. This idea may require a bit of pre-planning unless you luck out and snatch up a last minute deal.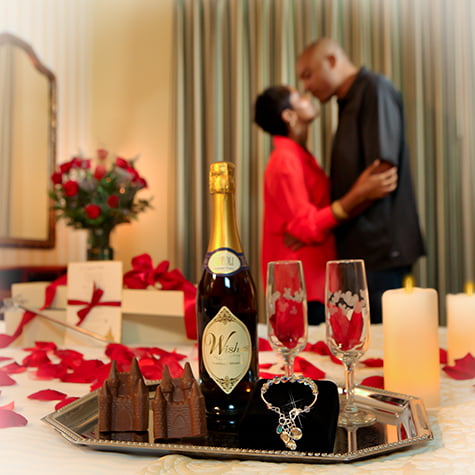 14. Be the Star of the Show
Transfer your favorite photos to a USB or plug your laptop into the TV for an engaging evening of memories made, trips taken and milestones reached this past year together. Use the slideshow feature and pair it with a beloved soundtrack to turn the whole experience into a movie montage featuring your favorite twosome.
15. Watch the Ball Drop on TV
For some couples, this tried and true tradition is their favorite way to ring in the New Year. Whether you watch on your local station or tune in to see the ball drop over Times Square, there are plenty of amazing performances and special guests to keep you tuned in and entertained for hours. Take it to the next level by dressing up in your finest attire and toasting with bubbly just like they do on the TV.
16. Have Fondue for Two
Whether you prefer cheese or chocolate, or both, a fun night of noshing on delectable delights over an open flame is a delish way to ring in the New Year. Cheers to the foodie festivities with the one that melts your heart using recipes like beer-infused cheese fondue or white chocolate champagne fondue. Dip 'til your hearts and tummies content.
17. Plan 12 Awesome Dates
Get your thinking caps on and the calendar out to brainstorm twelve epic date night ideas for the coming year. Plan a different idea for each month and shake up your routine. Consider the time of year, trips you might like to take, bucket list items you want to check off or even goals you want to meet together. Resolve to make date night a regular and permanent habit to keep!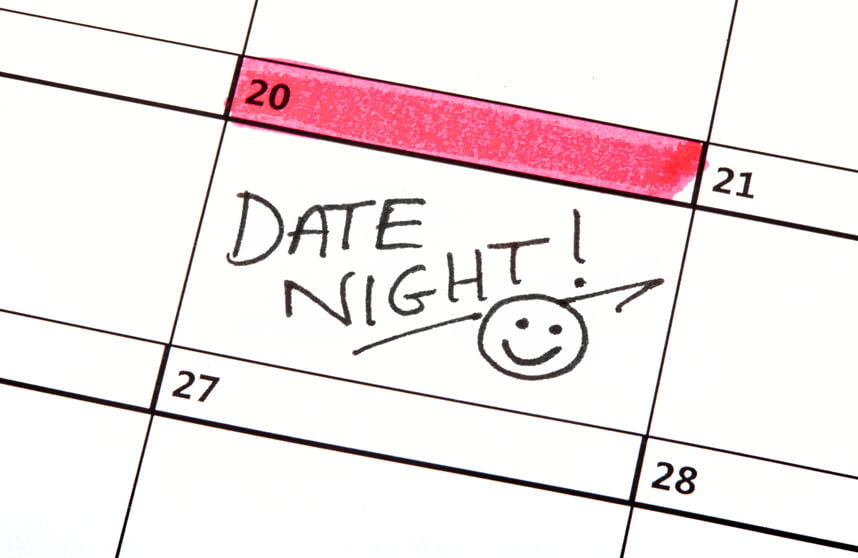 18. Pucker Up for an Epic Pic
Start a sweet annual tradition with a photo memory of your midnight kiss. Include props and backdrops to set the scene and either recreate the same photo every year or come up with a new idea for a fun series of smooches you won't soon forget.
19. Catch a Midnight Movie
Check your local listings for flicks playing after dark and spend the evening watching one of this year's blockbusters on the big screen. Splurge on one of the fancy theatres with recliner seating so you can snuggle up to your sweetie.
20. Call It an Early Night
Head upstairs and take your celebration into the bedroom. Set the scene early by making up the bed, primping the pillows and adding fresh flowers. Then light candles, put drinks on ice and spend the evening in-between the sheets. Whether you watch TV, play trivia or get creative under the covers (wink-wink), the night is yours to explore and enjoy with much-needed time for two.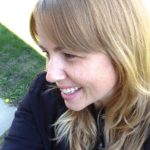 Angela Long is a freelance writer and lifestyle blogger who shares her love of design and DIY inspiration at perfectsmerfect.com. Angela is a proud momma to three littles and is raising her tribe with her husband in Brooklin, Ontario. And after ten years of marriage, she admits they're still working on making date night a regular habit!