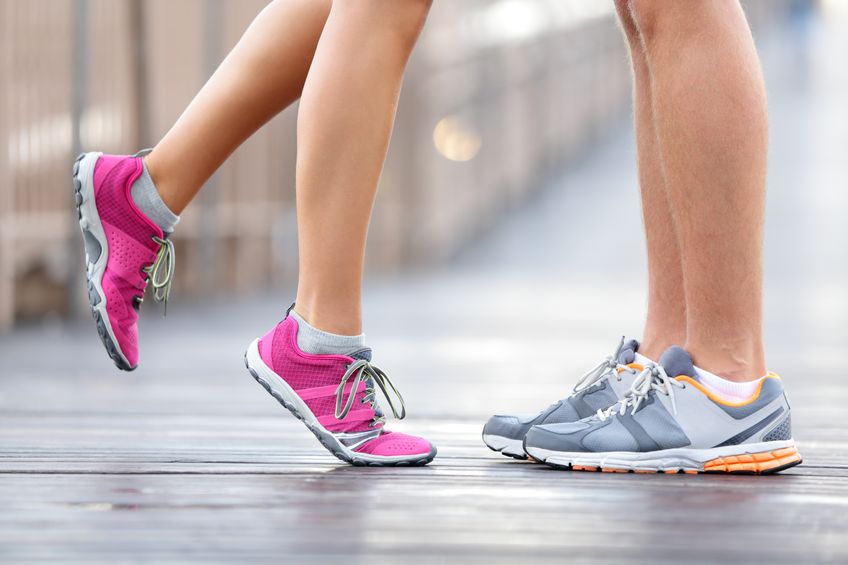 I'm thankful to be racking up miles of marriage milestones. The race began thirteen years ago when a funny, twenty-something, out-of-shape bachelor ran a half marathon with me in 36-degree weather to propose at the finish-line. Little did I know that he was not at all interested in the race but, rather, winning over my heart. In front of our families and thousands of exhausted competitors, my runner's-high spiked as I said "YES, I'll marry you!" Now, 12 years into wedded bliss (with a few blisters), my husband Paul and I are still happily running the course of married life together.
I love reminiscing about the slow-paced, beginner stages of our relationship: dating, engagement and first years of marriage. Today, we're busy, working parents of a toddler and life seems to be a constant sprint. Neither of us have as much time as we'd like to hit the pavement for a run. However, time and time again, I can't help but compare the similarities of running and marriage.

Training
Perhaps dating was our first training phase. We didn't have a coach calling the shots with a play-by-play handbook but we decided that our relationship could go the distance.
As I always did with racing, I physically and mentally prepared my body for our wedding day and, then, pregnancy. Sometimes it seems like we're running different stretches of life's race… dashing past each other to hand off the baton (um, I mean baby) and manage life's demands. But, I know that Paul and I are on the same team – just with uniforms stained with baby goop versus sweat. I know that these 'training' drills are gearing us up for future marriage milestones.
Goals
I've set objectives for mile splits, overall race times and different endurance events from 5Ks to triathlons. Well, now, Paul and I are focused on our shared goal of raising a family. We're also focused on maintaining and improving our relationship so we can remain loving teammates. Date night helps to fuel this because we believe that couples are happier and more connected when they spend quality time together. Our race pace might falter here and there, but we're determined to stay the course of marriage.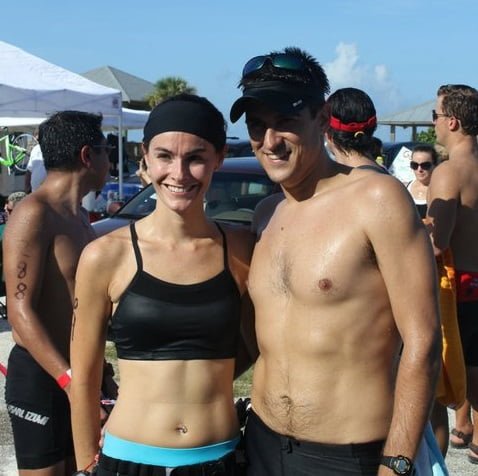 Course
Marriage is a long-distance event, but we don't have a sporty navigation watch directing us. I don't know what twists and turns lay ahead, but expect that at some point we'll feel as if we've taken a wrong turn. Keeping the best interests of our marriage and family in mind will get us back on track.
Recovery
Runners are often sore; similarly, the bodies and minds of spouses get tired with the heart muscle most susceptible to pain. We'll stumble on life's hurdles, but we can recover together to rebuild strength!
Fans
Cheers amp up motivation, especially during moments when you want to give up. Heck, I've achieved race records thanks to the enthusiasm of strangers at water stations. Similarly, the encouragement of supporters is essential for a marriage whether that be from your bridal party, your favorite double date couple or other fans. I'm lucky to have a familiar cheering squad of loved ones. I wish the same for all couples and hope Date Night Guide provides added support.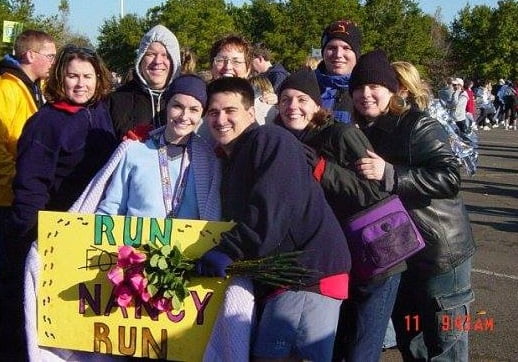 Victories
A race contestant physically crosses the finish-line and claims a medal. Perhaps the awards of marriage are cherished milestones: the first kiss, the I Do's, the pregnancy test, memorable date nights, that dream vacation and many simple hugs and smiles. Or getting an awesome jogging stroller on clearance so you can run together as a family (a victory for this bargain shopper)! I'm excited to rack up miles of marriage milestones with my favorite teammate (my husband) and our extra squad member (our son).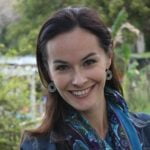 Nancy DeVault is the managing editor of Date Night Guide and a contributor to publications such as Babble, AmeriDisability Services Magazine and Orlando Magazine. She enjoys outdoor adventures with her husband and toddler.