Get cheesy with your partner with a date night cheese plate that pays homage to fromage! Cheese plates can be great as an appetizer while your cook dinner together, an upgrade to popcorn for Netflix binges or the perfect pairing to game night ─ aka my favorite date night-in as of late.
If you're serving cheese as an after-dinner course (with a glass of wine or two), the Food Network suggests preparing 1 to 1 1/2 ounces of each cheese per person… but we're not judging so go ahead and indulge.
Here are five pointers on how to assemble a date night cheese plate.
Ask a Cheesy Expert.
You can build a cheese plate by using goods from either an artisan cheese shop or even your neighborhood supermarket. Either way, a cheesemonger ─ yes that's the official term for a cheese professional ─ can offer insight into taste, country of origin, complementary foods and more. Specialty grocers, like Whole Foods Market, staff the cheese department. Ask questions and, most importantly, ask for samples. When shopping at a standard grocery, ask deli employees for their cheesiest advice. No help? No worries! Use your best judgment and enjoy.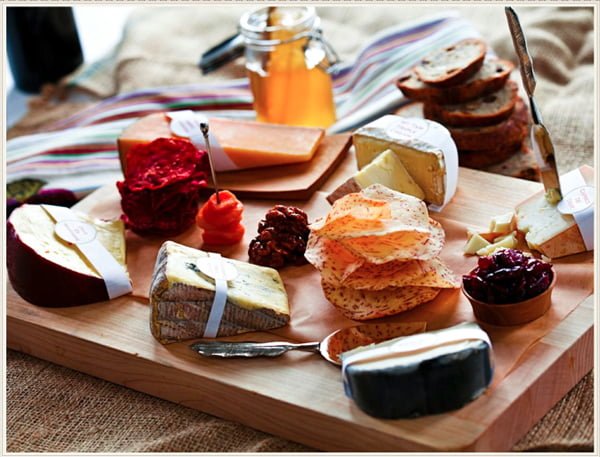 Variety is the Spice of Life (um, Date Night).
A classic cheese plate incorporates different milk types ─ goat, sheep and cow ─ and a range of textures and flavor profiles. There are about 2,000 varieties of cheese, but you may consider opting for a mix of 3-5 types such as a hard cheddar, stinky blue, semi-soft or creamy brie, aged gouda and maybe a flavored or herb-crusted cheese. I'm married to a Spaniard so manchego is sliced often in our house on date night; it's not my favorite but marriage is all about compromise, right?!
Dare to Pair.
Yes, cheese is the main squeeze here but half of the fun is working in yummy fixings that pair well with cheese. Options might include crispy bread, crackers, sliced apples or pears, fresh berries or grapes, jam or chutney, dried fruits (raisins, figs, dates or apricots), nuts (almonds, walnuts or shelled pistachios), honey and a bit of savory like coarse mustard, olives or pickles.
Wait to "Say Cheese."
Experts recommend bringing cheese to room temperature for 30 minutes to one hour before eating to reveal flavor subtleties. Also, pre-cut cheese before serving to enhance both presentation and snacking access. Position cheese on a wooden cutting board, cake stand, serving platter or standard dinner plate with small knives and spoons (for serving only as you've already sliced the cheese).
Milk the Moment.
If you were presenting a cheese plate for a party, you'd add label sticks. But this is date night so just relax… refill your glass of wine, set up the board game and get your cheese on.
Photo Credits: American Cheese Society (feature image) and CheesePlate.org.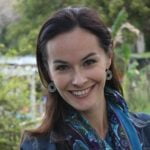 Nancy DeVault is the managing editor of Date Night Guide and a contributor to publications such as Babble, AmeriDisability Services Magazine and Orlando Magazine. She enjoys outdoor adventures with her husband and toddler.