New Year's Eve is an exciting time, especially for couples. You have the opportunity to not only celebrate the year's achievements but also your future to come. A new year brings new possibilities, new beginnings and new ways to deepen your (new or old) relationship. Want to end the year on a high end? Pack your bags to make one last memory for the year. Here are ten epic destinations: 
Las Vegas, NV
Where is showbiz at its best on New Year's Eve? It's Vegas, baby! Book your flight and hotel early for this massive 3-mile street party full of over 300,000 people. Second only to New York City's Times Square party, the Vegas Strip is sure to impress with its fireworks and noisemakers. Expect a raucous time on the Boulevard with the endless bars and clubs. And who could forget the many wedding chapels in case you and your love decide now is the time to tie the knot!
Fireworks will erupt from the rooftops of the ARIA Resort & Casino, MGM Grand Hotel & Casino, Planet Hollywood Resort & Casino, Caesars Palace, Treasure Island, The Venetian and Stratosphere Casino Hotel & Tower at midnight and last just under 9 minutes. If you can't grab a spot with a roof-top view, no biggie. Just find a parking garage and head to the top.
Stay: The Stratosphere Casino Hotel & Tower offers one of the best views to watch the night sky burst with color from the tallest freestanding observation tower in the U.S. You'll have fine dining, lounges, the highest thrill rides in the U.S. and SkyJump Las Vegas at your fingertips. The hotel has several New Year's party packages available.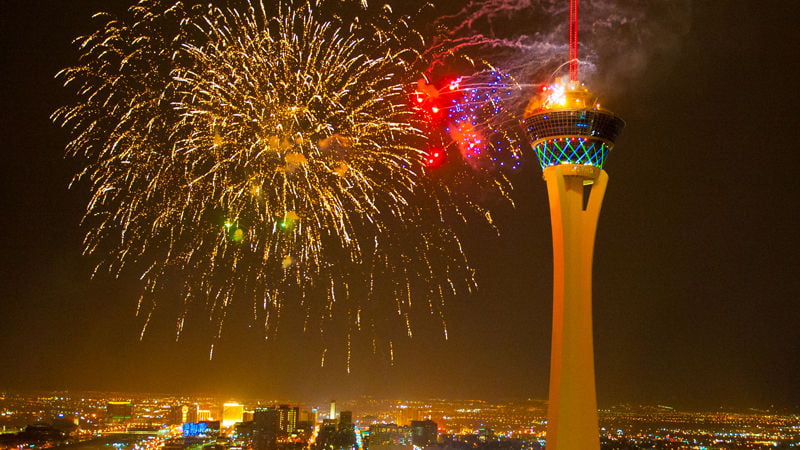 New York City, NY
New Year's Eve in Times Square is quite pricey but marking this once-in-a-lifetime celebration off your bucket list may be worth the extra coinage. Standing with 1 million people and watching with the world as everyone counts down to midnight for the New Year is an illustrious moment to share with your dearest.
Stay: Skip the many hours of standing in the street awaiting the big moment and book a hotel that offers views of the ball drop. Casablanca Hotel resides in the heart of Times Square and Broadway Theater District giving you easy access to major attractions. The best part about staying at this specialty hotel for New Year's Eve? Rooftop access for hotel guests to watch the ball drop! Book the New Year's Eve Package for a stress-free celebration.
The package includes: a security pass to enter the restricted Times Square celebration area, prosecco toast on the roof while watching the ball drop, tickets for two at a dinner party with open bar and Broadway entertainment, after dinner cordials and ports, wine and cheese appetizers every evening from 5-8pm, piano music by James Newman, complimentary in-room bottle of prosecco and chocolates, passes to the fitness center, deluxe breakfast buffet and breakfast/brunch on New Year's Day at the Brooklyn Diner. Please note that this package does require guests to be at least 21 years of age and reserve a minimum of five nights.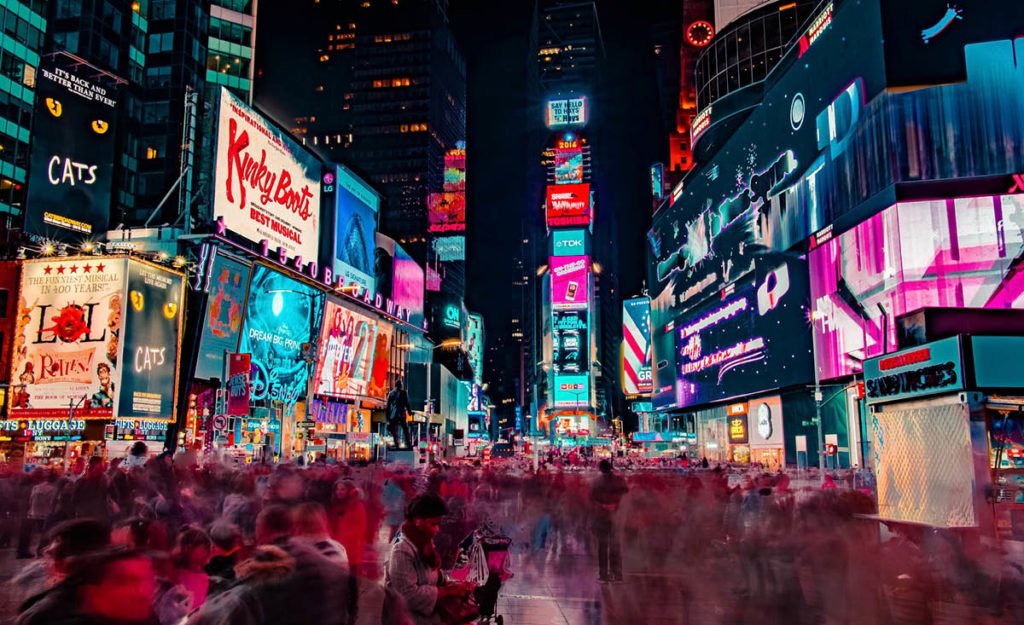 San Francisco, CA
Voted one of America's favorite cities, the unusual weather, distinctive attractions, broad fare and diverse culture are just a few reasons to visit San Francisco. Add an incredible New Year's Eve celebration to the list and you have yourself the ingredients for a spectacular time. Attend an elegant soiree aboard a dinner cruise for drinks and live entertainment as you await the 15-minute firework display over the San Francisco Bay.
The Speakeasy NYE Cruise is just one of many available. All flappers and dappers attending this themed party will be dressed to the nines as guests spend a few hours celebrating in the Roaring 20's. There won't be a dull moment with blackjack tables, two spinning DJs, four hours of open bar and the best view to see the breathtaking illuminations.
Stay: Saunter only a few blocks from Hotel VIA to Pier 40 where the cruise launches. This unique hotel boasts personal service and beautiful sights of the South Beach locale. As an added bonus, if you prefer to stay on hotel premises for the main event, Rooftop at VIA is perched on top of the 12-story hotel. Private cabanas, fire pits, heat lamps, bars and indoor/outdoor seating areas are available exclusively for hotel guests at this refuge in the sky.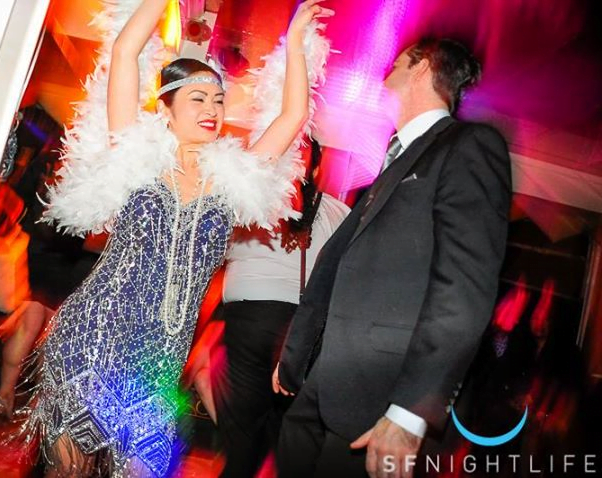 Denver, CO
This big city has so much to offer. It's laid-back atmosphere and convenient location from either coast make it a great option for ringing in the New Year with your love. Instead of sipping champagne for the momentous occasion, clink mugs brimming with craft beer. In the Beer-muda Triangle (Denver, Boulder and Fort Collins), there are more than six dozen microbreweries.
Begin your evening by sampling the many brews at Rock Bottom Brewery and indulging in their menu loaded with traditional favorites and crafted entrees. Fireworks fall over the mile-long 16th Street Mall located in Lower Downtown Denver, LoDo, twice for New Year's Eve. The early show begins at 9pm and the traditional showing begins at midnight. Both of the light extravaganzas are identical and synced to music from DJs along the mall area so you can choose the one that's best for you or ogle at it twice.
Stay: At the end of the 16th Street Mall sits LoDo's newest accommodations, Kimpton Hotel Born. This modern boutique hotel is designed to be a retreat from the bustling city outside. Perks to lodging in this Alpine refuge include an in-room yoga mat, daily wine reception, complimentary bicycles, concierge services and a pet-friendly atmosphere. Furry friends are invited and welcomed no matter their size, weight, breed or number. And at no extra cost!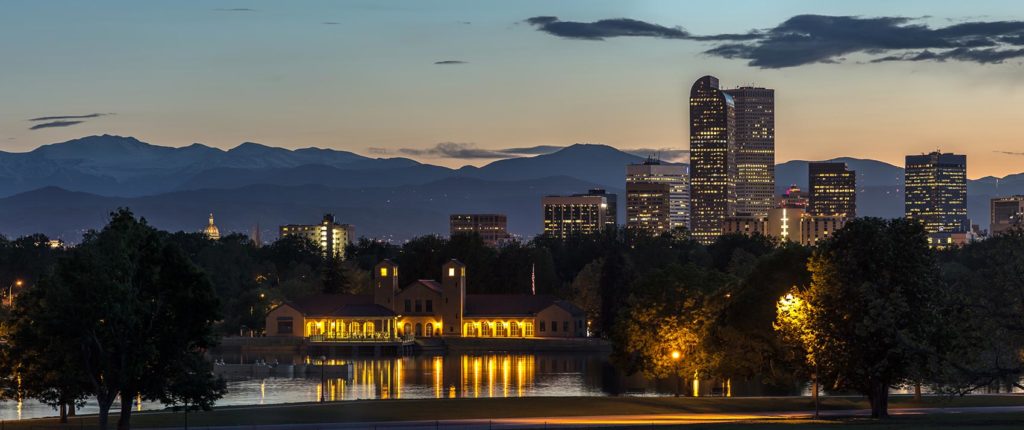 Chicago, IL
Let the Windy City whisk you away for the perfect intro into the New Year. This magnificent city perched on Lake Michigan is filled with incredible architecture to feast your eyes upon. You'll be able to devour deep dish pizzas and Chicago dogs while soaking in the unbelievable friendliness of the locals.
Now in its 6th year, the Chicago Resolution Gala provides revelers with three different partying spaces in the Aon Grand Ballroom, panoramic views of Lake Michigan ideal for the main firework event, live DJs to shake your tail feather, over 30 bars throughout the space and stationed buffets to keep your hunger at bay.
Stay: Less than a 10-minute walk to Navy Pier, W Chicago-Lakeshore hotel's sophisticated elegance combined with modern chic decor will be the perfect spot to lie your head down after a night of merriment. Start the New Year with an energizing workout in the onsite gym or rejuvenating your mind and body at Bliss Spa. Bring your four-legged family member along for the pampering too. Cats and dogs under 40 pounds are welcome to roost with their human companions.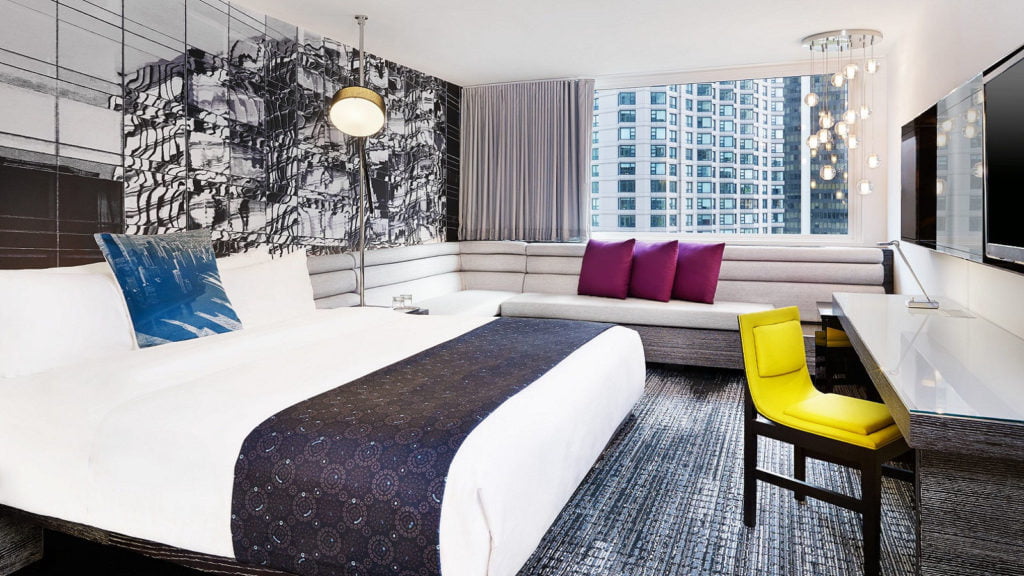 Orlando, FL
Capture the enchantment and magic of the mouse when you commemorate New Year's Eve at Walt Disney World. Don't write off this tourist destination geared toward families and children just yet. Mickey and Minnie have many date possibilities for lovebirds too. The adult-only Countdown to Midnight event is one of the most elegant experiences offered at Walt Disney World Resort, aside from a fairytale wedding of course. Cocktail attire is required for this all-you-can-eat dining and endless wine-by-the-glass dinner party.
Expect all of your senses to be beguiled during this extravagant celebration. Allow your taste buds to savor the "best-of-the-best" dishes from some of Walt Disney World's top restaurants while smelling the aroma of paired wines. Feel your honey's touch as you both groove to music reaching from the 60's through today. At midnight, your ears and eyes will be dazzled by the spectacular "Fantasy in the Sky" firework show at Magic Kingdom that will be visible from the ballroom.
Stay: Reserve your room at the modern Contemporary Resort. This is the only WDW Resort accommodations to have the monorail pass through the middle of the lobby. There are numerous activities to keep both of you engaged during the day. Yoga on the lawn, sun soaking by the pools, bass fishing and jogging trails are only a few of the daily happenings. Add to the iconic getaway with an in-room celebration to make your special someone feel exceptionally love.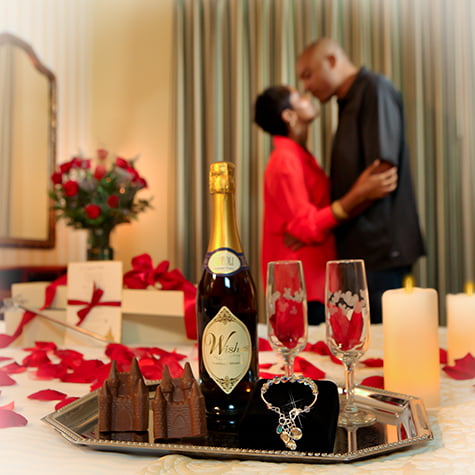 Honolulu, HI
Enjoy a respite from the mayhem (and colder weather) by celebrating the special occasion in a tropical paradise! Does it get more romantic than embracing your soulmate in a sandy wonderland as you gaze at sunset-like fireworks bursting in the night sky?! Waikiki Beach presents a stunning fireworks show from a barge just offshore. A firework is lit every minute before midnight beginning at 11:55 pm to announce the grand fanfare with anticipation. Be sure to tune into Hawaiian 105 KINE FM to hear music coordinated with the show.
If you prefer a little more elegance to your affair, dine in the sky at Waikiki's only revolving restaurant, Top of Waikiki. Executive Chef Lance Kosaka has created a five-course prix fixe menu to celebrate the new beginning. Diners will begin with a goat cheese tart, nibble on lobster tail with curry and carrot broth, devour salmon with tomato dashi and short ribs and end on a sweet note of chocolate mousse. A 2-hour seating window will be in effect for the evening so plan accordingly if you desire to watch the grandiose display while dining.
Stay: Alohilani Resort Waikiki Beach is a newly renovated resort featuring stunning views of Waikiki Beach and Diamond Head along with an awe-inspiring 3-story oceanarium filled with native Hawaiian fish. Spend your day playing in the calming waters complete with a romantic stroll along the shore before heading out to celebrate an end and a beginning. You'll only have to take a few steps outside your door to enjoy Waikiki's firework display.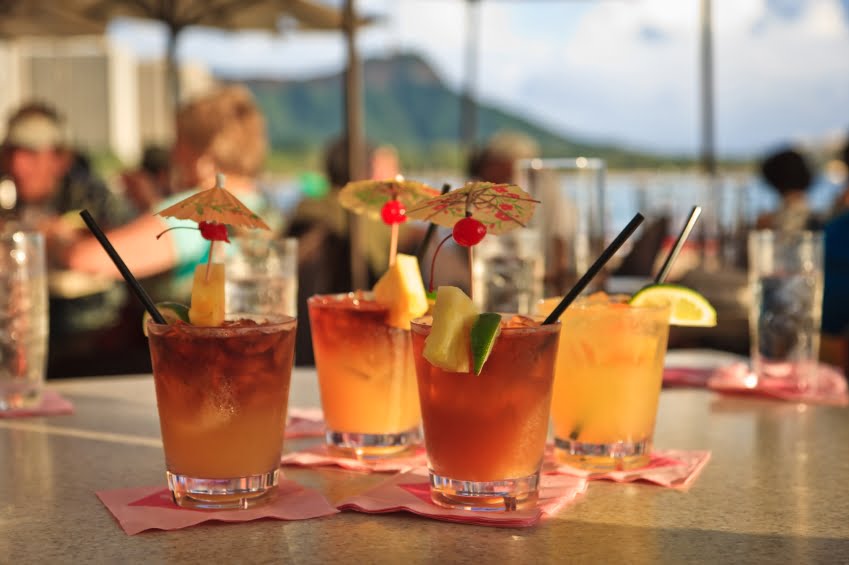 Savannah, GA
Ring in a fresh start with a visit to the Peach State. You can't beat the charm and southern hospitality of Savannah. The weather is warmer and the city is remarkable with the colossal, whispering oaks hanging over cobblestoned streets. Not to mention the plethora of small squares to rest and take in the views.
Use a cheat day to nosh on some unforgettable southern cooking at Paula Deen's restaurant, The Lady & Sons. It's a paradise for the comfort food junkie! Partake in the nontraditional custom of Up the Cup. This wildly fun event takes place at Wet Willie's as patrons countdown the seconds to the New Year with a six-foot to-go cup that is raised over Rousakis Riverfront Plaza. At the stroke of midnight, you and your heartthrob can raise your cups as fireworks and music explode through the atmosphere.
Stay: Check-in to The Cotton Sail Hotel located directly on Savannah's Riverfront. You'll have a room in the middle of River Street's action-packed festivities. Formerly an 1800's cotton warehouse, the boutique hotel houses 56 guestrooms that are blended with modern charm. Be sure to consume libations at Top Deck, the hotel's top bar. Psssst! It's also a fabulous option for astonishing views of the fireworks.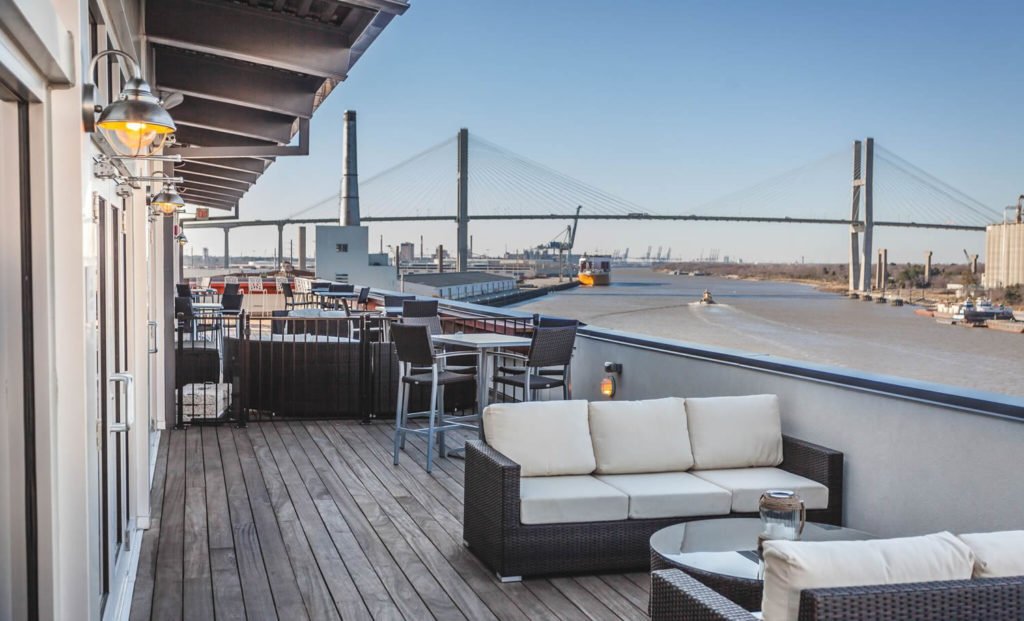 Napa Valley, CA
Experience a European ambiance complete with sophisticated class that will not disappoint in bringing a high romance factor. Napa Valley is a perfect getaway option for wine enthusiasts. The slower pace of life and mild weather will allow you and your other half to celebrate in style without commotion.
Make meaningful memories aboard 100-year-old railcars gazing into your sweetie's eyes as you delight in sparkling wine and fine dining. The Wine Train chugs through the sought after wine region in Northern California. Round trip is 36 miles, lasting about three and a half hours. You'll continue through Yountville, Rutherford and St. Helena before turning back. Festive activities include welcome appetizers and wine or bubbly at the station, another glass of wine or bubbly aboard, special 4-course menu and party favors.
Stay: Nestled on the Napa River and Oxbow Preserve, River Terrace Inn is full of glamorous grandeur and seductive scenic views that will not disappoint for a romantic backdrop to this historic occasion. This wine country hotel is a short five-minute walk from the Wine Train station. Most rooms boast balconies for intimate conversations while sipping a brew in the cool breeze. Luxurious amenities include a mini bar, Napa Dream Bedding with pillow-top mattresses, designer bath products, terry cloth towels, a whirlpool tub and iPod docking station.

Hocking Hills, OH
Some couples prefer romantic seclusion to the piercing pandemonium that comes with NYE. If this is you, book your chalet at Old Man's Cave in Hocking Hill. Spend the day hiking the six-mile trail to see the Upper Falls of Grandma Gatewood Trail, Old Man's Cave, Cedar Falls and Ash Cave. A naturalist routinely gives tours of the area on the weekends beginning at the Naturalist Cabin near the Visitor's Center.  
Spend the evening with the one your heart desires most by cooking your own candlelight dinner complete with playful banter. Step outside afterward to view nature's firework display — the remarkable night sky full of stars. You may even get to wish upon a shooting star! Indulge in the flame of love with a soy candle that melts into massage oil… oh la la. And raise your glasses for a toast at midnight to observe the start of the New Year and the newest chapter of your love story. As an added bonus, when the clock strikes midnight, you and your sweetheart can do more than just kiss! (wink, wink)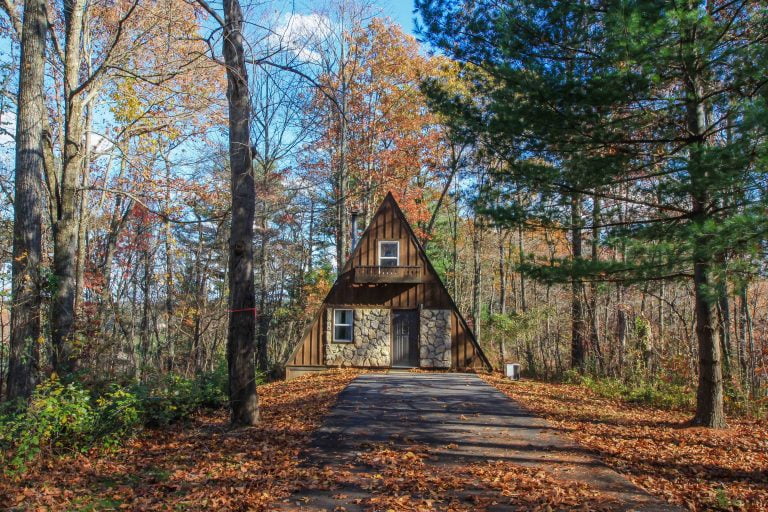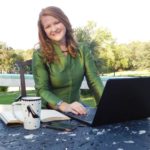 Erica Thomas is a freelance writer regularly contributing to Date Night Guide and Orlando Date Night Guide, while also managing her roles as a wife and homeschooling mom of two small children. She is a romantic at heart who flourishes with adventurous activities and travel (and, of course, date night).