Sparkling crystal-clear turquoise waters that rival the Bahamas… Snorkeling around an island plucked straight from a postcard along the second largest barrier reef in the world… Caves buried deep in the jungle and littered with ancient Mayan artifacts (oh, and open for tours).
Would you believe me if I told you that all of this and more awaits in the tiny Central American country of Belize, accessible by direct flight from a handful of American cities? Well, as visitors like to say, "Belize it!" This stunning and culturally diverse locale is packed to the brim with both adventure and relaxation, allowing you to set the pace for your ideal couples getaway.
Having been to the country three times in the past three years, I've crafted the ideal itinerary for a Belize vacation spent exploring all that this under the radar hideaway has to offer.
Days 1–5: San Ignacio
Located in Western Belize in the Cayo District, San Ignacio is the central hub for jungle exploration. Cave tours, river adventures, Maya ruins and more are just a brief ride away from this colorful and cultural town.
STAY
Located just a 5-minute ride from town, Vanilla Hills Lodge offers the best of both worlds: a convenient location that's also got a secluded feel. Owned by two German expats, Claudia and Franklin, this charming jungle bed-and-breakfast has an onsite café, three guesthouses equipped with private porches and hammocks and a lush, tropical setting that'll immerse you in jungle life.
Book far enough in advance and you may be able to rest your head in the Tree House Coconut, an elevated treehouse-style room with an outdoor shower. Breakfast and dinner are served at the café with highlights including homemade bread and jams, banana pancakes, crepes and more. Claudia and Franklin also act as your personal tour operators, happily suggesting and arranging experiences with local guides. During my recent stay, Claudia was able to arrange an epic cave tour on horseback to the Offering Cave, littered with Maya artifacts and pottery and not visited by many tourists. Rates for Vanilla Hills begin at $105/night, excluding meals. Note: rooms are not air-conditioned.
Alternatively, Ka'ana Resort and Spa is a jungle resort with luxurious amenities and a spa. Plus, it's only a 10-minute drive from the center of town. This upscale resort includes a yoga deck, adventure desk for planning tours and activities, a pool, a restaurant, cocktail bar and multiple suites and villas, the latter of which includes a private pool.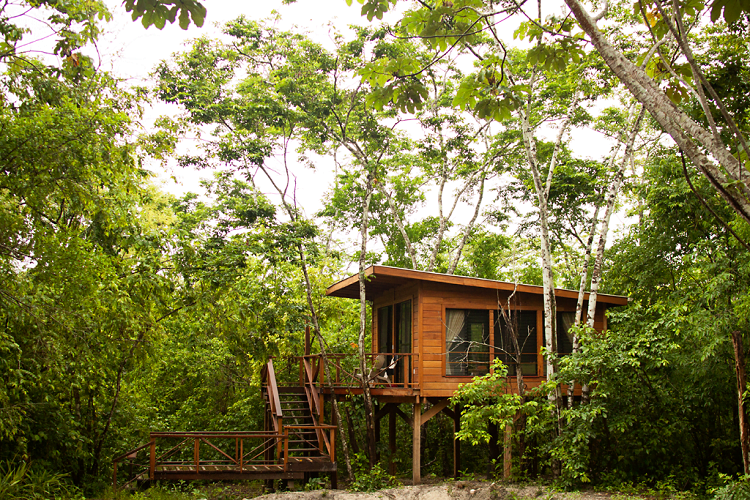 PLAY
Jungle adventure is the name of the game in San Ignacio. From here, you can embark on adrenaline-pumping excursions like clambering around in a cave once used for sacrifices by the Maya of Belize, climbing to the top of Maya ruins and even tubing through a cave.
CAVE ADVENTURES
Arguably the most popular excursion from San Ignacio, the ATM (Actun Tunichil Muknal) Cave beckons you into the underworld to view Maya pottery and human remains left behind by the ancient Maya civilization. After about a 1-hour drive (part of it on unpaved bumpy roads) and a 45-minute hike, you'll arrive at the entry point of the cave where you'll swim through the entrance. From here, spend the next few hours climbing, wading and exploring the cave noting formations and artifacts along the way. Your efforts will be rewarded once you climb into a small cave chamber, home to the "Crystal Maiden," a fully intact crystallized human skeleton from the ancient Maya times. Note: Cameras are not allowed inside the cave. I recommend Carlos the Caveman for this tour. While Carlos tragically passed away in an accident in 2018, his children are continuing to run the tour company.
For a more low-key but no less exciting adventure, try cave tubing! At the Nohoch Che'en Caves Branch Archaeological Reserve (aka Caves Branch), gaze in wonder at unique cave formations from the comfort of your inner tube. You'll need a guide for this tour, so book in advance.
MAYA RUINS
You likely associate Maya ruins with countries like Mexico, but there was once a population of around 1 million Maya in Belize. New archaeological discoveries are being made regularly, and there are a handful of sites open to the public to explore. Highlights include Xunantunich, Caracol, Cahal Pech and Tikal, the latter of which is located in Guatemala but accessible from Belize.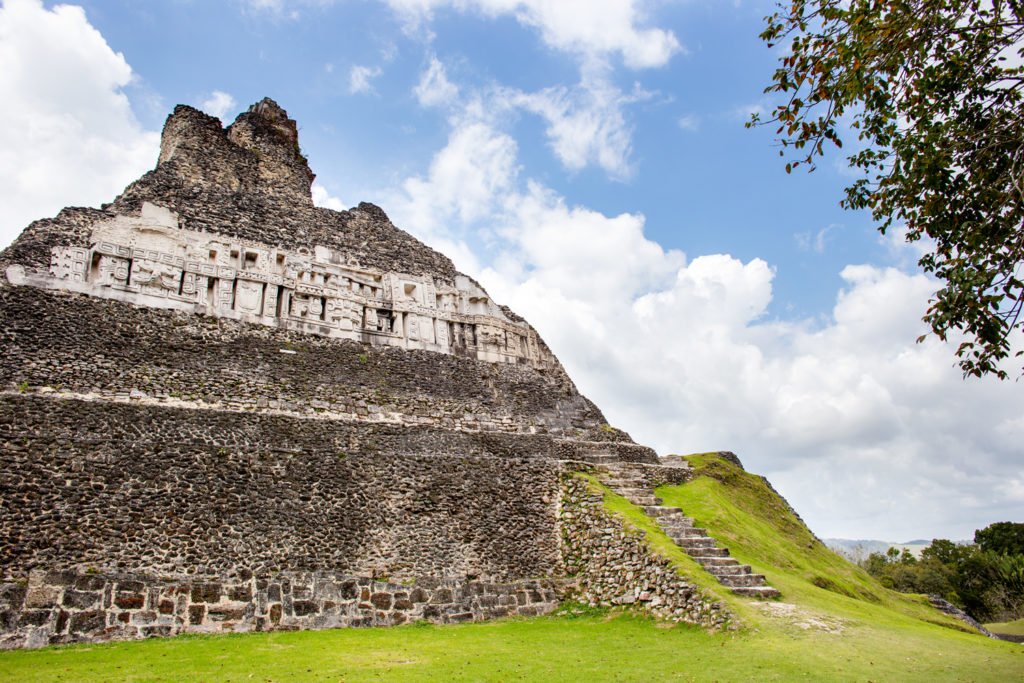 For a visit to Xunantunich, book a tour with Hanna Stables and arrive at the ruin site on horseback for even more adventure. From there, your guide will take you through the site to explore temples and common areas. You'll be able to climb to the very top of El Castillo, the central temple and the second largest structure in Belize.
I recommend booking a full-day trip with K'in Wi'nik Jungle Tours for Caracol (be prepared, the drive is very long and bumpy) and a self-guided tour of Cahal Pech. The latter is located in San Ignacio town and can be seen fully in a few hours.
ROADSIDE EXPLORATION
Don't miss a stop at the Belize Zoo on your way to San Ignacio. Located just off the highway, this tiny zoo is dedicated to educating locals and visitors about the diverse native wildlife. Hand-painted signs boast animal facts, howler monkeys lounge in the trees above and jungle paths lead to up-close views of the toucan, jaguar, howler monkey and scarlet macaw.
Also try:
Rent a car and explore the Mountain Pine Ridge area
Day trip to Tikal (Guatemala)
Canoe the Macal River from Chaa Creek to San Ignacio town
Iguana Conservation Project
Belize Chocolate Making tour at AJAW Chocolate & Crafts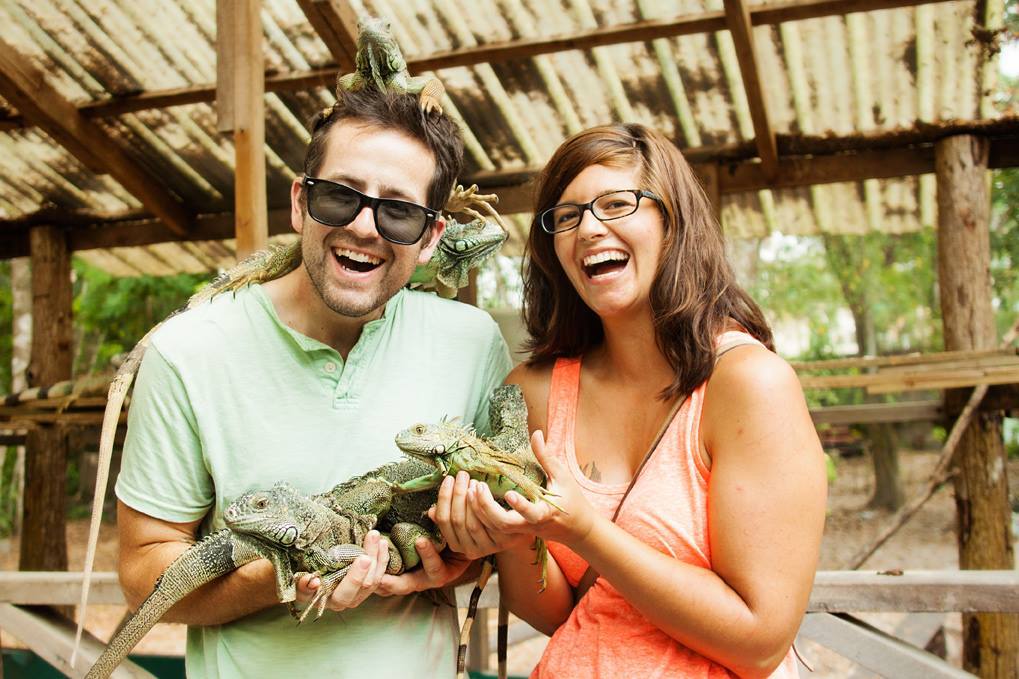 DINE
San Ignacio is the ideal place to get a true taste for Belizean cuisine. Start with a Belizean staple for breakfast: the fry jack. This morning meal is simply deep fried dough, often served alongside refried beans and eggs or stuffed. Pop's Restaurant has the best in town. For lunch, head to Ko-Ox Han Nah for an ice-cold Belikin beer (domestic brew) paired with a hearty portion of tender stew chicken, rice & beans and plantains. This traditional meal is simple but oh so good.
To taste a little bit of everything while immersing yourself in local life, head to town early on a Saturday to experience the weekly market. The San Ignacio Market (Saturdays) houses everything from clothes and handmade goods to fresh produce and made-to-order eats. Don't leave without feasting on a pupusa (or three). This Salvadoran dish is basically a dense tortilla stuffed with goodies like beans, cheese, pork and more. Top it off with curtido, a relish made with cabbage, and a few dashes of Marie Sharp's hot sauce. Tip: you can also get pupusas nightly from Mickey's next to Ko-Ox Han Nah.
The ultimate San Ignacio date night spot is Guava Limb Café, a romantic, open-air eatery with multiple dining areas and a to-die-for dessert case. While the food isn't traditional Belizean, everything is farm-to-table fresh, beautifully plated and delicious. The Shrimp Ceviche al Guava Limb is a hearty portion of local shrimp, lime juice, organic tomatoes, onions and cilantro served with tortilla chips. Definitely leave room for sweets from the upstairs dessert case, like coconut cheesecake, banana layered cake and more. Reservations are recommended.
Also try:
Crave House of Flavour
Erva's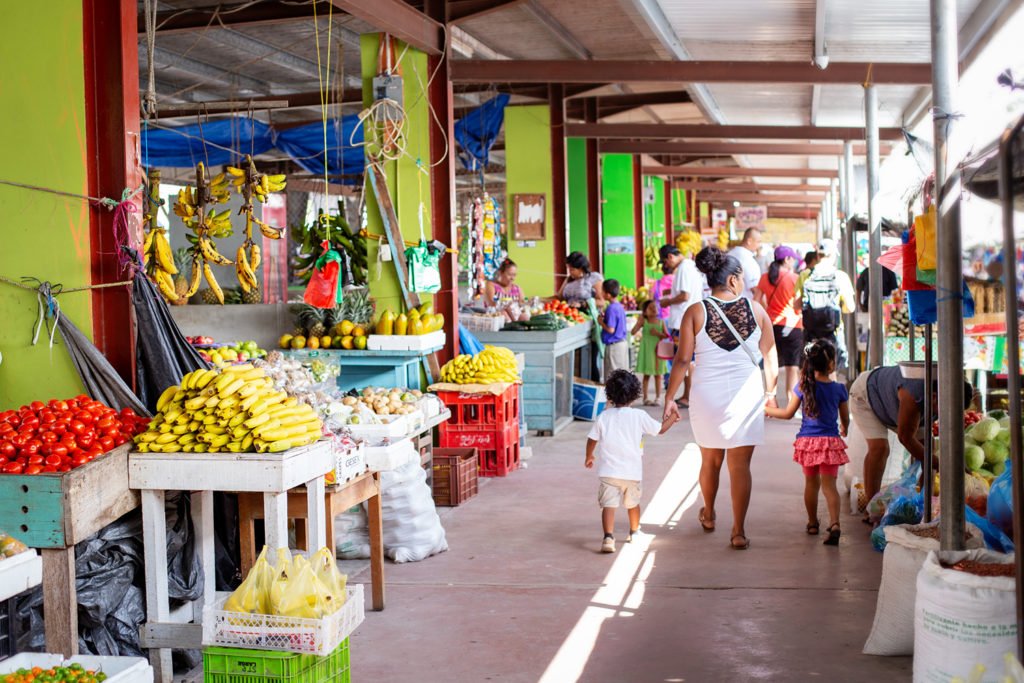 Days 5–8: Placencia
A small village located at the tip of a peninsula in the southern region of the country, Placencia is home to some of Belize's best beaches, so if you're looking to be beach bums for a few days, this is your place. Park yourselves in a beach chair, sip on coconut water straight from the source and spend the afternoon lounging around the bar. Here, the pace is slow and the main promenade is the "sidewalk," a narrow paved walkway that leads you everywhere you need to go. Snorkeling tours reveal tropical fish and marine life just offshore.
STAY
Ranguana Lodge is a quaint beachfront retreat with just five cabins, three of which offer ocean views. The oceanfront rooms are air-conditioned, but you'll hardly need it with the gentle ocean breeze. All rooms include full kitchens, free beach chairs and private balconies. The beach is also combed daily. FYI: Ranguana is located next door to the Barefoot Beach Bar so, if you're visiting over the weekend, know that you might have a bit of noise at night. Rates begin at $89/night.
If you're looking to get away from it all, head north out of town to Maya Beach Hotel, an oceanfront resort. The property includes an on-site bistro, outdoor pool, standalone beachfront cabanas and five hotel rooms, each beachfront or with a beach view. Rates begin at $104/night.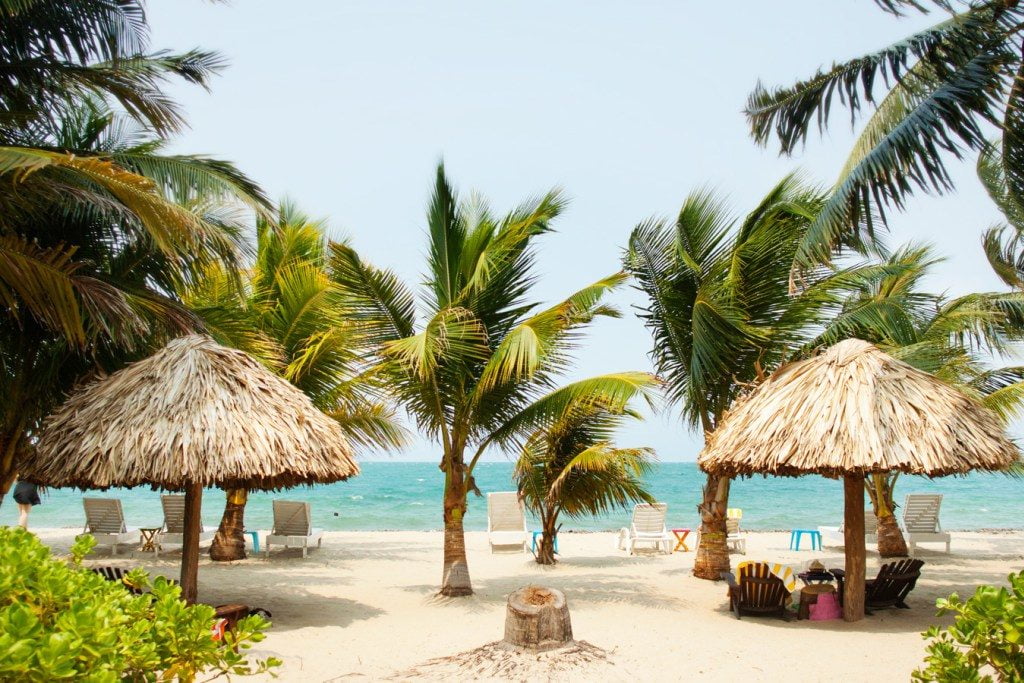 PLAY
Placencia is a haven for scuba diving with nearby sites including the infamous Great Blue Hole (a ¼-mile wide sinkhole) plus the chance to dive with gargantuan whale sharks (select times between March-June). Splash Dive Center is an excellent local company offering a handful of diving and snorkeling tours.
If you aren't scuba certified but still want to get a glimpse of the marine wildlife, book an afternoon snorkeling trip to nearby Laughing Bird Caye. Approaching this stunning island—which is also a protected national park—you'll find yourself wondering if you've traveled straight into a postcard. Clear and calm azure blue waters frame the barrier reef below, speckled with gorgeous coral formations and teeming with wildlife like parrotfish, lobster, schools of barracuda and, occasionally, nurse sharks and stingrays. After docking on the island, walk right into the water to begin your snorkel tour around the island before breaking for lunch. To this day, my boyfriend says this is the most beautiful place he's ever seen! Laughing Bird Caye is also a part of the Belize Barrier Reef Reserve System designated as a UNESCO World Heritage Site.
The Silk Cayes is another popular snorkeling trip, especially if you're hoping to spot a sea turtle. If you find yourself in need of more culture and adventure, head inland for a variety of tours. A few options include zip-lining and a cacao farm tour and chocolate making (check out Che'il Mayan Products).
DINE & DRINK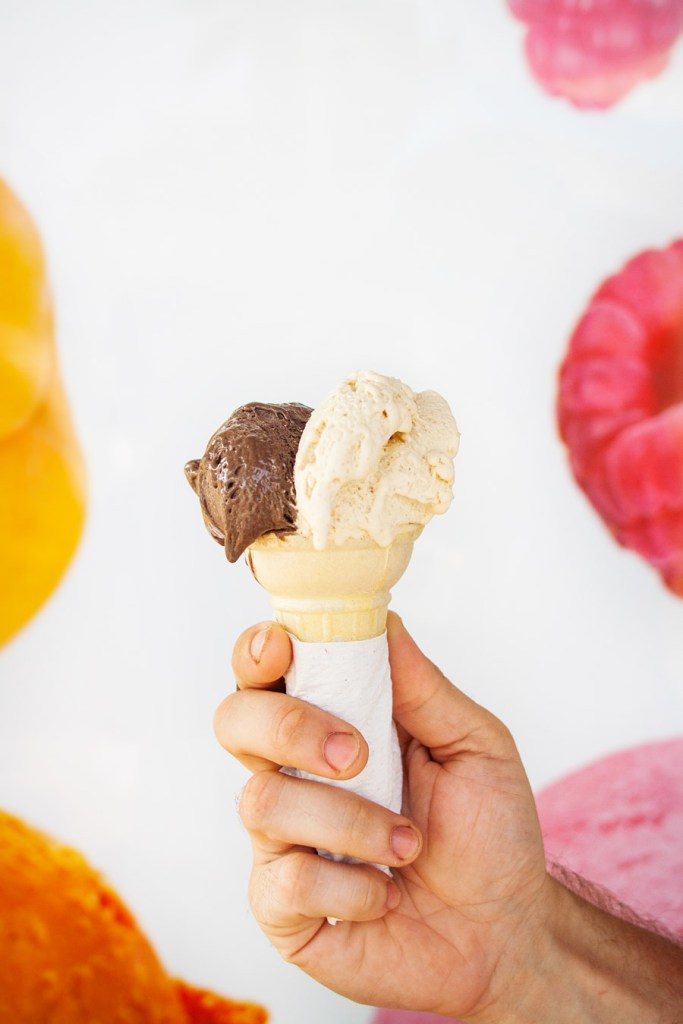 Some of the best food I've eaten in Belize has been in Placencia. No visit is complete without a scoop (or two or three) of gelato from Tutti Frutti Gelateria. Owned by two Italian expats, it's the real deal. Go here at the beginning of your stay, as you'll want to return for many more visits. The chocolate and peanut butter is a heavenly combination.
Start the day at nearby De'Tatch Seafood Restaurant for a breakfast of fresh-squeezed juice and hearty stuffed fry jacks. At De'Tatch, they come stuffed with eggs and beans and topped with salsa and cheese. You'll be fueled for a day after eating these! If you're in search of caffeine, head to one of the village's coffee shops: Brewed Awakenings or Above Grounds Coffee House.
For dinner, make your way off the beach to Omar's, a no-frills open-air restaurant on Main Street serving up the fresh catch of the day. During my visit, I feasted on a filet of hog snapper prepared grilled (it's also delicious prepared Creole-style) and topped with peppers and onions. Just one word of caution: there isn't an ocean breeze along Main Street, so spritz yourself with bug spray beforehand.
For a romantic evening, Cozy Corner is a cute beachfront eatery with a large patio overlooking the water. Snuggle up at a table together while enjoying the ocean breeze and a delightful meal. During our visit, we loved the Coconut Curry Shrimp. This is also a relaxing spot for a sunrise breakfast. To the contrary, the liveliest spot in town is Barefoot Beach Bar, a colorful place with live music, a daily happy hour and serious tropical vibes. You can't go wrong with a frozen tropical drink or one of the daily specials, and when the munchies set in, the food is pretty darn good too.
Also try:
Days 8–10: Ambergris Caye
Conclude your trip by spending your final days lounging by the Caribbean sea. One of Belize's most popular tourist destinations, San Pedro town on Ambergris Caye has it all… sparkling turquoise waters, beachfront bars, island eats, aquatic adventures and stunning views of the reef located just offshore.
STAY
With rates beginning at $135/night in the summer-fall months, the Blue Tang Inn is the epitome of affordable beachfront bliss. Fourteen cozy and colorful rooms comprise the family-owned property located in the heart of San Pedro. Park your (beach) bum in a lounger by the pool, at a seat on the rooftop terrace while you sip an ice cold Belikin beer or in a chair at the lively Palapa Bar and Grill, a must-visit over the water beach bar.
Bonus: The Blue Tang has its own sailboat, the Sirena Azul. Head out for a day of snorkeling or embark on a romantic sunset sail to soak up the scenery. Tours are $55-$100/person, or you can charter a private option for $350-$600.
Prefer to go slow (and I mean really slow)? Consider making nearby Caye Caulker your base for your final few days instead. On this laid-back island with a Rastafarian vibe, bicycles and golf carts outnumber cars and you can travel from one end of the island to the other in less than 20 minutes by bike. Colinda Cabanas is a quiet place to stay, complete with beach cabanas, a private dock for swimming or lounging and free bikes.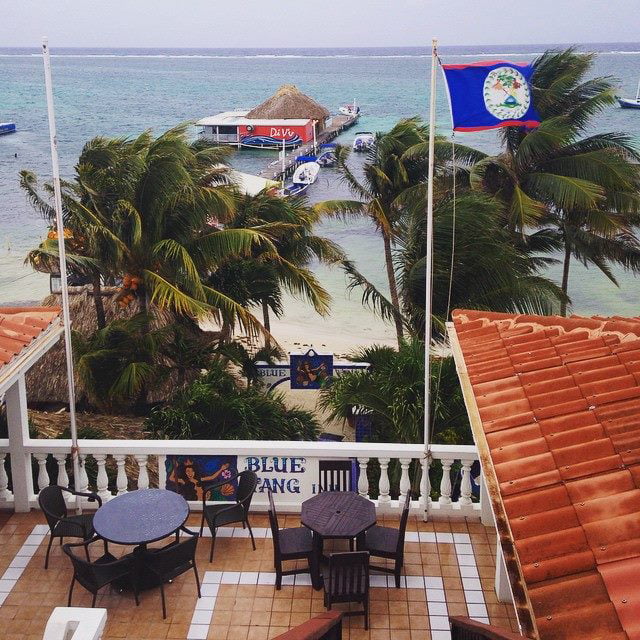 PLAY
SNORKELING
When you're visiting a country home to the second largest coral reef in the world, snorkeling is a must. Located just a brief boat ride away, the Hol Chan Marine Reserve and Shark Ray Alley invite you to swim amongst living coral, sea turtles and more than 160 types of fish. The highlight is the stop at Shark Ray Alley, where you'll hop into the water to get face-to-face with gigantic nurse sharks and stingrays. For maximum fun, book a full-day tour that includes snorkeling as well as a stop on nearby Caye Caulker.
BEACH TIME
The beach in town is used more as a walkway than as a sandy retreat. So, if you're picturing yourself lazing on the shore in front of your hotel, head to the west side of the island to "Secret Beach." The secret is definitely out (you'll find multiple beach bars in the area and a newly-installed Secret Beach sign in the sand), but it's still a pleasant place to splash for the day. You'll need a golf cart to get there and the journey is about 8 miles from town on bumpy roads. You can rent a golf cart in town.
While you've got the cart, explore the north end of the island. Here you'll find upscale resorts, picturesque shorelines and the trendy Rojo Lounge. Sip on an Instagram-worthy frozen drink, lounge in the waterfront infinity pool or play lawn games in the sand. You'll also want to stop by The Truck Stop on your way back, a hip shipping container food park and beer garden.
EVENTS
A staple of the island, Lobster Fest is an annual festival hosted on Ambergris Caye, Caye Caulker and Placencia. Celebrating the arrival of lobster season, Lobster Fest is your ticket to dine on fresh grilled lobster and enjoy a beach party all in one place. San Pedro hosts the longest party with the fun lasting an entire week! The festival typically takes place in mid-June.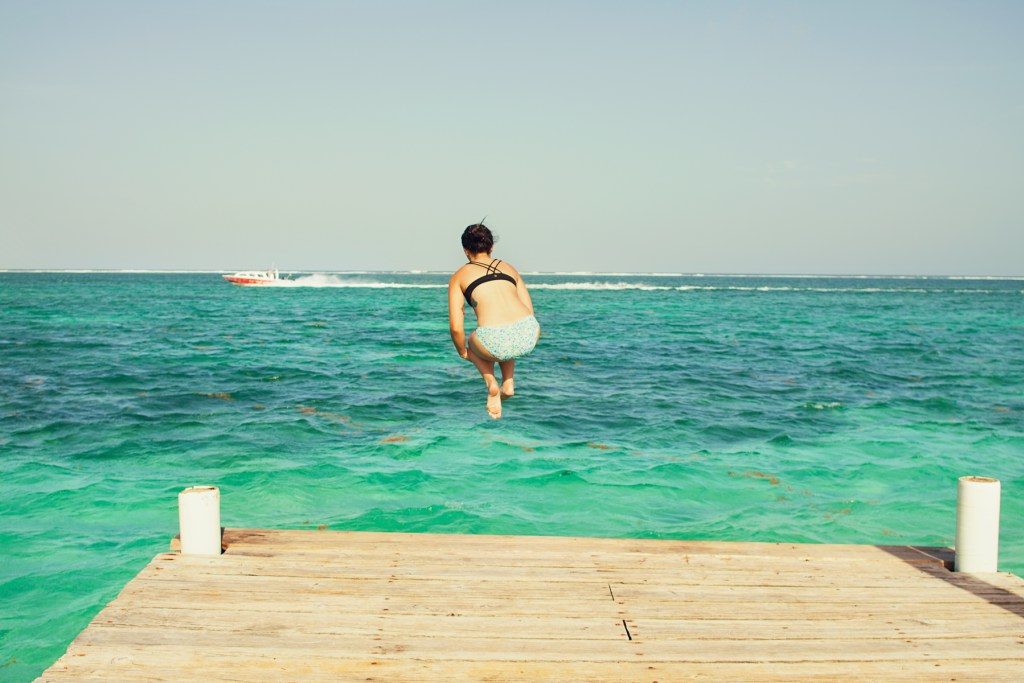 DINE & DRINK
Kick off your stay by joining a food tour led by Belize Food Tours. Each tour includes 7-8 stops, introducing you to Belizean cuisine and teaching you how to "eat like a local." Chose from a daytime lunch experience, an evening dinner tour or learn how to cook Belizean staples during a hands-on cooking class. Tours are offered Tuesdays-Fridays and cost $62-$72/person.
For breakfast, Estel's Dine by the Sea is beloved for a reason. Freshly-squeezed juices, gigantic omelets, tropical fruits and, of course, fry jacks offer the fuel you'll need to keep going all day on water excursions or exploring the town on foot. A handful of tables dot the shoreline so you can dine with your toes literally in the sand. Sit facing the water for the perfect start to your day.
Continuing your beachfront dining adventure, head to Wild Mango's for lunch or dinner (or both!). This waterfront spot boasts a cozy outdoor deck and tropical menu, plus delectable desserts. You can't go wrong with any of the ceviche options, although the shrimp is a personal favorite. Pair your island eats with a fruity cocktail, like the Panty Ripper, a popular drink made with coconut rum and pineapple juice. Conveniently located next door to Wild Mango's, for dessert, stop by the Belize Chocolate Company for savory chocolate confections.
Feel like a swim? The Palapa Bar and Grill, located directly in front of the Blue Tang Inn, is a great place to swim or lounge in an inner tube as buckets of beer are lowered down to you. So awesome! Float in the clear water while sipping an adult beverage of your choice, or jump directly off the end of the dock.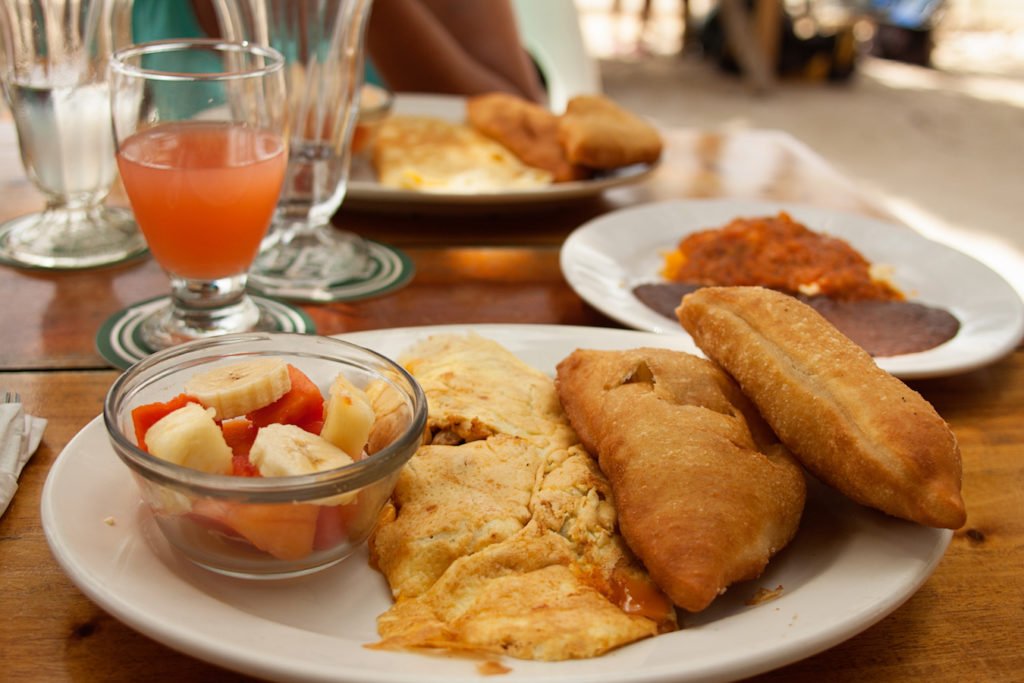 Also try:
KNOW BEFORE YOU GO
Many major airlines fly direct to Belize from the United States including Southwest, American Airlines, Delta, United and more. Non-stop flights are available from Dallas, Houston, Miami, Ft. Lauderdale, Atlanta and other cities.
Once you've arrived, transportation is easy thanks to a multitude of taxis (most economical for short drives), public buses, private shuttles (I recommend William's Belize Shuttle), water taxis (for getting to Ambergris Caye and Caye Caulker) and local airlines Tropic Air and Maya Island Air.
The U.S. dollar is accepted everywhere and the exchange rate of Belize currency (BZD) to USD is 2:1. English is the primary language spoken throughout the country.
You'll need a valid U.S. Passport to visit Belize. No visa is required.
For more help planning your trip, SanPedroScoop.com is one of my favorite resources for all things Ambergris Caye (and beyond), and the Moon Belize guidebook is an excellent companion.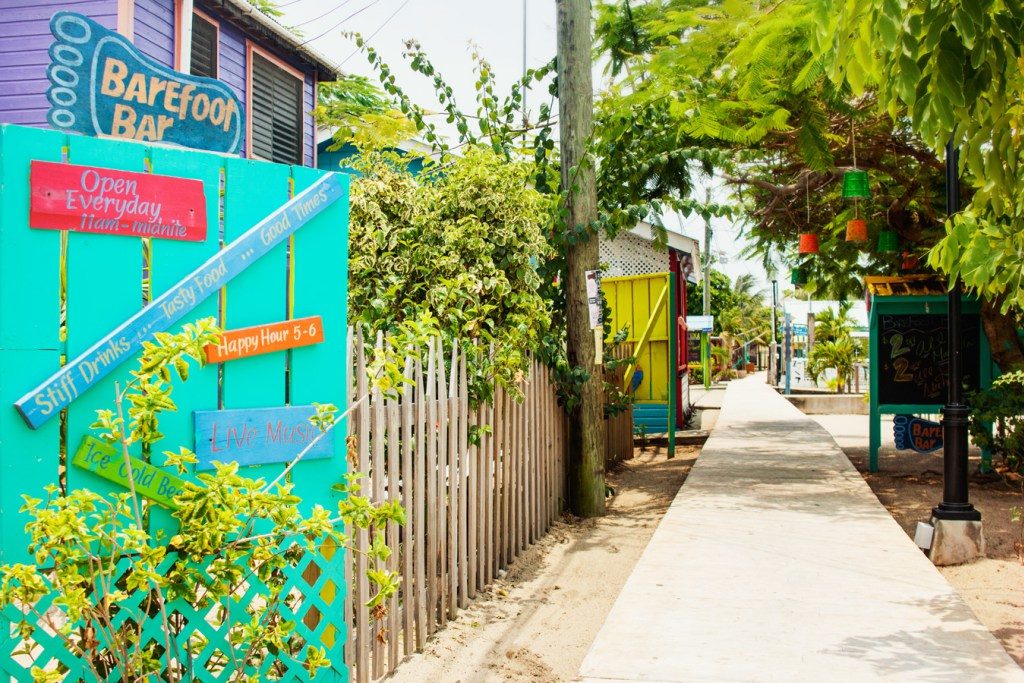 About the Author/Photographer: Stephanie Patterson is the managing editor of Orlando Date Night Guide. She's a skilled travel and food photographer and writer with a passion for creativity, the beach and great eats. When she's not snapping pictures or writing, you can find her exploring Florida for her travel blog, hanging out with her boyfriend and their dog, trying new restaurants or baking something sweet. Find her online at www.spattersonphotography.com and www.traveltasteclick.com.
All images by Stephanie Patterson. Feature image: Placencia beachfront.