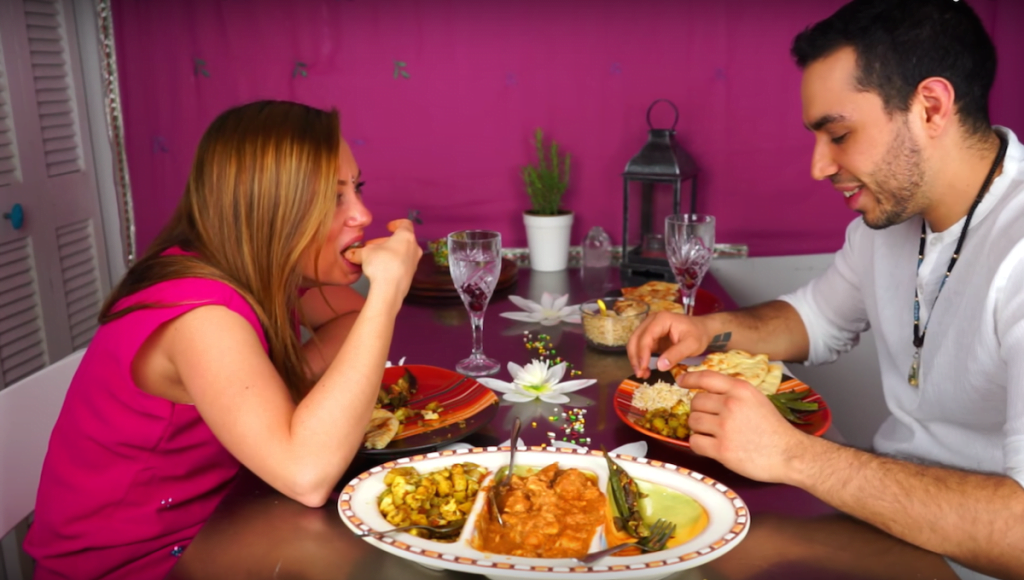 Whether you're looking to indulge in a flirty feast with your love or serve up an interactive DIY dinner party buffet, hands-on dining experiences are sure to satisfy the hunger of two or more. Eating with one's hands is common in many areas of the world and, finally, restaurants in the United States are ready to forgo fancy flatware and encourage finger feeding fun. Hands-on meals can be engaging at-home or when dining out. We think you'll give two thumbs up to these hands-on dining experiences!
Oysters
Can a food really be a natural aphrodisiac? Yup! Researchers recently found that raw oysters contain amino acids that trigger increased levels of sex hormones. So, head to a tiki hut, raw bar or seafood restaurant to shuck some oysters with your sweetie!
Sushi
Hands-on cooking classes, including sushi making, have become an appetizing date night trend. If you'd prefer something a bit more intimate, buy a DIY sushi making kit and essential ingredients like sticky rice, shrimp, sushi-grade fish, seaweed and veggies. When dining out, why take a seat at a standard booth when you can watch the culinary action seated at the sushi counter? And, if you want to literally pick your selections by hand, opt for a train-style establishment. Some sushi restaurants have conveyor belts so you can just grab what you want as it passes – no need to place an order and wait! Or, if you'd rather watch the experts roll their magic, opt for an Omakase experience with chef-selected items.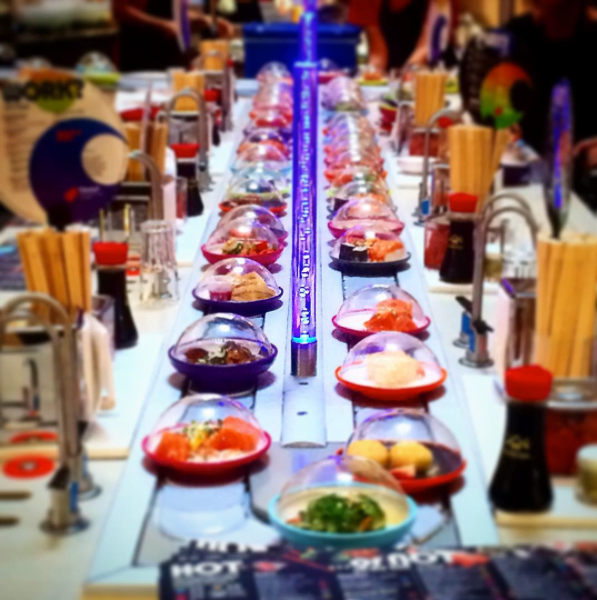 Tapas
Spanish cuisine has a wide variety of appetizers and snacks known as tapas. Some tapas-style bars offer simple nibbles that pair well for a happy hour date, like olives, mini kabob called pinchos and toasted bread topped with manchego, chorizo, cod or other goodies. Tapas restaurants have grown in popularity but menu items remain full of hands-on delights, such as croquetas, gambas (shrimp), patatas bravas (fried potatoes with spicy sauce) and more.
Indian Fare
Custom dictates that it's best to only eat with your right hand when having Indian cuisine as the left hand is commonly viewed as dirty and unsanitary. There is a step-by-step art to eating Indian food but if you are not sure how to handle elements of the meal, try using the bread, like naan, in a scooping manner. Indian fare is packed with aromas of curry, masala and saffron – yum!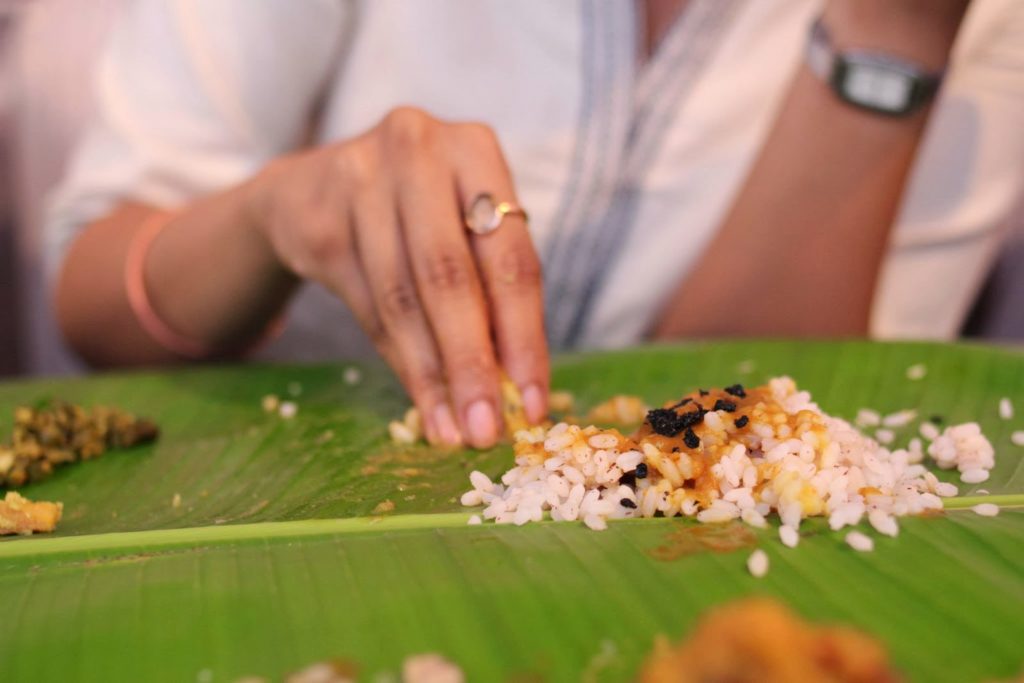 Sliders
Somehow the small size of sliders packs big-time foodie fun, right? Sure, you committed to your partner but you don't need to commit to one menu item because sliders let you mix up flavors. Maybe try bacon on your first slider, cheese and onions on your second and guacamole with tomato on the third. Sliders are a delish date night pick because they're easy to share. Plus, you can make just about anything work in this little form… mini meatball subs, slow-cooker pulled pork sliders, mini burgers, etc. Create a Slider Night for a fun at-home date night plan.
Fondue
Fondue definitely makes for a romantic night out, but you can lick your lips just the same with an at-home date night version. Serve cheese fondue (Gruyere melts well) with chunks of bread, apples, carrots and broccoli; for the main course, cook proteins like shrimp and chicken in peanut oil or canola oil alongside potatoes; and for dessert, indulge with milk or dark chocolate fondue with dunkable pieces of bananas, strawberries and biscotti. Be sure to dip safely using fondue sticks rather than your fingers.
Hot Pot
If interactive dining sounds appealing, similar to fondue, hot pot is for you because it's all about cooking right at the table. Asian restaurants will have the set-up ready to go but you could also use a portable burner and chopsticks for an at-home DIY attempt. Either way, as the stock simmers in the pot, add ingredients such as seafood, sliced meat, leafy vegetables, mushrooms, wontons, egg dumplings and tofu.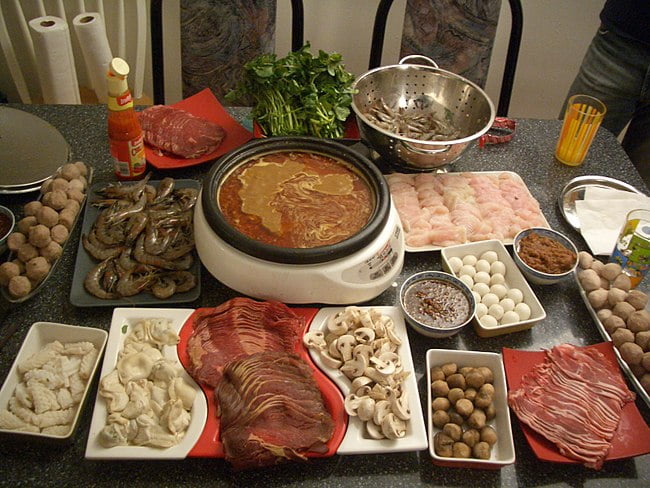 Food Truck Grub
Unlike seated restaurants where every date moment demands face-to-face dialogue, a food truck date offers little breaks for munching and wandering. Food trucks events offer a fresh air alternative to standard indoor restaurants, and they're budget-friendly and laid-back, too. Plus, you don't even have to agree on the same cuisine as you each can order from different trucks. Better yet, create your own walking tour by sharing a dish from a few food trucks.
Tacos & Nachos
Whether you prefer hard or soft, corn or flour, tacos are among the most popular hands-on food. Maybe it all starts with the toppings because taco bars offer tons of salsa varieties, plus onions, cilantro, cheese, tomatoes, lettuce, sour cream and guacamole. "Street tacos" are especially growing in popularity. They're typically served open-faced to reveal simple yet delicious ingredients, such as chopped meat, onions and cilantro without an overkill of fixings. And street tacos are wrapped in an extra soft taco to make this hands-on food a bit sturdier.
Similar to tacos, burritos and quesadillas are tasty hands-on foods but sometimes nachos are the best bet. Nachos are a great sharable for dates, whether snacking on the couch during a Netflix binge or noshing at the sports bar while watching the game. It's the perfect mix of crunch (from the salty chips) and creamy (from the soft meat, cheese and sour cream). If you like classic nachos, you'll love fresh alternatives too. How about totchos, better known as tator tot nachos); or poutine, Canada's version made with French fries, cheese and gravy?!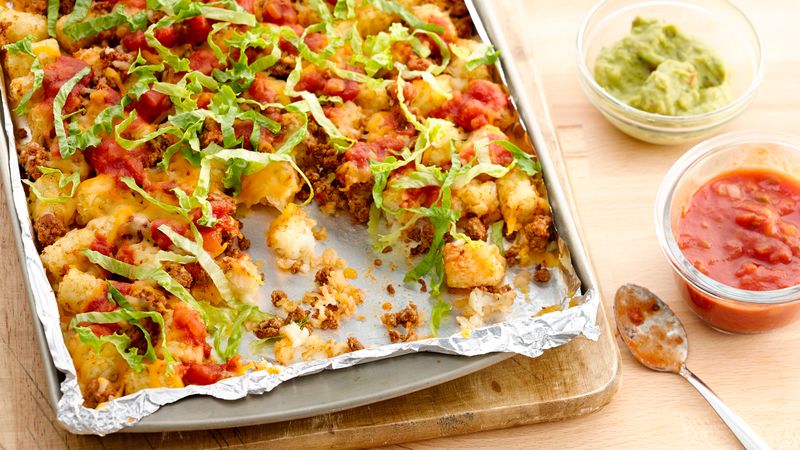 Pizza
This should not be negotiable: Pizza is not meant to be eaten with a fork and knife. Just grab a slice! [Full disclosure: I grew up in New York and could be considered a pizza snob.] Annually, my husband and I have an epic pizza date night. It's so much fun! We either make our own dough from scratch or buy pre-made dough and roll it out. We prefer to make smaller pizza pies so we can create several flavor combinations. Such as (1) ricotta, arugula, pear and bacon; (2) chorizo, shrimp, pesto sauce, cheese and cilantro; (3) marinara sauce, mozzarella, roasted red pepper and caramelized onion.
Ethiopian Cuisine
A traditional Ethiopian meal is served on a large, circular flatbread called injera. The injera serves as the plate, but you also tear up pieces to serve yourself the food using your right hand. After enjoying spicy meats and vegetables, drink a cup of coffee. A traditional 'coffee ceremony' uses a clay pot called a jebena.
Seafood Boil
Sure, standard backyard BBQs are fun but heat things up with a low country seafood boil. A boil traditionally has shrimp, sausage, corn, potatoes, onion and Old Bay seasoning. Customize your boil as you wish by adding lobster, crawfish, butter, herbs, garlic, celery, etc. When ready, the meal is simply transitioned from the pot right onto a paper-lined table. The term "finger-lickin' good" should not solely be associated with fried chicken because this dish is absolutely finger-lickin' good!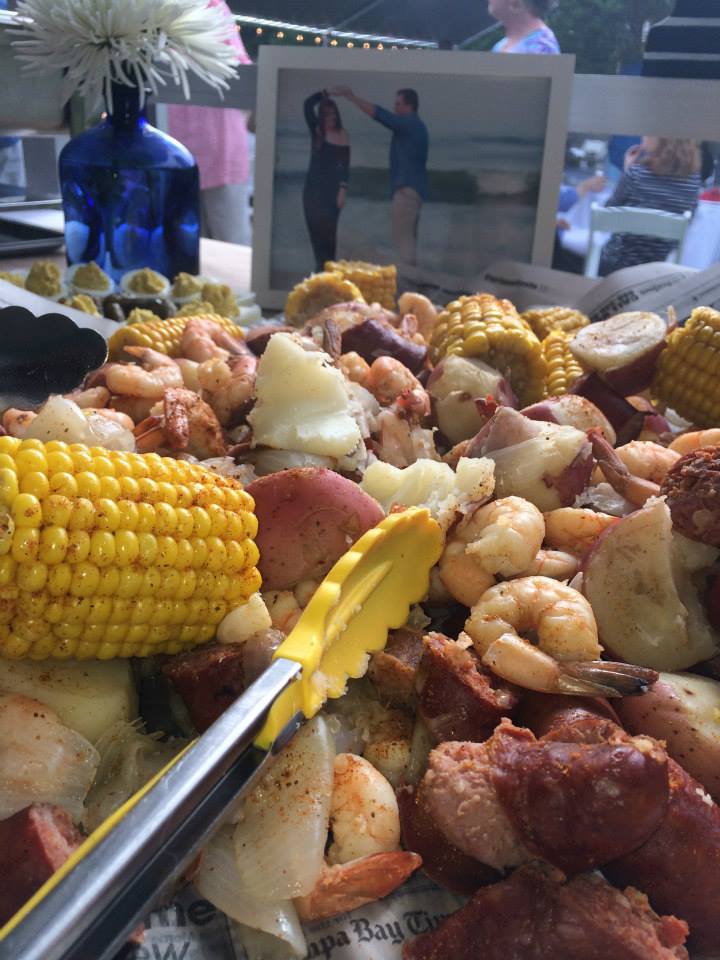 Also try:
Dim sum
BBQ spareribs
Crab legs or lobster
Feature photo credit: hopscotchtheglobe.com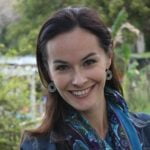 Nancy DeVault is the managing editor of Date Night Guide and a contributor to publications such as Babble, AmeriDisability Services Magazine and Orlando Magazine. She enjoys outdoor adventures with her husband and toddler.