Whether you're hosting your engagement brunch, a seasonal holiday party, your outdoor wedding or any other celebratory backyard bash, up your game with fun lawn games. Games are a playful way to break the ice for guests and create the best party memories! And, of course, you can always have a little one-on-one competition with a backyard date night.
Here are our top 16 game picks for couples outdoor celebrations and/or backyard date night.
Bocce
Franklin makes a vintage bocce ball set that ignites classic game shenanigans. The aged wood storage box is so beautiful that it can actually double as décor in a game room or patio space. Double score! Franklin.com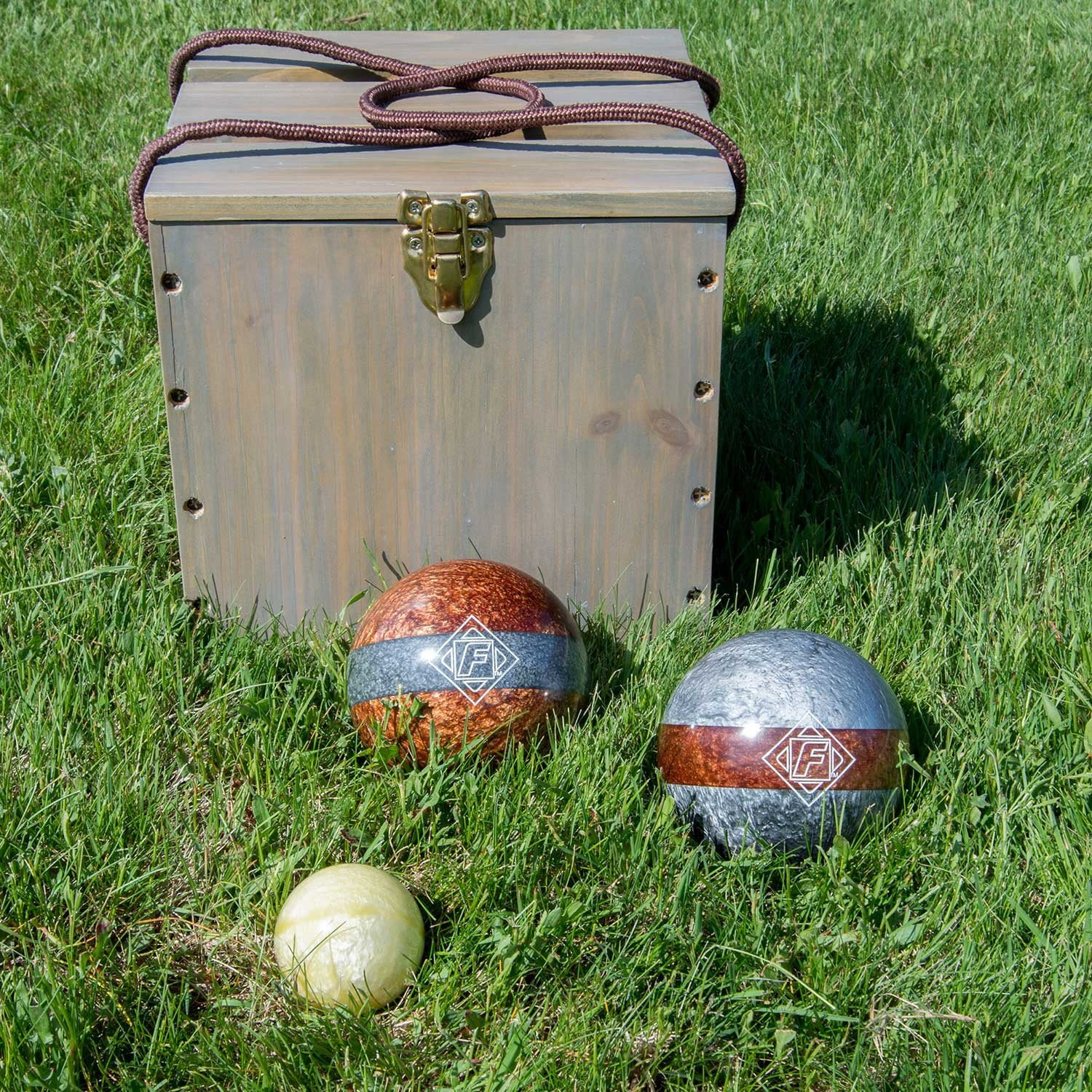 Bowling
Normally one wouldn't aim to strike out on date night or at a party but that's the plan with lawn bowling. The classic alley game is just as fun on the grass, especially without the stinky rental shoes. Strikes, spares and turkeys – oh my! ToyRUs.com
Bru-Bag
This is the perfect marriage of two party games: cornhole and beer pong. Wow, talk about an awesome union! Order on Etsy.com.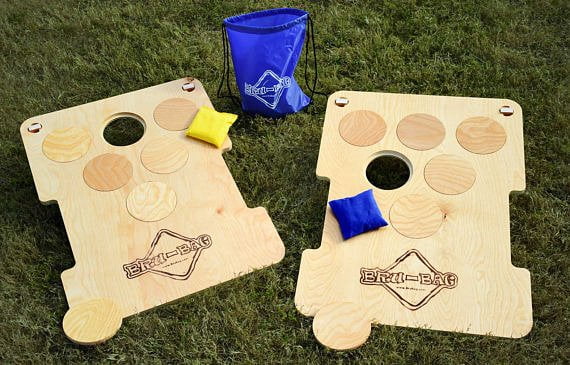 Cornhole
Cornhole has become a favorite for tailgating parties and all outdoor events. You can pretty much find a set embellished with any design or color. However, check out this green and blue striped set that is actually a 3-in-1 game piece eqipped with cornhole, ring toss and bean bag tic-tac-toe. More games equals more opportunities for party time silliness. ToysRUs.com
Cornhole Scoreboard
Consider this the coolest lawn game bonus addition. You may already have a cornhole set, but this cornhole scoreboard is a winning extra. You won't have to do math in your head (because that gets tricky after a couple of rounds of cocktails), and you can conveniently place your drink in the top cup holder so you can focus on proper throwing form. Check it out from WilzCreations on Etsy.com.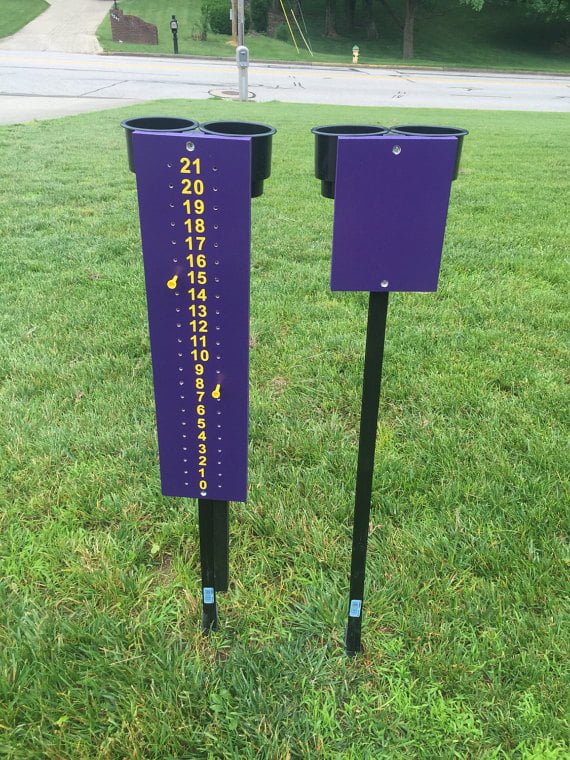 Checkers Quilt
Connect the dots with this adorable handmade checkers set. We love this lawn game because it doubles as a soft cotton picnic blanket for future date nights! Find more at LOVEableQuiltings on Etsy.com.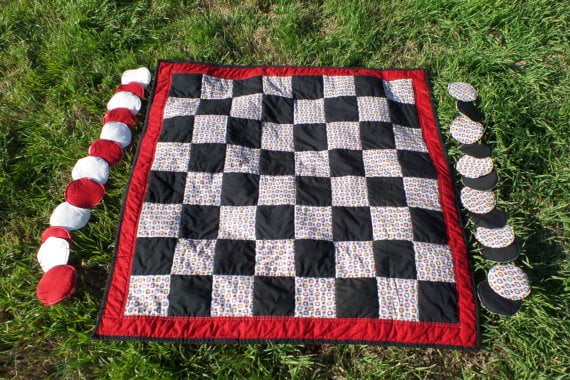 Croquet
Croquet is traditionally played on a grass court so your backyard is really a perfect playing field. Maybe get some liquid courage with this Budweiser Croquet Set with a trademarked bag. HomeDepot.com
Giant Connect Four
Stay connected to each other with a classic Connect Four challenge. You can order this pine wood set in any color — pick your favorite hue or fuel red-hot memories with your wedding colors. View this at HobbywoodCreations on Etsy.com. Also try tosso.com, where you'll find a ton of terrific outdoor games for the yard and also for the beach.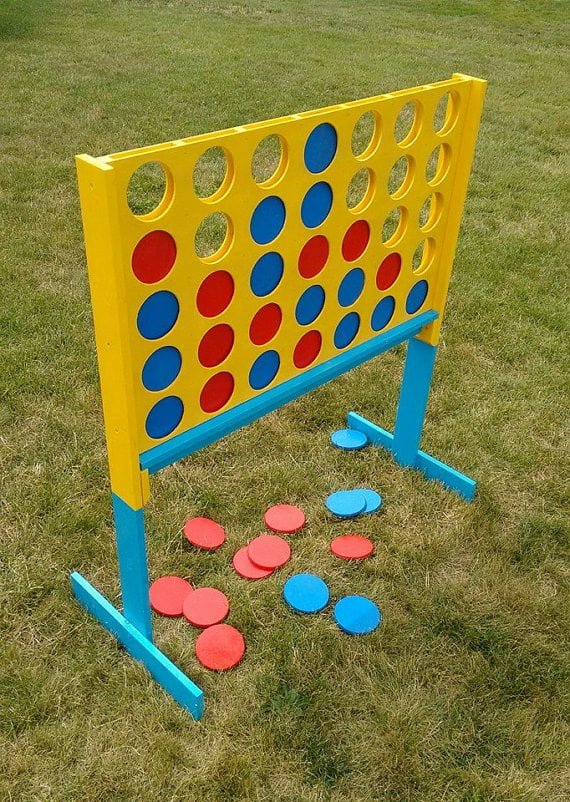 Horseshoes
Lasso some competitive fun with this steel horseshoe set. Kohls.com
Jumbo Tic-Tac-Toe
This tic-tac-toe lawn game is customizable so you don't have to get a standard x-o-x-o set. Instead, opt for your own initials! And for an extra special touch, order letters to match your signature wedding colors. Find this at the TheDutchGoldfinch shop on Etsy.com.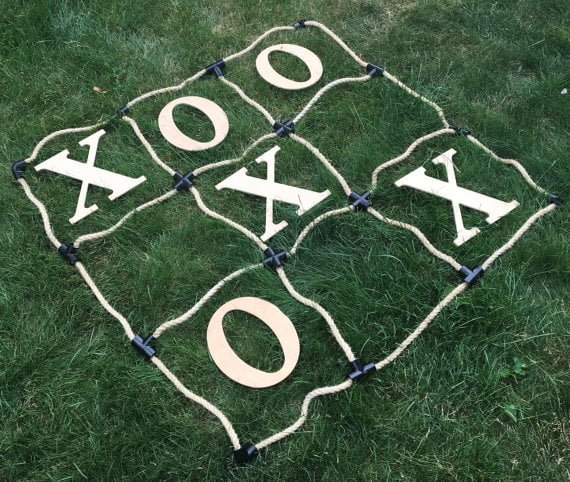 Net Games
This 3-in-1 set allows you to play badminton, volleyball or tennis. Whatever you choose, you'll have a ball of a time! ToysRUs.com
Ring Toss
Don't keep your competitive spirit bottled up… ring in a great time with this beautifully customizable ring toss set. We love the rustic look of this wood crate and rose gold painted bottles, but you can get any color you want from TheDutchGoldFinch at Etsy.com.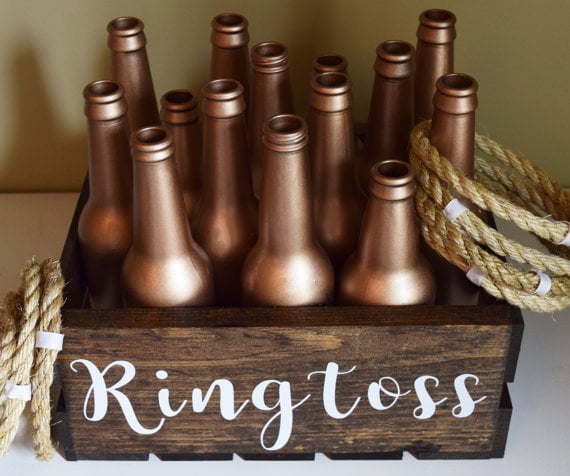 Tumble Tower
Whether building date night memories just with your love or all of your game lovin' friends, this Giant Wooden Tumble Tower game is awesome. Yup, it's basically a huge Jenga set. This is also a great gift idea because you can personalize the wood pieces with your partner's favorite sports team. victorytailgate.com
Yard Dice
Let the good times roll with this jumbo set of dice. It includes handmade solid pine wood dice, a rustic drawstring bag and the rules for four different dice games. This is a great entertaining option as, for the most part, any guest can join in the fun because experience or skill is not really needed. uncommongoods.com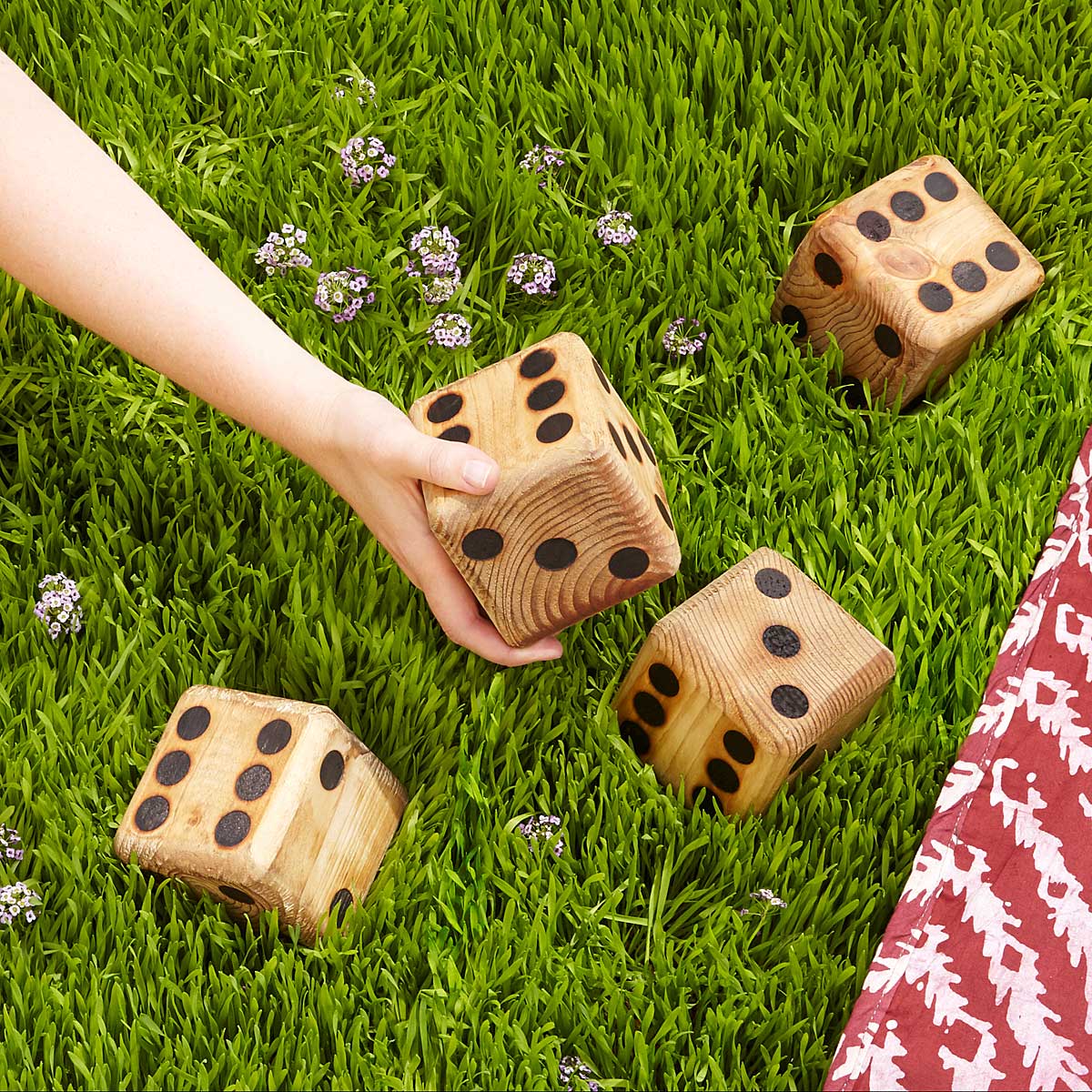 Yardzee
Think of this as a giant Yahtzee game, complete with natural-finished dice with hand-painted pips, a bucket, score card, instructions and marker. It's another great way to let the good times roll. Find this at OfAllGrains on Etsy.com.
Yard Game Signs
If you're a gamer and plan to have multiple play areas at your backyard bash, consider using these cute wooden signs to designate each game station. Take a peek at TheCommonSign on Etsy.com.
Photo Credit: feature image courtesy of TheCommonSign on Etsy.com.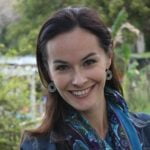 Nancy DeVault is the managing editor of Date Night Guide and a contributor to publications such as Babble, AmeriDisability Services Magazine and Orlando Magazine. She enjoys outdoor adventures with her husband and toddler.