By Tasha Harrison
Owner/Event Director, Everlasting Events
Going camping can be a blast. It's a little bit of adventure, fun and childhood nostalgia… all mixed together. Add your soul mate into the equation and it's all the better!
Instead of having to pack up tons of camping gear, prepare three days worth of food and pray there is no rain in the forecast to affect your plans, consider opting for a camping date night At HOME! We promise it'll be just as fun camping in your living room as it is in any state park… and maybe even better!
Build a Tent
Remember building a fort as a little kid? Let's channel that. Grab a couple of flat sheets or blankets from the linen closet. Then, some rope strung between 2 walls or some high backed chairs is all you need to create the perfect campsite. Get a couple fluffy blankets and pillows to put on the floor. Hey, if you're more of the glamping type, bring out the air mattress for a cushy at-home camping cuddle. Check out this tutorial and these at-home tent ideas to spark your imagination!
Cut the Lights
Grab some candles and lanterns. No one goes camping with flourescents! Don't go building a bonfire in the living room or anything, but enjoy the flicker of a flame for this date night.
Pack a Picnic
You know what's great about a picnic? You can put anything you want in that basket! Looking to keep it simple? Gp with sandwiches, a salad, some apples and celery with peanut butter. Perhaps cook some chili and cornbread in the colder months. If you consider yourself to be foodies, try some of these outside-the-box picnic recipe ideas. Enjoying a yummy (and easy!) meal with your love is never a bad idea.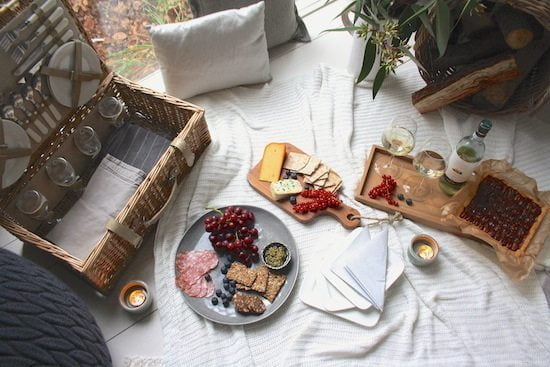 Roast S'Mores
Three simple, delicious ingredients is all you need for ooey-gooey s'mores: graham crackers, marshmallows and Hershey's chocolate (or Ghiradelli?). Heaven. Roast the marshmallows over the grill or cooktop. Nothing says "I love you" (and you have marshmallow on your face) like s'mores.
Unplug
One of the main reasons people go camping is to get away. Turn your phone, TV and computer off for a night (or more) and focus on each other. Talk, laugh, read, open the windows and listen to the crickets. Enjoy life with your love without any modern distractions. We all need that every once in a while.
Happy Camping!
Image credits
Ten Thousand Villages
Buzz Feed
Avenue Lifestyle
Originally published on March 30, 2017