You childhood crush is all grown up and ready to melt your heart! If you're mouth still waters for s'mores — aka your favorite campfire food crush — cook up some ooey, gooey treats on National S'mores Day on August 10. You can heat up date night at campgrounds, restaurants or your kitchen.
Mix it Up
S'mores traditionally sandwich roasted marshmallow and melted chocolate between two graham crackers. The sticky concoction is the perfect bite of creamy and crunchy!
How could you love s'mores even more? Try ingredient tweaks. Spread peanut butter, caramel, jam or Nutella on graham crackers before adding the toasted marshmallow and chocolate bar. Maybe use Reese's Cups or flavored-filled Ghirardelli chocolate squares instead of a standard Hershey bar. Or, replace graham crackers with fudge-dipped cookies.
We're loving these unique s'mores: Campfire Banana S'mores, Salty Caramel Bacon S'mores and Red Velvet S'mores Bars.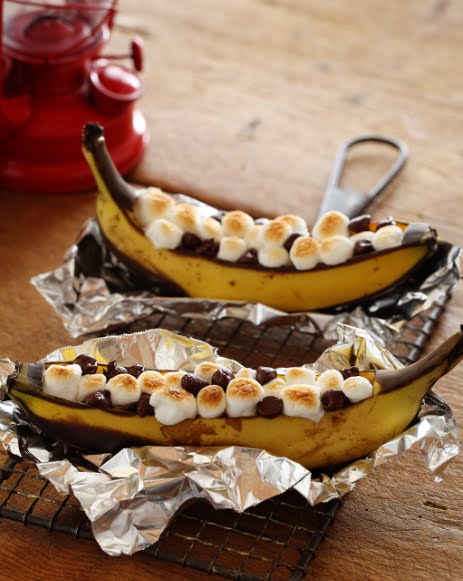 Date Night S(more)
A camping date night still cooks up epic s'mores fun. But you can forgo the wilderness – because less is s'more – and date night at hotspots with s'mores for any meal of the day.
Breakfast
Crepevine Restaurant | Mountain View, CA and other CA locations
Ready for an early sugar high? Feast on S'more Crepes stuffed with toasted marshmallows, graham crackers and chocolate kisses. The crepe is topped with whipped cream and ice cream. Oh my! Crepevine.com  
Savanna Restaurant | Chicago, IL
S'mores French Toast are filled with melted marshmallows and topped with extra marshmallows and Nutella. And the rest of the breakfast menu is equally impressive with Breakfast Stuffed Potato Skins, Red Velvet Pancakes and Crab and Lobster Benedict. Yelp.com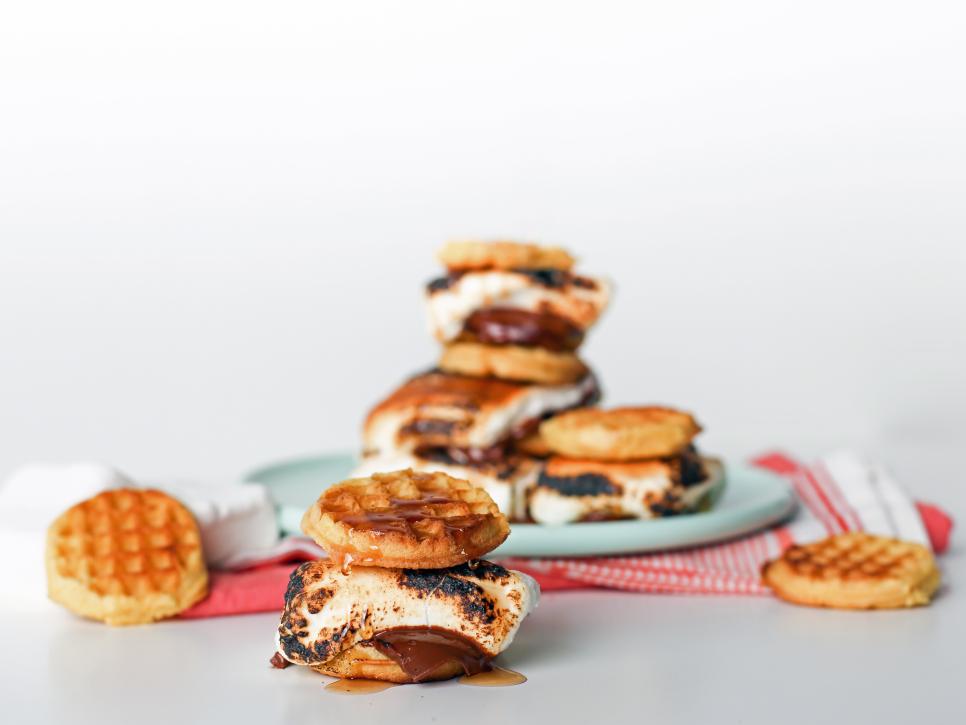 DIY Recipe | Home 
Breakfast in bed is a romantic gesture! Whip up these sweet recipes by the Food Network: 5 Ways to Eat S'mores for Breakfast.
Lunch/Dinner
Frank and Steins | Orlando, FL
Refuel at this game-filled eatery with the sweetest slice of heaven. Franks S'mores is a flatbread smothered with Nutella, marshmallow fluff and chocolate chips baked to gooey goodness. FrankAndSteins.com
Flo and Santos Pizza and Pierogi | Chicago, IL
Get cozy in either a red booth inside or a picnic table in the outdoor beer garden. Order the S'more Pizza dripping with hot marshmallow and chocolate. FloAndSantos.com
DIY Recipe | Home
Master sushi making with yummy s'mores sushi rolls!
Dessert
Cheesecake Factory | Nationwide
Sinfully indulge with Toasted Marshmallow S'mores Galore. It's a whopping slice of Hershey's cheesecake topped with chocolate ganache, toasted house-made marshmallow and Honey Maid graham crackers. TheCheesecakeFactory.com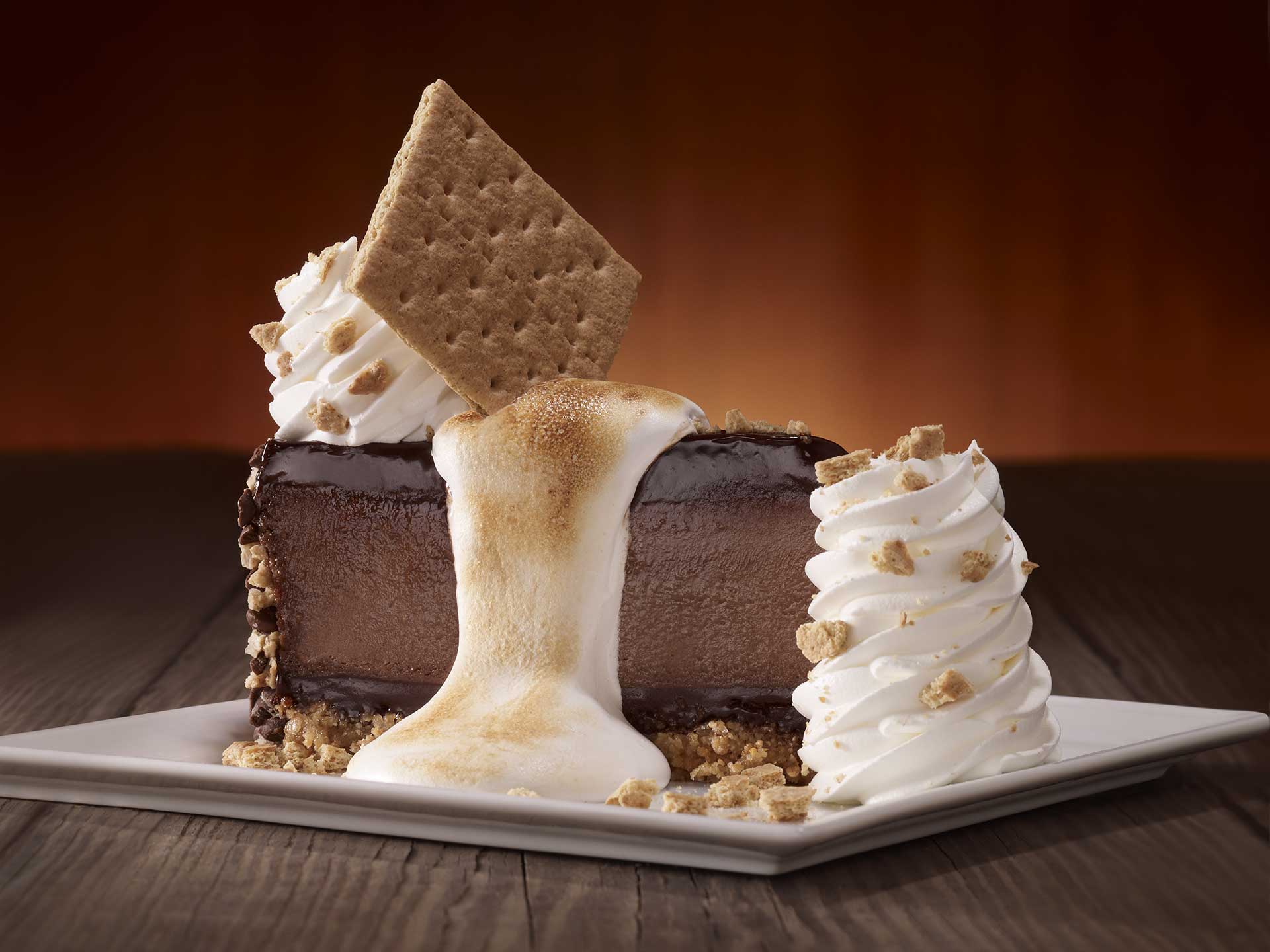 Coopers Hawk Winery | Nationwide
Pair a dessert wine with the S'more Budino. It's made with caramel custard, Valrhona chocolate mousse and brown-butter toasted graham crackers. CoopersHawkWinery.com
Dominique Ansel Bakery | New York, NY
Pastry genius Dominique Ansel rose to fame when he invented the cronut, an awesome croissant-doughnut hybrid. This chef also created the Frozen S'more. It's vanilla custard ice cream encased in chocolate, smothered with homemade marshmallow topping and hand-torched to perfection. DominiqueAnsel.com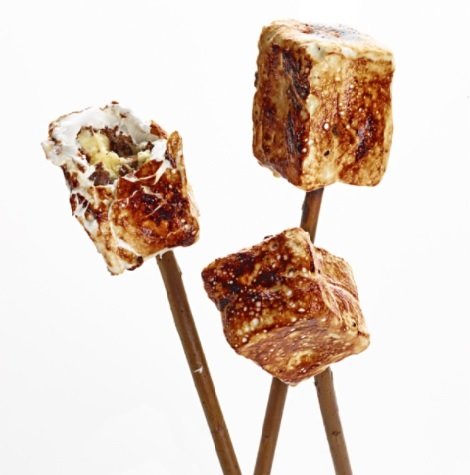 Hamburger Mary's | Nationwide
Have some fun at this spicy entertainment eatery with Mary Tyler S'mores. The DIY roasting kit overflows with graham crackers, chocolate bars and marshmallows to create customized date night dishes.  HamburgerMarys.com
Outlook Bar and Kitchen | Boston, MA
Wanna play with your food like a child? Order the Campfire Torte, a grown-up blend of dark chocolate ganache, hazelnuts, graham cracker crust and toasted meringue. It's served with a mason jar of house-made toasted and smoked marshmallows.
Drink
Bar Louie | Nationwide
This urban restaurant and bar made a name for itself with martinis, cocktails and a dynamic beer selection. So, order the S'mores Martini, a flawless blend of Absolut Vanilla, Godiva Chocolate Liqueur, toasted marshmallow and chocolate syrups, cream, more marshmallows and a graham cracker rim. BarLouie.com
DIY Recipe | Home
Make your own Summer S'mores Martini. Shake it up with liquor, chocolate syrup and a dusting of graham cracker crumbs.
At-Home S'mores 
Forget that tub of ice cream. Sweeten your at-home dessert experience with s'mores.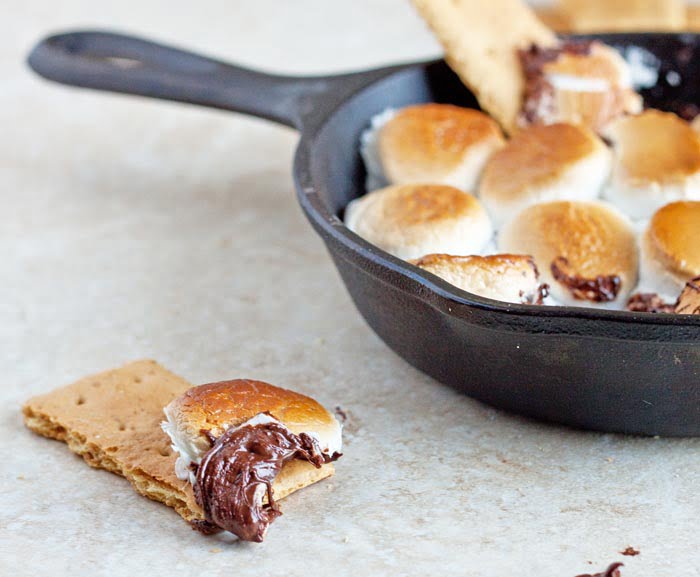 Find more ideas, log onto the National S'mores Day Facebook page. Happy #NationalSmoresDay!
Feature image credit: National S'mores Day Facebook
Originally posted on August 4, 2017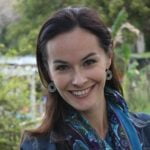 Nancy DeVault is the managing editor of Date Night Guide and a contributor to publications such as Babble, AmeriDisability Services Magazine and Orlando Magazine. She enjoys outdoor adventures with her husband and toddler.