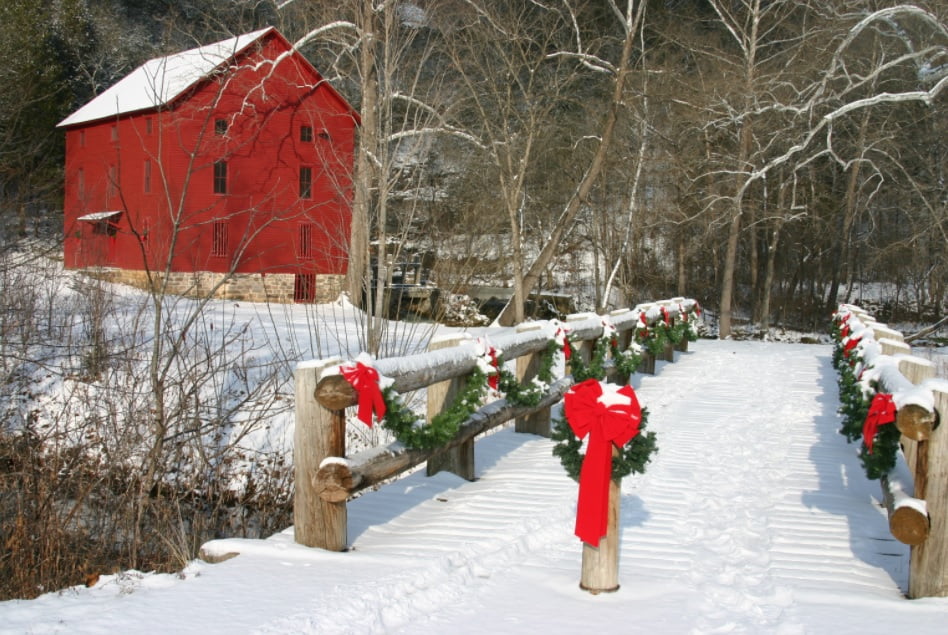 Holiday cheer comes, in part, from celebrating traditions with your loved ones, and especially the one you love most. Traditions may include holiday events, festive feasts, winter wanderlust and more. We've combined these elements to present ten destinations full of holiday happenings and cheer for couples.
1. Washington, D.C.
Our nation's capital is a top couple's getaway year-round. There's so much to see such as, of course, The White House – America's most famous residence which was selected by President George Washington in 1791 and now has 132 rooms, 35 bathrooms and 6 levels – and the National Mall – an amazing two-mile stretch between the U.S. Capitol and the Lincoln Memorial full of monuments, memorials and museums.
Holiday happenings? In 1923, President Calvin Coolidge began the tradition of the National Christmas Tree. He lit a 48-foot Balsam Fir from Vermont decorated with 2,500 electric bulbs. The 2017 National Christmas Tree lighting ceremony was held on November 30. A date night visit to the National Christmas Tree includes nightly entertainment from local musical groups.
Since 1979, a giant menorah has also been lit on the White House grounds in celebration of Hanukkah. The 2017 National Menorah lighting ceremony will be held on December 12 and is open to the public (free but tickets are required). The event includes speeches, musical performances and traditional fare.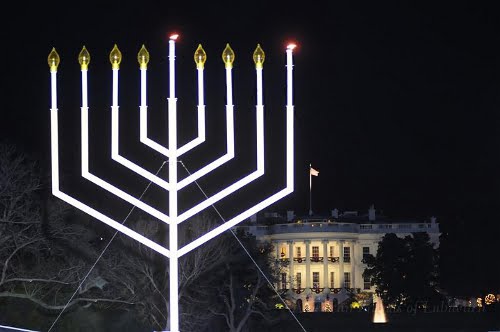 2. Asheville, North Carolina
Asheville is the craft beer capital of America thanks to a plethora of delicious breweries. Plus, the city offers tons of outdoor date adventures like biking, canoeing, hiking and whitewater rafting.
Holiday happenings? Festive fun awaits with Christmas tree farms, carriage rides, Winter Lights at The North Carolina Arboretum and various celebrations at the Biltmore. For the sweetest date night, head to the Omni Grove Park Inn for the National Gingerbread Competition. Also, take a day trip to McAdenville, less than two hours east of Asheville. This small town has earned the title "Christmas Town USA," thanks to a stocked calendar of holiday events like Christmas parades, Santa 5K races and a community-wide lighting of 375 Christmas trees and pretty much every residence.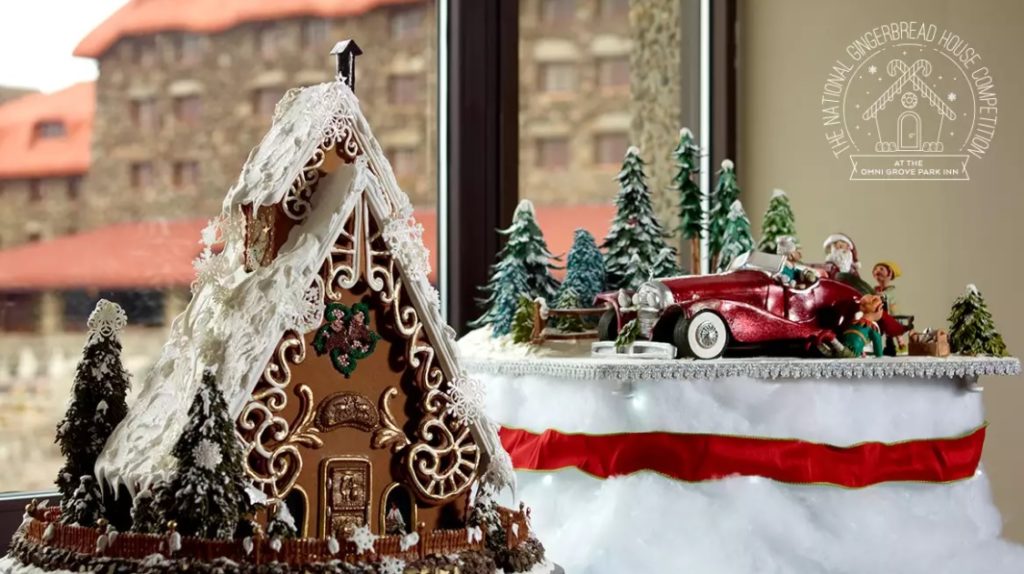 3. Newport Beach (and surrounding coastline), California
The Pacific Coast Highway's 123 miles make for one of the most stunning road trips. From San Francisco to San Diego, you'll find plenty of date night fun. With a stop into Los Angeles, kiss by the Hollywood sign and stroll the Hollywood Walk of Fame to show your leading lady or leading man that you're starry-eyed in love.
Holiday happenings? It should come as no surprise that the California coast is home to some of the most uniquely spirited events. Since it just passed, plan ahead for next year's Surfing Santa Competition, held annually in November on Salt Creek Beach to benefit Surfers Healing. Pair your board shorts with a Santa hat and hop onto either a standup paddleboard or surfboard.
In Newport Beach, Santa Claus rides on a boat rather than a sleigh! Now in its 109th year, catch the spectacular multi-day boat parade. And for just $32 per person, you can book a holiday lights cruise!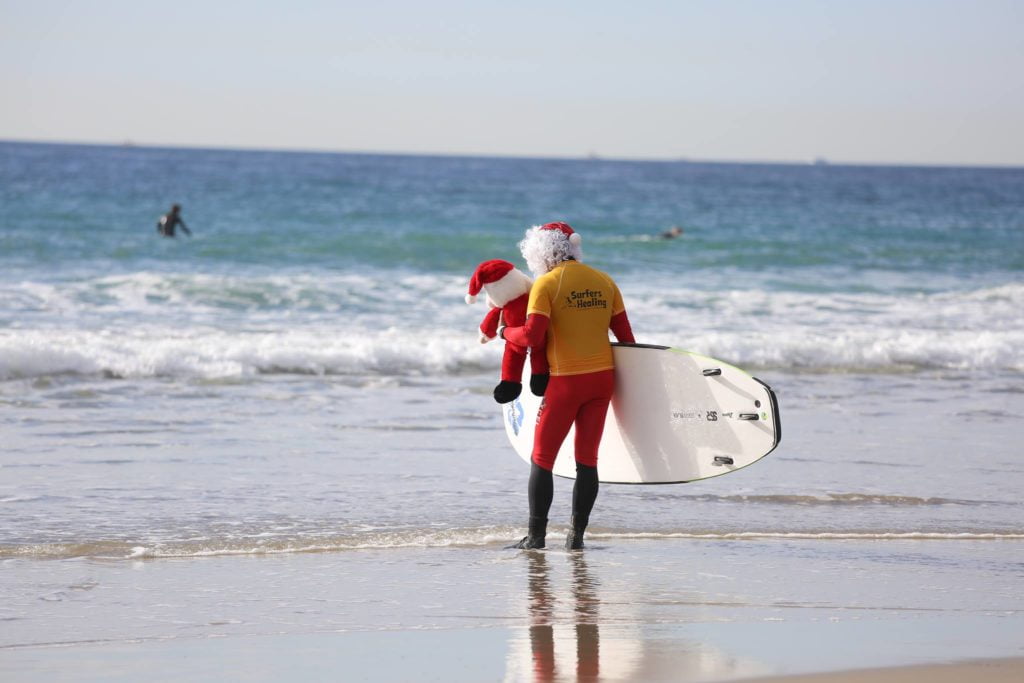 4. Oahu, Hawaii
Well, Hawaii is one of the most romantic destinations for couples. Wouldn't you agree? Hike to Manoa Falls, surf or sunbathe at the North Shore and sip plenty of Mai Tai cocktails.
Holiday happenings? Maybe when tired of wearing that big red suit, Santa puts on a Hawaiian shirt and flip-flops! Paradise Cove Luau is ready to prove that Christmas tunes inspire hip-shaking dance routines. In addition to traditional fare and music, December shows embrace the essence of the North Pole but with white sand rather than white show. Stay at the Sheraton Waikiki to admire holiday-themed sand sculptures, or at The Outrigger where Santa arrives via canoe.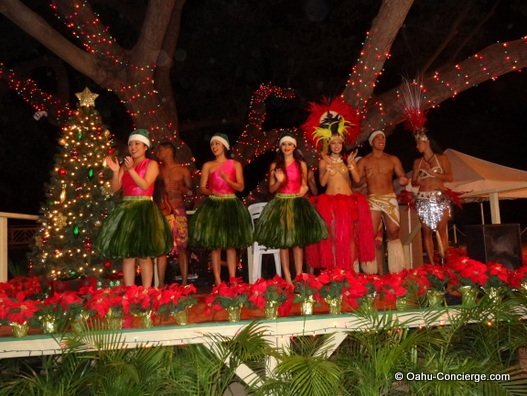 5. Santa Fe, New Mexico
There's so much to explore with your beloved travel buddy in Santa Fe. Stroll hand-in-hand through cultural museums, shop indie markets in the Railyard District and drive the Turquoise Trail.
Holiday happenings? Santa in Santa Fe? Yup! Perhaps the name is not a coincidence because the Farolito Walk on Canyon Road is rich with Christmas traditions. Aside from standard holiday lights and decor, the famous path is lined with paper bags illuminated by votive candles. It matches the stunning beauty of this historic neighborhood of art galleries and more.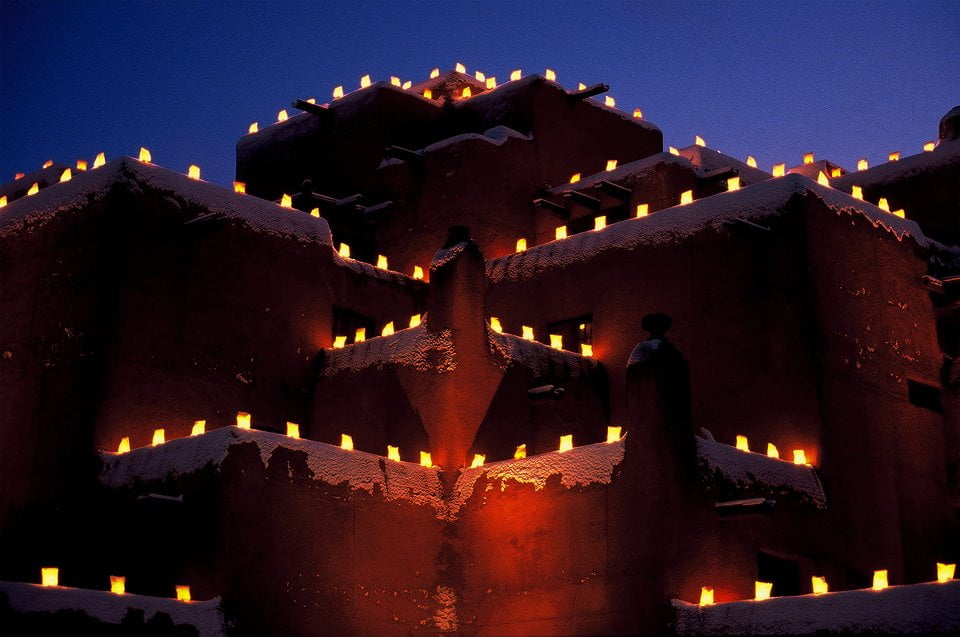 6. Orlando, Florida
Making date night convenient and thrilling, the Central Florida region is home to mega entertainment hubs like Disney Springs, I-Drive 360 and Universal City Walk. Not to mention charming neighborhoods like the artsy Thornton Park, hip Milk District and historic Park Avenue in Winter Park.
Holiday happenings? It's already the happiest place on earth but Disney kicks up the merriment with Mickey's Very Merry Christmas. Plus, Universal Orlando dazzles with both Christmas in The Wizarding World of Harry Potter and Grinchmas. Beyond the theme parks, head to Wekiva Island which becomes a waterside winter wonderland with tons of events and even real snow (yes, in Florida). Or, stop by Celebration, a small walkable town near Disney, for Now Snowing, an annual event featuring nightly soap bubble snowfalls.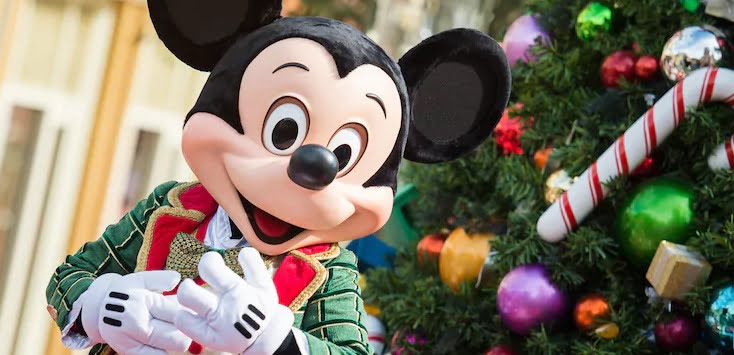 7. Cleveland, Ohio
This destination offers fun tailgating with the Cleveland Browns. And plenty of places to visit too like the Rock and Roll Hall of Fame and Museum and the Theater District.
Holiday happenings? Um, ever seen A Christmas Story, aka the best holiday film featuring Ralphie, a leg lamp and a bunny suit? Take a tour of Ralphie's house or, better yet, book an overnight stay. How fun?!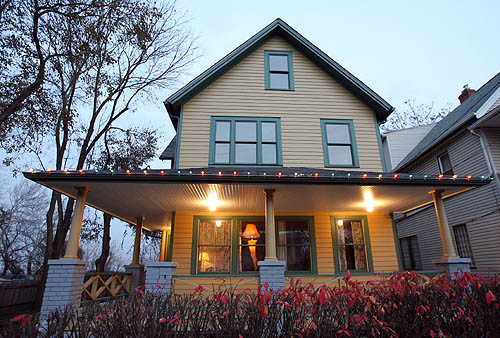 8. Santa Claus, Indiana
The town of Santa Claus is probably not on your bucket list for upcoming travel. But, during the holidays, it should be. As the name reveals, this place is truly dedicated to Christmas, all year long in fact. The town also has one of the best wooden roller coasters in the nation and Lincoln's boyhood home.
Holiday happenings? This place is bursting with holiday opportunities. Have sweets at Santa's Candy Castle, learn at the Santa Claus museum, attend a Santa Claus training for insider tips and drive-through a grand light display.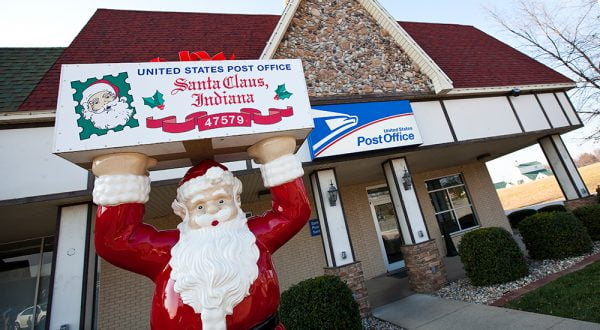 9. Reno, Nevada
Nicknamed the "The Biggest Little City in the World," Reno is all about hotels and casinos. Bet it all (or just a little) with your king or queen. Then explore the great outdoors in the Sierra Nevada mountain range.
Holiday happenings? Well, the annual Reno Santa Crawl invites Christmas-costumed drinkers to be more naughty than nice! Drink up this unique experience which includes caroling at midnight.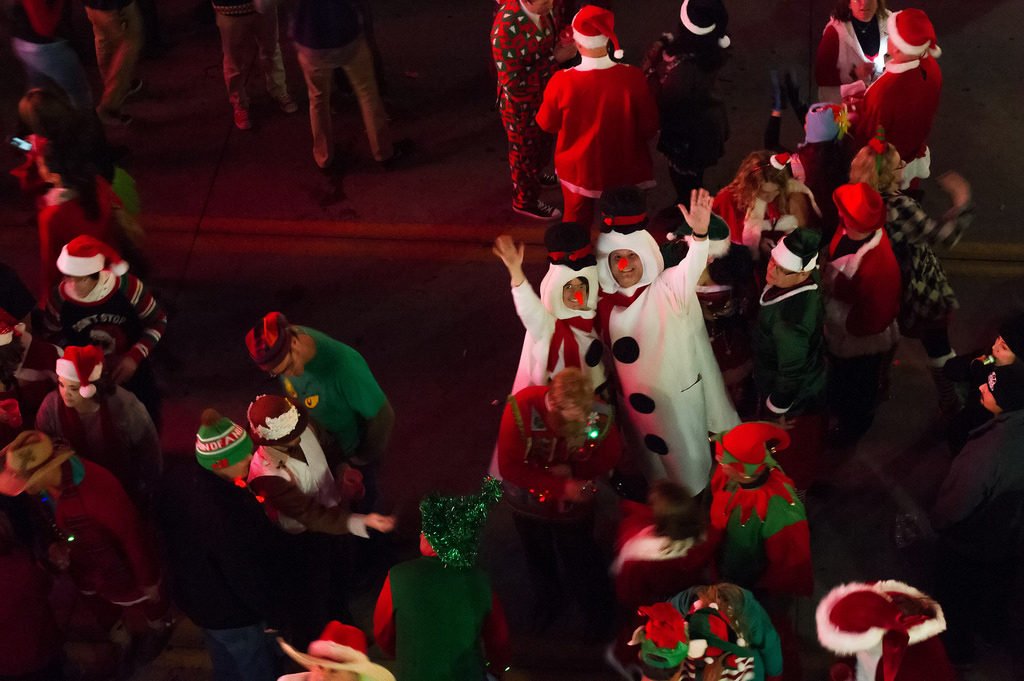 10. Fairmont, West Virginia
Those seeking a laidback vacation may enjoy biking on trails and crossing the Barrackville Covered Bridge, a 148-foot single lane bridge built in 1853 and now listed on the National Register of Historic Landmarks. Definitely visit the Heston Farm Winery and Pinchgut Hollow Distillery, a 220-acre farm nestled in the Appalachian Mountains with views overlooking the Tygart River.
Holiday happenings? West Virginia has a strong Italian heritage, so this site makes our list with festive foodies in mind. Fairmont hosts an annual Feast of Seven Fishes sure to satisfy. Traditionally, Italian communities (especially near Naples and Sicily) would celebrate Christmas Eve with a fast from red meat and consumption of seafood. "Seven" aligns with the seven sacraments of Catholicism.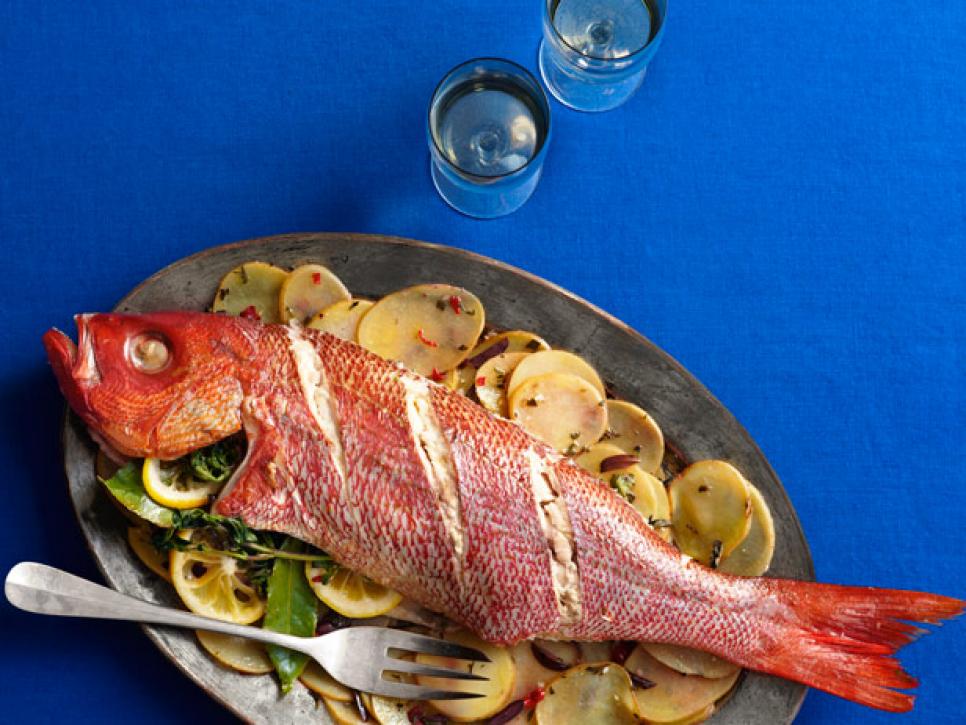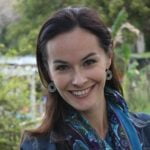 Nancy DeVault is the managing editor of Date Night Guide and a contributor to publications such as Babble, AmeriDisability Services Magazine and Orlando Magazine. She enjoys outdoor adventures with her husband and toddler.