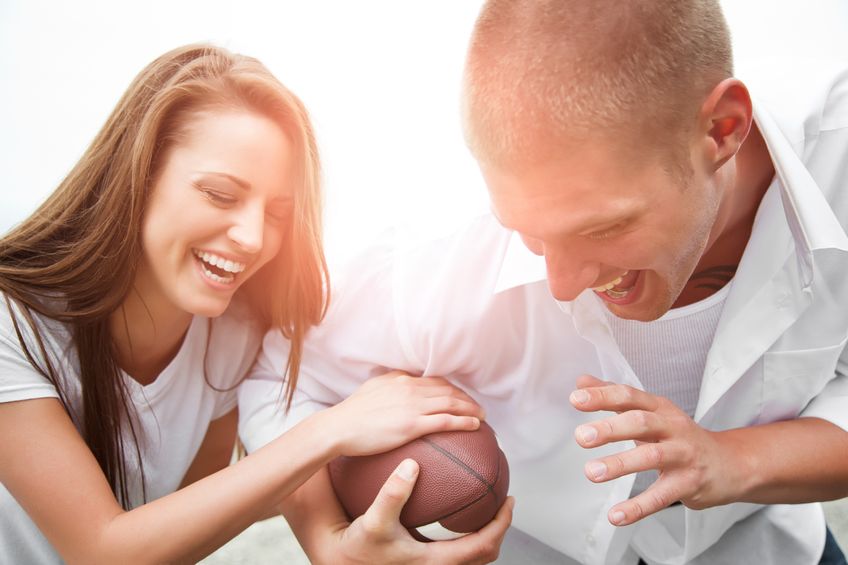 Have you ever been on or thought about going on a tailgate date night?
Well, football season is now in full gear! Do you get excited about football? The answer is: "Yay," for some; "Meh," for others. My husband and I are a "yay" and "meh" couple. He loves football, and I suppose I just don't understand it well enough. We can't be the only ones, right? On game days, he says "I am so excited for this game," and I say "OK, I guess we can watch it." I truly want to enjoy watching football, because it could be a fun connecting point in our relationship.
When we were dating, I was eager to do all things he loved. Somewhere along the line in the hustle and bustle of little feet wandering around, that desire faded. But there is a certain feeling of love and appreciation when someone does something for you — even if it's just not their thing. It's time to bring that back! Perhaps start by focusing on your loved one and what he/she enjoys (and the favor will be returned). Speak to his/her love language, even if the language is football and it takes a little work for you to like it too.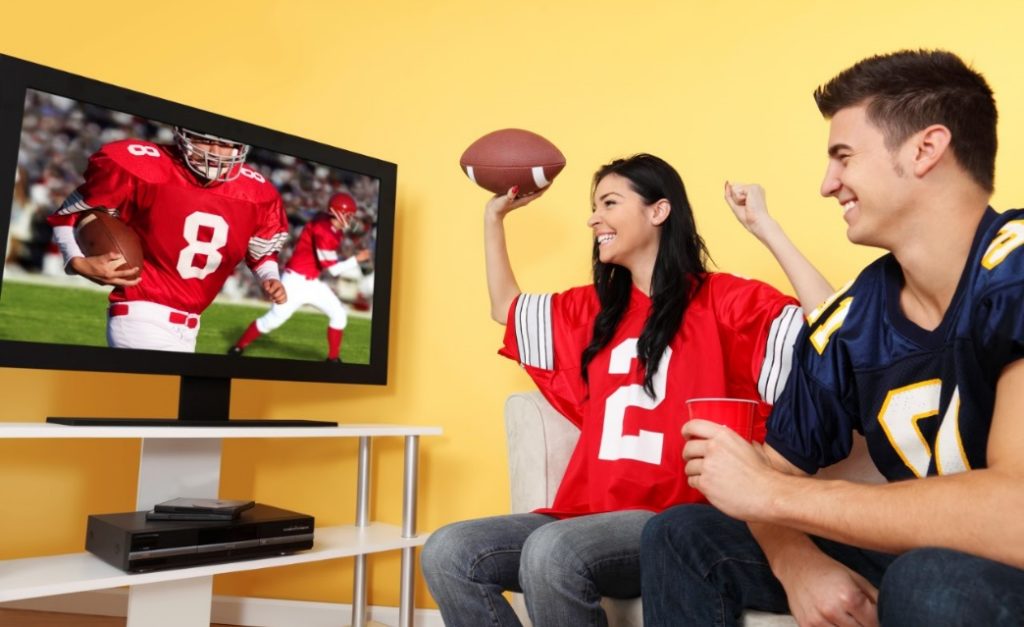 I have been on a mission for years to better understand and enjoy this game. However, sitting on the couch trying to learn the rules while he was watching wasn't working. I finally figured out how to do it and make it something we both can enjoy — light bulb! It all starts with a popular past-time: THE TAILGATE. Everyone can get excited about tailgating, right?! Being outside, enjoying food & drink and the company of your very own MVP.
Here's a tailgate date night line-up!
Home vs. Away: Pick a Date & Event
Check out the game schedules for both NFL and college games. While football may be a fan favorite for tailgating, you can also have tailgating fun at other sporting events like basketball, soccer or hockey and even concert and/or special events. If your favorite team is not nearby, consider getting a bit creative. Recently, for example, my husband and I tailgated at a lake and then watched a game at a sports bar.
Tailgate Gear
Here's the best part about tailgating… it can be done anywhere and you can make it whatever you want. You can tailgate in a stadium parking lot or just back your car up to the beach. It can be fun and even romantic. You can dress it up or dress it down. You get to design the tailgate to your own style or even the mood you are in. But, what do you bring?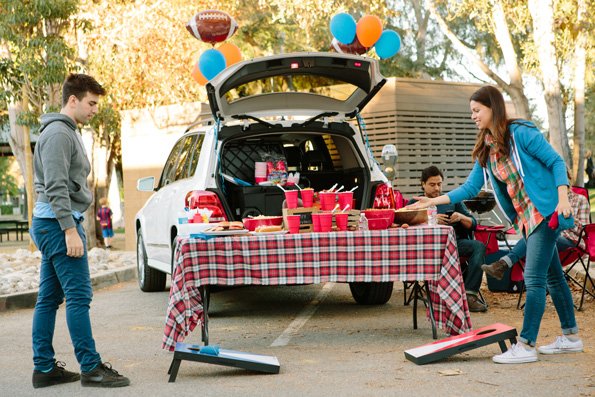 Food – pack your favorite grub in a cooler or picnic basket. Depending on the mood that you are going for, here are some ideas: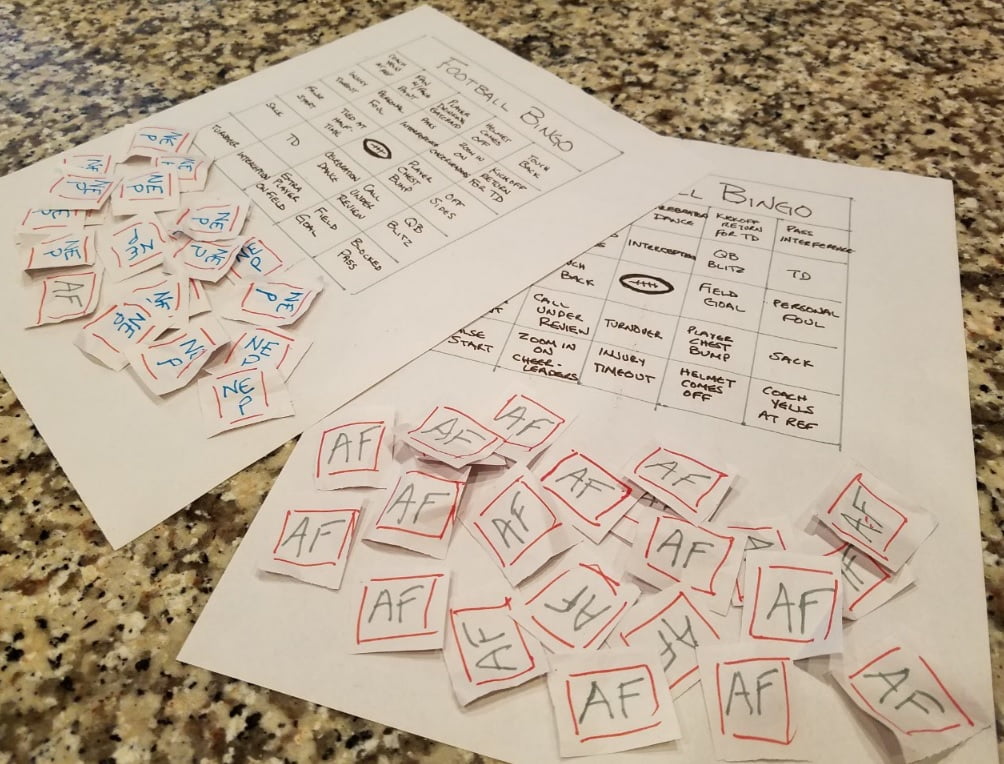 Portable grill – if the menu calls for it, and cooking/serving utensils.
Beverages – water, beer, wine or make up a signature drink. Try something color themed for the team you are rooting for.
Music & Bluetooth speaker – because great music that you both love can help you tune into the experience. Create a personalized playlist to amp up the occasion.
Something to sit on – chairs are great for those with a car, or oversized pillows if you drive a truck, SUV or van (because a tailgate cuddle in the bed of your truck might be fitting)!
Something warm and cozy – a blanket to share (just one). 😉
Games – you may not have QB skills but everyone can toss a bean bag for a fun round of cornhole. Or, add a little creativity to tailgate activities, such as:
Football bingo – winner scores a massage later.
A kiss for every touchdown – everyone's a winner!
Misc. gear – pack items to make your day more comfortable, like sunscreen, bug spray (because scratching is not sexy), bleacher cushions, portable fan and hands-free koozies (to encourage hand-holding with your favorite teammate).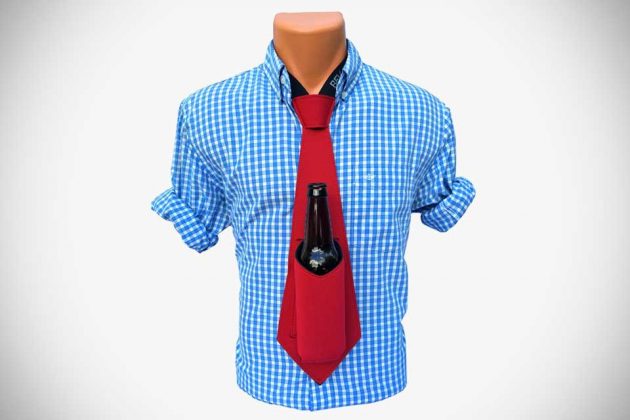 Home Team Advantage
If tailgating at the stadium isn't feasible, huddle up on the couch with your MVP for home-based football fun with three easy plays:
1. Dress the part in team colors… jerseys or jammies (it's your call)!
2. Skip high-calorie football dishes with a "made-over game day menu."
3. Sweeten the deal with Edy's Touchdown Sundae ice cream.
Year-Round Fun (Even in the Off Season)
It is not always possible to get to a game but tailgating is fun anywhere and anytime, am I right? Think outside the box. My husband and I love to back the car up to a beach or lake and have a tailgate picnic for no reason. You can also tailgate in your own backyard. Romantic tip: Point the back of your car towards the west to watch the sunset.
Tailgating is a great way to share quality, undisrupted time with your significant other. Now go rev your engine for a date night touchdown!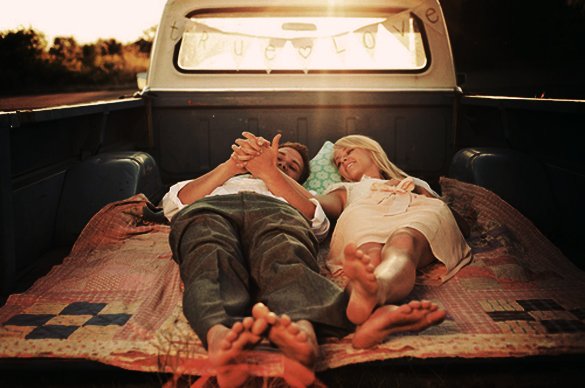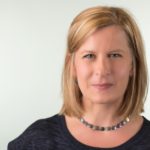 Jennie Clarke is a Central Florida based mom of two boys, wife to her supportive husband Jason, a Certified Pediatric Sleep Consultant with Good Night Sleep Site Florida, allergy-friendly food enthusiast and lover of the outdoors. Now in the midst of life after kids (and blogging about it), she and Jason work to bring focus to their marriage… (hello, date night!).