On date night, you love to drink up the company of your honey! While on such date, perhaps you also enjoy sipping stylish drinks at a craft cocktail lounge, hole-in-the-wall gem or any bar for that matter with an amazing staff. But, sometimes, you're just not craving the typical bar scene when it comes to parking, crowds, a hefty bill or even, well, leaving the house. But with a cocktail class, you can transform into mixologists capable of serving up unique date night merriment and more! Drink up these interactive places…
NORTHEAST
Apotheke | New York, NY
Bring your date to the Apotheke Academy, held every other Saturday from 3:00pm – 5:00pm. For $150/person, you'll have a hands-on class to master classic cocktails or mix up unique creations with their rooftop garden harvest.
No 9 Park | Boston, MA
Learn the secrets of the bar staff at this legendary Boston restaurant during monthly cocktail classes held Sundays from 3:00pm – 5:00pm. Themed sessions (like New Orleans Prohibition classics) are $95/person and include bar snacks. Please note that classes for 2018 are sold out (a hint that these experiences are awesome), so ahead plan for a date night in 2019.
Sanctuary T | New York, NY
Wanna shake up your usual coffee or tea date? Sanctuary T classes brew tea-focused cocktails for $75/person. You'll get an interactive experience in crafting three drinks while munching on an appetizer and sipping unlimited tea and coffee. Classes are led every Monday from 5:30pm – 8:30pm.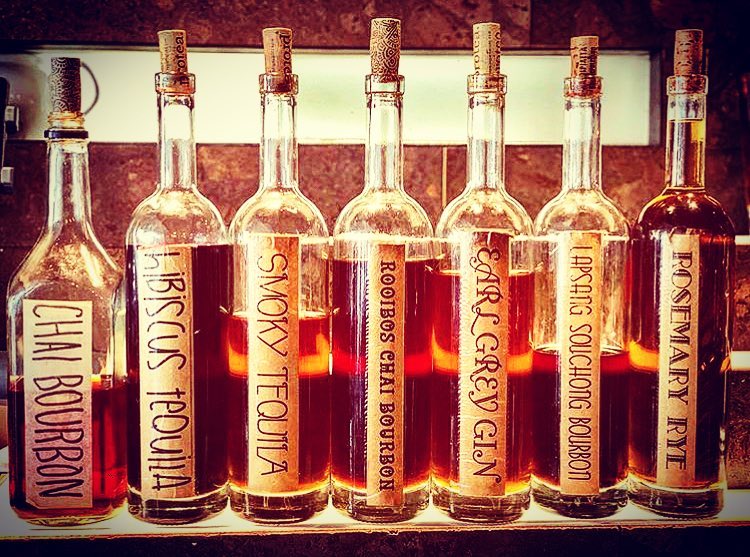 The Boston Shaker | Sommerville, MA
The Boston Shaker is a place where you and that special someone can not only learn to "make cocktails," but you can learn to make them "better." Sound promising? Their 2-hour Cocktail Technique Class offers the fundamentals of great cocktail making and more for $70/person. You'll get to savor your creations, in addition to receiving 15% off any purchases for your home bar.
Deja Brew | Shrewsbury, MA
For a fun and unique date outing, learn to craft your own beer or wine at Deju Brew. For oenophiles, choose a grape or fruit package ($165 – $230) and get one session to prepare your wine, plus one session to bottle and cork two cases (24 bottles) of vino! Beer enthusiasts also receive two sessions and get to craft customized brews for $172 – $365 (including a gluten-free recipe).
Hotel Vermont | Burlington, VT
Looking for a getaway package that includes a mix of R&R, nature, good drinks and culture? Then reserve the Spirits of Vermont Package at the Hotel Vermont (Wednesday-Sunday through December 31 only… so hurry). During this romantic stay, you and your sweetheart will explore the history and current trends of Vermont spirits in cocktail form. The class includes three drinks and a $50 credit to the restaurant Juniper. Prices for hotel stay vary by date.
MID-ATLANTIC
Cocktail Culture Co. | Philadelphia, PA
Book a class with the Cocktail Culture Co.'s workshop series if you're in the Philly area. For $95/person, you can learn mixology techniques with herbs and spices or master using fresh fruit ingredients. Classes are two hours of creative, social and interactive fun – perfect for date night, birthdays, girls' night out and other celebratory occasions.
Wisdom | Washington, DC
The intimate (8–12 person) 90-minute cocktail classes at this DC bar are great for beginners and/or intermediate home bartenders. You'll learn the basics of booze, craft up some classics and sample spirits along with, of course, the final product. Gratuity is included in the $99/person price but, if you bring along other couples for a group date, you can secure a $20 discount per person when booking together. So grab some pals!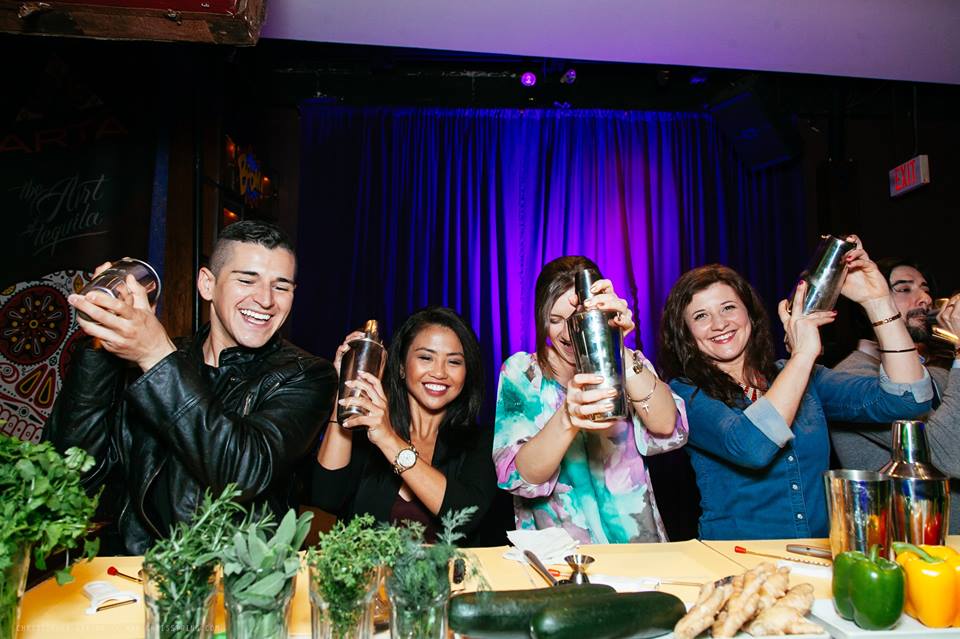 SOUTH
Congress Street Up | Savannah, GA
Every Monday at 6:00pm, this Savannah Prohibition-style speakeasy hosts 90-minutes classes perfect for a weeknight date. Book online for under $34/person and you'll get a hands-on, history-filled lesson on mixing up two cocktail classics – one shaken and one stirred – that evoke the spirit of Prohibition.
The Courtesy | Orlando, FL
This downtown bar serves up a side of history while you and your date stir up some fun while stirring together three adult beverages. Gratuity is included in the $55/person cost and the 90-minute classes are held twice monthly on Saturdays at 5:15pm. Private classes are available for 10 or more, which makes for a delish option for bachelor or bachelorette parties.
Bitters & Brass | Sanford, FL
This craft cocktail bar in Central Florida offers a monthly mixology class which focuses on proper technique and the use of fresh, unique ingredients. You can learn skills to impress your date with flawless drink execution and presentation on every second Saturday of the month at 3:30pm. Gratuity is included for $50/person.
The Maison | New Orleans, LA
Study how to make all the New Orleans classics in the heart of Frenchman Street at The Maison. Plan for a date night on a Thursday during the weekly mixology series at 6:00pm, where you'll mix up four famous drinks, such as the Sazerac. Cost is $35/person for this 1-hour session – so come thirsty but drink responsibly!
New Orleans Drink Lab | New Orleans, LA
It's no surprise that New Orleans is really proud of their cocktails. Another great place to soak up the history and craft of these beverages is at the Drink Lab. Aren't you inspired to try it out with a legit namesake like that?! The Lab offers one classic cocktail and one mixology methods class, in addition to a wine tasting and whiskey tasting class. Grab your date for two hours to observe demonstrations and develop your bartending skills through hands-on practice. Classes are $65/person and include welcome drinks (to wet the palate of course) and a small meal to pair with your creations.
Gustology | Various Locations, TX
Serving Austin, Dallas, Houston, Laredo and San Antonio, Gustology offers cocktail and wine classes for a variety of events and occasions. This mobile event company will bring the class to you based on your schedule and preferences — how cool. Maybe your honey isn't a fan of whiskey, or you've always put off taking a cocktail class because you just know there will be an Old Fashioned on the menu and that's not your jam. Well, not with Gustology! All you have to do is let your Gustologist know your preferences, and you'll both be on your way to muddling up pomegranate mojitos instead (or whatever makes you happy).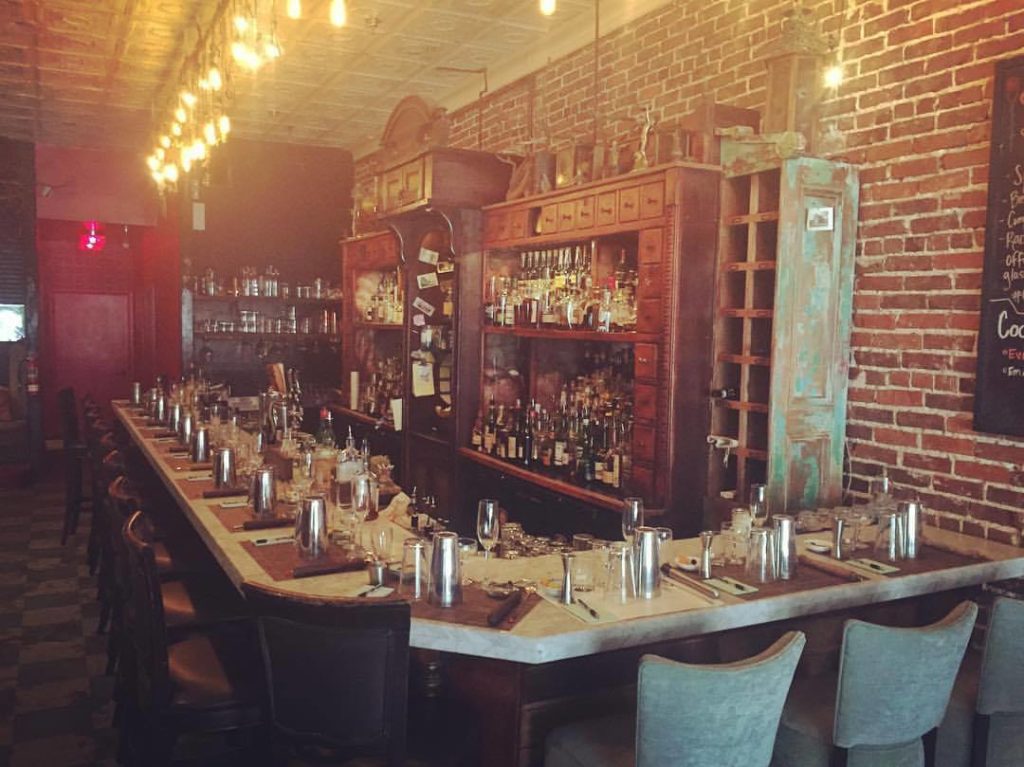 MIDWEST
The Violet Hour | Chicago, IL
The James Beard Award-winning bar program at the lounge is reason enough to make this your next date night spot for craft cocktail making. It's so good! Through interactive demonstrations and lectures, you and your date can learn from artful mixologists about what makes their cocktails exceptional. Cocktail 101 classes are 90 minutes and $100/person; Cocktail 201 classes are two hours and $110/person.
Hollow Leg | Chicago, IL
If you're intrigued by the art and science of craft cocktails, then Hollow Leg classes are for you. These experiences are also great for those who don't imbibe but still love a great mocktail because the staff can accommodate you. The 1 ½ – 2-hour courses focus on what you want to create, thus giving you the skills and confidence to mix up the perfect drink for your picky palate. Classes are $60 and available on weekends.
The Sugar House | Detroit, MI
The 2-hour Mixology Fundamentals is the "condensed version" of the class all Sugar House bartenders must take… aka it's the real deal! You'll learn time-honored techniques, discuss the importance of ingredients and learn proper use of tools of the trade. Classes are $95/person and include one welcome drink in addition to three crafted cocktails.
Tammy's Tastings | Ann Arbor, MI
Find fun and unique cocktail classes at The Last Word hosted by Tammy's Tastings. Discover spirits (like mezcal or Aquavit), learn how to incorporate seasonal ingredients or focus on flavor profiles (like spice). Classes are $45/person for two hours and include light snacks and two cocktails. Can't decide on just one class? Buy three for $120/person because three rounds are more fun than one.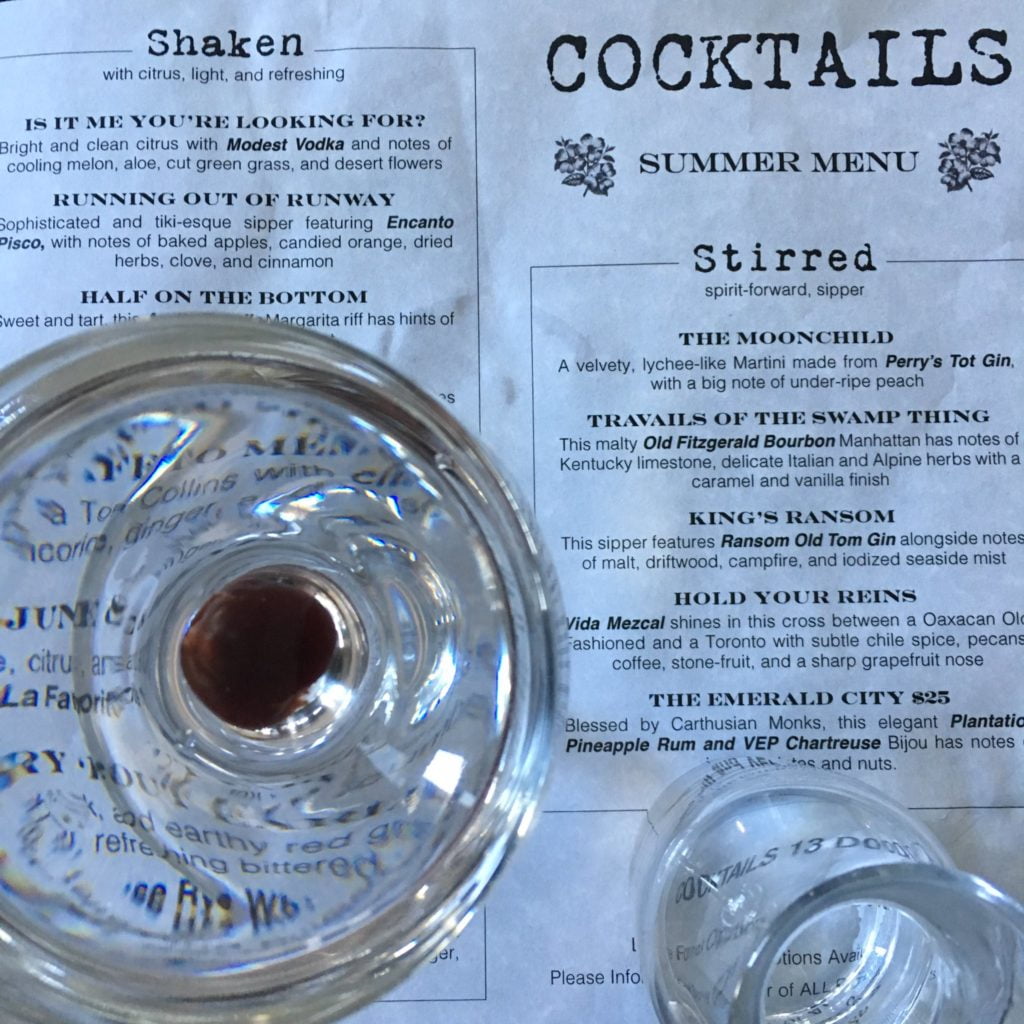 WEST
The Association | Los Angeles, CA
Offered every Saturday, The Association pours out a range of classes from bar basics for beginners to the history of "forgotten spirits" for more experienced enthusiasts. The most popular class, Fire, involves the techniques used to make the bar's firey Old Fashioned. Classes are $20/person for 45 minutes and include a sampling of 3 or 4 cocktails.
Greenbar Distillery | Los Angeles, CA
Claiming to have "the world's largest portfolio of organic spirits," you can book 90 minutes of date night enjoyment with cocktails or spirits every Friday and Saturday at Greenbar. Cocktail classes provide guidance on how to mix the perfect drink, but the creation is entirely up to your palate and, therefore, your choosing. Specialty spirit classes are also available if you'd rather craft your own spiced rum while your date creates the perfect gin. Standard cocktail classes are $40/person and include one welcome drink and two cocktails; specialty spirit classes are $55/person and include either a cocktail or sampling, plus your own handcrafted spirit.
Polite Provisions | San Diego, CA
Do date night at Polite Provision's Spirit Society for a 2-hour hands-on cocktail training led by the professionals. You'll gain an understanding of the history of spirits, master muddling and perfect your presentation (and wow your date to boot). For $60/person, you get the opportunity to create and enjoy three cocktails.
Elemental Mixology | Portland, OR
Grab your date for an afternoon of shaking and stirring with a class from Elemental Mixology. The fun, casual 3-hour session covers the basics first. Then, you'll put this foundation to the test to make spectacular drinks. Classes are $75/person with light snacks and water included.
NATIONAL
CourseHorse | Various Locations
Explore the cocktail scene in your area through intimate classes with bartenders who offer up tips, tricks and techniques. CourseHorse can connect you with a variety of drink-themed events in New York, Los Angeles, Chicago, Boston, Nashville, Houston, DC, San Diego, San Francisco, Seattle, Atlanta, Dever, San Jose and Charlotte.
For More Date Night Cocktail Classes…
Find a local bar, winery, brewery or distillery! And check to see if local businesses and/or liquor stores offer classes or events too. If not, express your interest and, perhaps, your request will be met.
Check your local extension school, community college or adult learning center. There may be courses on relevant topics, such as grape growing, winemaking and brewing.
Book a private mixologist. Hiring a bartender can make for a special gift to help your partner take his/her cocktail skills to the next level. You can start by asking your favorite mixologist upfront if he/she is available for these types of opportunities and what his/her rates are. Another option is to inquire with a catering business or find bar vendors on websites like The Knot. Although many advertise for weddings and special large events, you may be surprised at how many are able to help fulfill your stay-at-home mixology class.
Teach yourselves. There are so many great resources online (hello YouTube university!) and in print to help you and your date become stellar home bartenders. Grab something like The Bar Book to study techniques, then start experimenting with ingredients and flavor combos. You can even learn to craft your simple syrups, shrubs, bitters, infusions and elixirs. Cheers to an awesome at-home date night!
Feature image by Stephanie Patterson
About the Author
Amanda Dabrowski is a wine enthusiast and blogger at The Glorious Grape, a website dedicated to exploring wine regions, learning about unique wine styles and pairing food with wine in fun and new ways. You can connect with her via email or on Instagram (@thegloriousgrape).