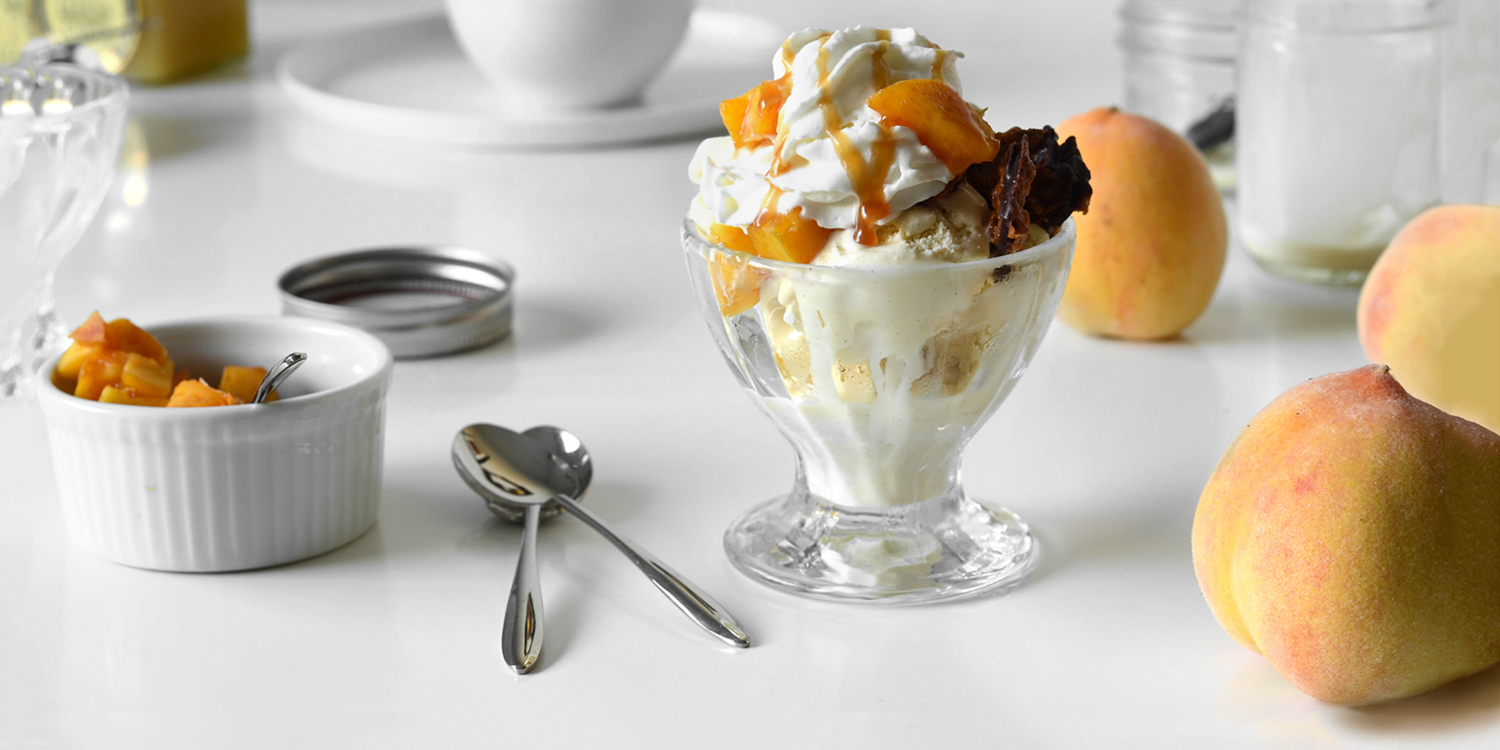 "Sunday Funday" keeps the weekend merriment going after your Friday or Saturday night out. But brunch isn't the only option. For something cooler, treat your hottie to a "Sundae Funday" — literally — aka an ice cream date… delish on any day of the week! Chill out together with scoops of creamy goodness, toppings galore and candy-coated smooches. Here's the cherry on top: We've found the sweetest ice cream date essentials to whip up a DIY sundae bar. Here's what you need:
Ice cream
Homemade vs. Store-Bought: To make your Sundae Funday interactive, make homemade ice cream together rather than using store-bought. Check out 40+ easy homemade ice cream recipes from Country Living. Prefer to keep it simple? Then just pick up your favorite flavors from the grocery store. Opt for basics like chocolate, vanilla and strawberry to make toppings the star of the show. Or, keep the fun of Sundae Funday front and center by trying new, unique or limited edition varieties. Just for amusement, read this Ben & Jerry's blog which highlights the most popular flavors per region.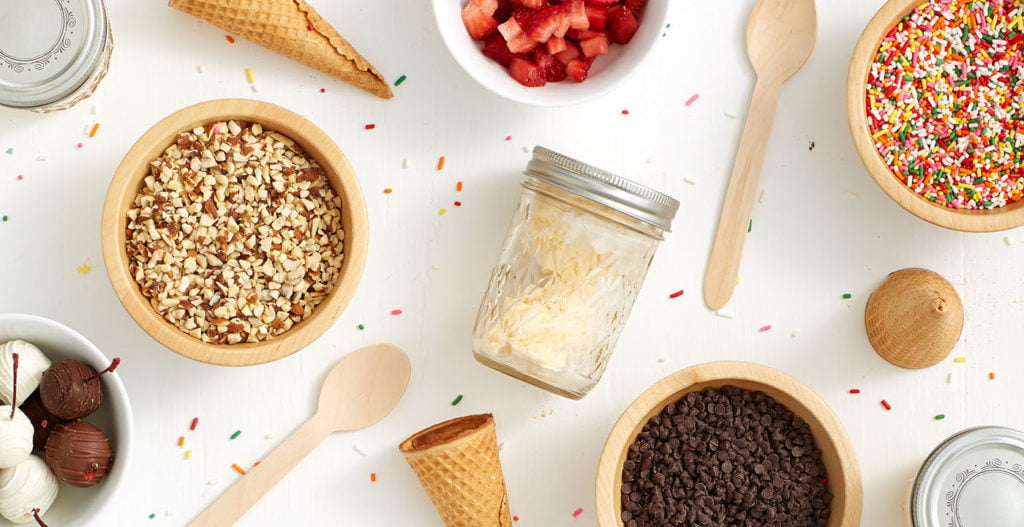 Toppings
The best part of a sundae bar is the opportunity to personalize your toppings! You can go in four directions: healthy/fruity, sweet/candy, salty/crunchy and saucy/creamy. Incorporate some options per category or, perhaps, plan to have four different Sundae Funday date nights using just one category each time.
Healthy/Fruity: berries/chopped fruit, shredded coconut, dried fruit (craisins, banana chips, etc.)
Sweet/Candy: M&Ms, Reece's Pieces, Gummy bears, sprinkles, chocolate chips, marshmallows, cookies
Salty/Crunchy: nuts, toffee bits, granola, cereal, caramelized bacon, pretzels, popcorn, espresso chips
Saucy/Creamy: hot fudge, caramel sauce, berry compote or jam, whipped cream, marshmallow fluff, peanut butter, Nutella, honey
Sundae Funday Must-Haves
Date Night Basket
Unexpected romantic gestures make for memorable love moments. I love it when my partner surprises me with a planned date night, don't you? And, it doesn't have to be expensive or elaborate; it can be a simple Sundae Funday. Check out the Smashed Peas and Carrots blog on how to create an "Ice Cream Sundae in a Box Gift." So fun! If you're not exactly crafty, just order the Ice Cream Gift Basket from Sabino Sisters on Etsy. You can order themed or standard boxes which include everything you need: cups, spoons, napkins, sugar cones, hot fudge, chocolate and rainbow jimmies (aka sprinkles) and M&M's. All you need to get is ice cream! [FYI, if you're a fan of date night kits, check out our blog "11 Food & Drink Delivery Kits to Spice Up Date Night."]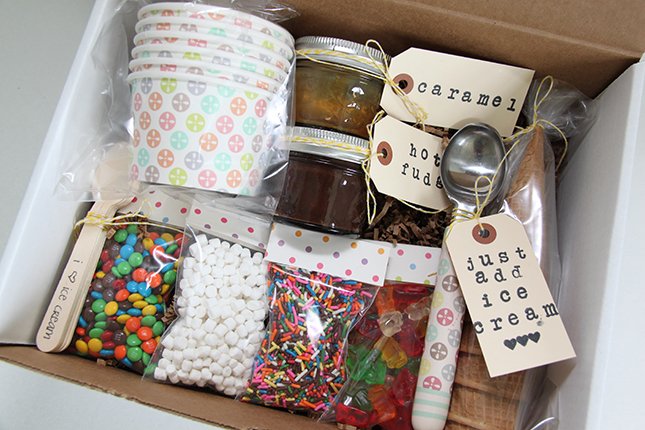 Ice Cream Maker
There's something warm and special about a home-cooked meal and, in my opinion, that same applies to homemade dessert… well, just cold versus warm. The Cuisinart Pure Indulgence makes ice cream, frozen yogurt, sorbet and frozen drinks. So, if you're thinking about adding another kitchen gadget, this ice cream maker offers variety. It's fully automatic so, while you won't burn calories churning the cream yourself, you'll love its speed (produces about two quarts in 30 minutes) and large ingredient spout to add in mix-ins. Consider yourself a softy? Cuisinart also makes a soft serve maker with a built-in topping dispenser.
Split household when it comes to ice cream? If one of you likes chocolate and the other prefers vanilla, consider the Double Treat Ice Cream Maker by Total Chef. It makes two different flavors simultaneously!
Slogan Spoons
Personalized stuff is the best! SycamoreHill on Etsy makes customized ice cream spoons with your choice of Mr. & Mrs. and/or name etching, but my favorite design is a sweet testament to the relationship itself. Example: "Bryan scooped HER up 04-28-18" and "Allie scooped HIM up 04-28-18." Click over to ShopLemonTree on Etsy for sillier slogans, like "I like big bowls and I cannot like" and "Besides ice cream, you are my favorite."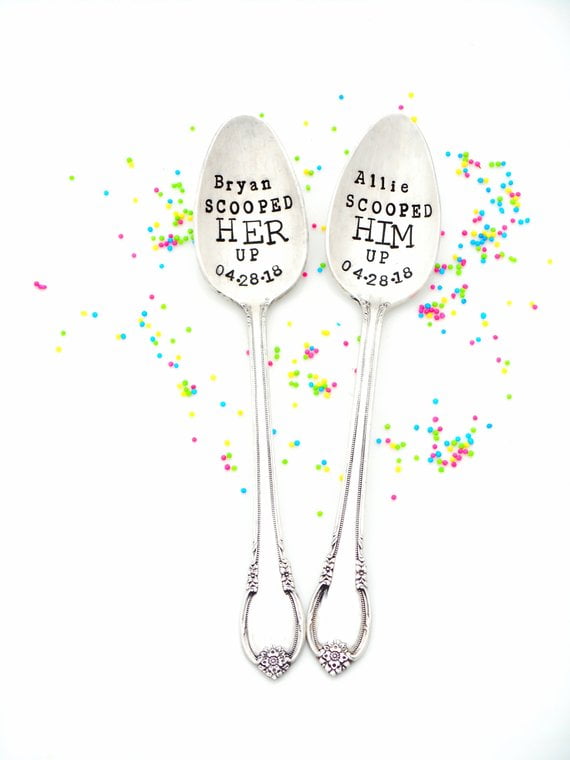 Serving Bowls
For savory meals, I'm all for tapas-style because sharables are great for date night. But, since I have a sweet tooth, I'm not so much into sharing desserts! Etched with "Mine" and "Yours," white stoneware bowls by HuffDesigns on Etsy playfully make a serious dessert demand. You can also choose other text, like His/Hers, Mr./Mrs. and Hubby/Wifey.
If you want to keep classic flavors chilled in classy bowls, opt for Stainless Steel Ice Cream Bowls by MOMA (yes, that's the Modern Museum of Art because, apparently, there's an art to ice cream consumption). The set comes with matching spoons.
Wanna milk Sundae Funday for all its worth? The Boston Warehouse Udderly Cows Ice Cream Bowl is wide enough for a banana split for two.
Unique Scooper
If you truly heart ice cream, you'll love the Heart Shape Ice Cream Scoop by Stockel. How sweet, right?
A standard scooper can require good upper body strength to work through hard ice cream, so try the Cuisipro Scoop and Stack Ice Cream Scoop. You don't have to wait for ice cream to soften; just push the scoop into firm ice cream, then lift and push the release. This scoop is especially nice for making ice cream sandwiches and tall cones.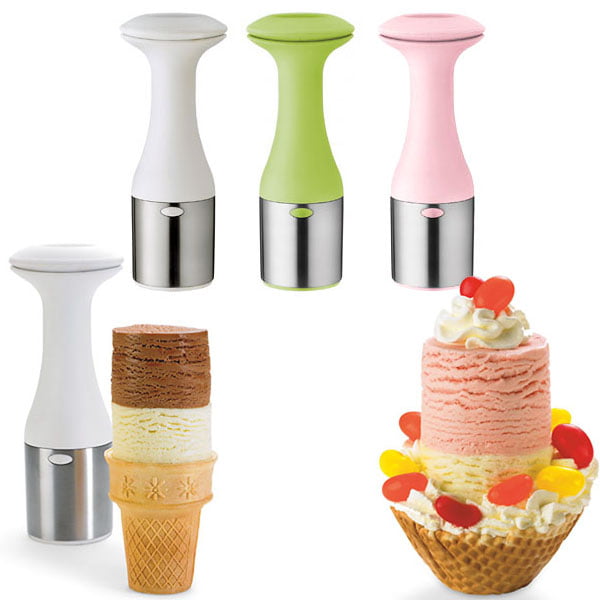 Waffle Cone Shot Glasses
Ice cream isn't just a childhood treat; it can ignite adult beverage fun too. Waffle Cone Shots by Zia Valentina are edible cones lined with chocolate – bittersweet, s'mores or cookies & cream – and come in packs of six. Fill with ice cream, milkshakes, coffee or liqueur. My vote: A mudslide.
Toppings Holder
Instead of investing in a topping-specific item, opt for a multi-purpose caddy like the Serving Center Set by Tupperware. It's perfect to portion out ice cream toppings but this kitchenware can also be used for other foodie date nights, like to hold Taco Tuesday fixings or tailgate munchies.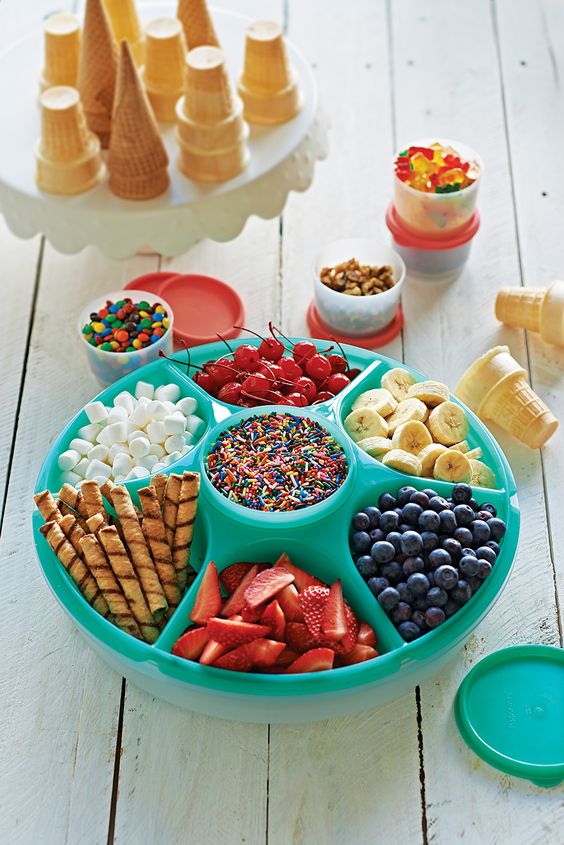 Ice Cream Appeal
Ice cream themed appeal is a sweet way to make a lovely fashion statement. For example, VivaMake on Etsy makes fun 'his and hers' items including "I melt for her" and "I melt for him" matching t-shirts.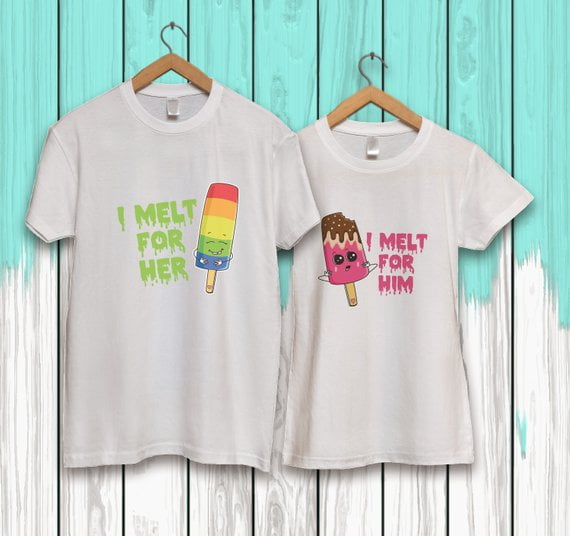 Waffle Cone Maker
If bowls just won't do, make your own waffle cones. The Chef'sChoice Waffle Cone Maker has a nonstick surface and cooks up crisp, buttery sugar cones super-fast in just two minutes.
Mixing Board
You've watched the ice cream pros blend together mix-ins at the shop. But Uncommon Goods sells a Parlor Ice Cream Mixing Set that'll take your Sundae Funday to the next level. The bamboo base has a built-in a marble slab, two mixing spoons and three ceramic toppings dishes.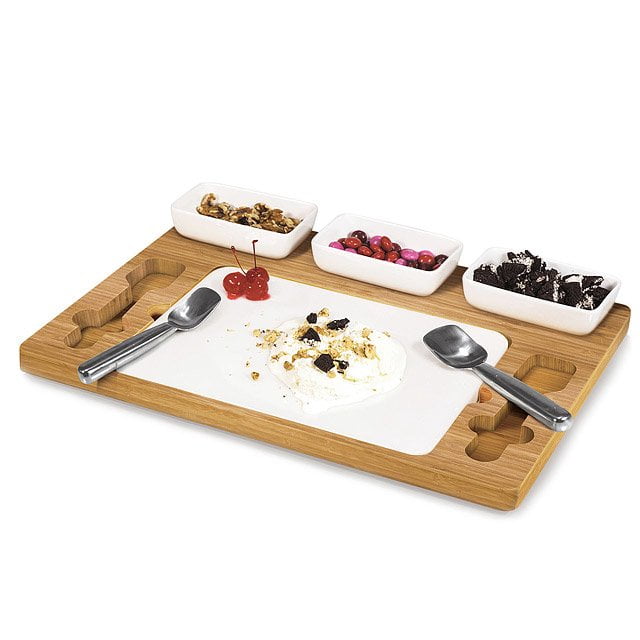 Ice Cream Bath Soaps
If you get all sticky with your love during your Sundae Funday date, pop into a refreshing bubble bath to soak up some romance. You can keep the theme going with Mini Bubble Bath Scoops by Gorgeous Soap on Etsy.
Container Koozie
Sometimes we all have lazy nights where we just bypass the bowls and dig right into the ice cream container – no judgment here! Monkeysandmess on Etsy invented an ice cream koozie fit for 500ml tubs like that of Ben and Jerry's or Hagan Daas. Your hand won't get cold… so genius.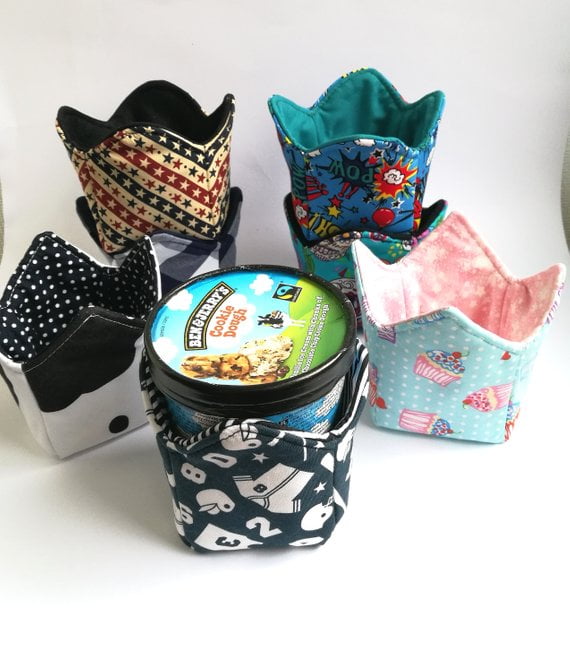 Feature photo credit: Personal Creations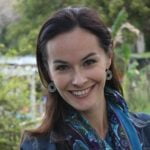 Nancy DeVault is the managing editor of Date Night Guide. She also contributes to publications such as Babble, AmeriDisability Services Magazine and Orlando Magazine. She enjoys outdoor adventures with her husband and toddler.