There's the family you're born into and the family you choose. Close friends become our second family and, because of this special bond, we often want to celebrate the holidays together. And this type of celebration is legit! "Friendsgiving" is typically held on the Saturday before Thanksgiving but you could host a festive gathering anytime during the holiday season.
Here's how to host a festive Friendsgiving feast!
The "Give" of Friendsgiving
A Friendsgiving party can satisfy your hunger for festive fun and indulgent food with your favorite peeps. But, what if you could change an alarming statistic through the power of friendship too? 1-in-6 kids in America today face hunger. Gulp! You can help by hosting a Friendsgiving celebration in support of No Kid Hungry. Plus, their resources can actually simplify your party planning. Just sign-up to host a Friendsgiving, plan your event with their handy-dandy checklist, fundraise with mobile tools and toast to a meaningful meal with friends.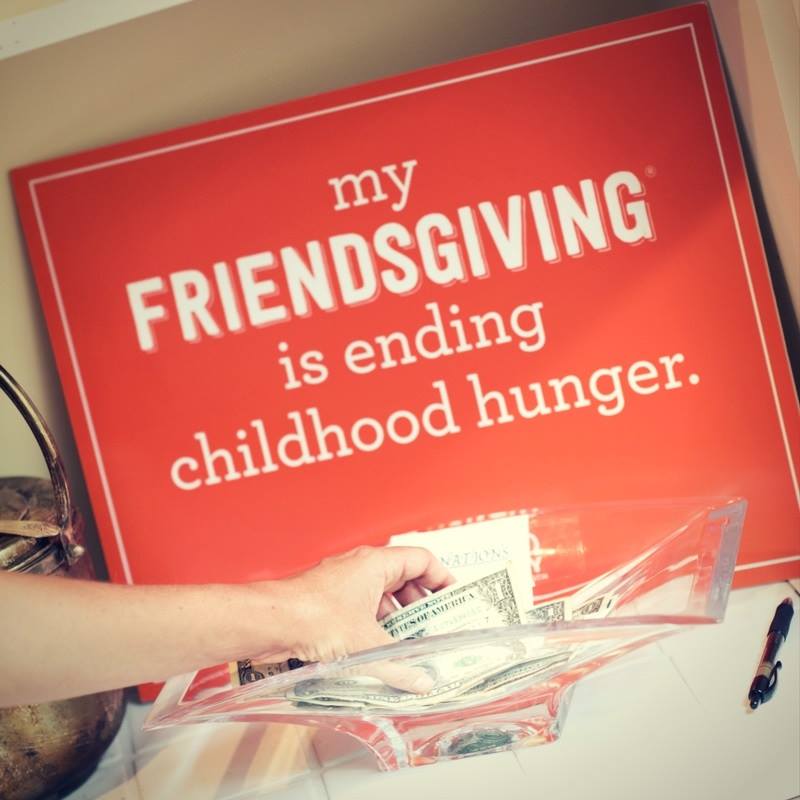 If fundraising is not normally your thing, remember that people's giving spirit is in full swing during the holidays! In fact, many of your loved ones are looking for a way to make a difference and, so, your Friendsgiving fundraising effort may be a great fit. Win-win!
Friendsgiving Menu Choices
Sharing is Caring
Intimidated to prepare a full Thanksgiving spread? Before you decide to slice the turkey, cut yourself some slack! A potluck is a great way to share the workload and, ultimately, the meal itself. Assign guests a food item, like stuffing, potatoes, vegetable, dessert, appetizer or beverage. It is customary for the host to cook the turkey and gravy unless you have a foodie friend eager to tackle the lion share of cooking — i.e. the bird!
Turnkey Turkey
If you want to spend quality time with your guests rather than cooking, just order a complete Thanksgiving meal. Consider your options: food delivery companies (Hello Fresh, Blue Apron, etc.); grocery stores (Whole Foods); chain eateries (Honey Baked Ham, Boston Market); and food retailers (Sprouts Farmers Markets, etc.).
Hostess with the Mostess
If you're a culinary wizard, whip up the whole meal yourself. While most may think this is biting off more than you can chew, it's possible especially if you select somewhat easier recipes.
Birdie Brunch
You don't have to follow tradition. Instead of a formal dinner, how about a casual breakfast, lunch or, better yet, brunch. Brunch is the most delicious meal of the week — the perfect union of breakfast and lunch dishes. If you're hosting Friendsgiving the weekend following Thanksgiving day, ask guests to bring a potluck brunch item using their Thanksgiving leftovers.
Make Reservations
Some restaurants host Friendsgiving-themed menus and/or events. If you love the concept of gathering friends but are not up for hosting, just make reservations. For example, Cooper's Hawk Winery & Restaurant serves up inventive renditions of classic Thanksgiving dishes paired with Cooper's Hawk Wines. Family-style eateries, like Buca Di Beppo, are a great option; as are tapas-style places that specialize in sharable dishes.
Menu Mix-Up
If you plan to have your fill of turkey on Thanksgiving day, consider serving alternative dishes at Friendsgiving. For example, pork tenderloin, lasagna, salmon or quinoa-stuffed butternut squash. Or, stick to party classics… tacos, pizza, burgers, etc.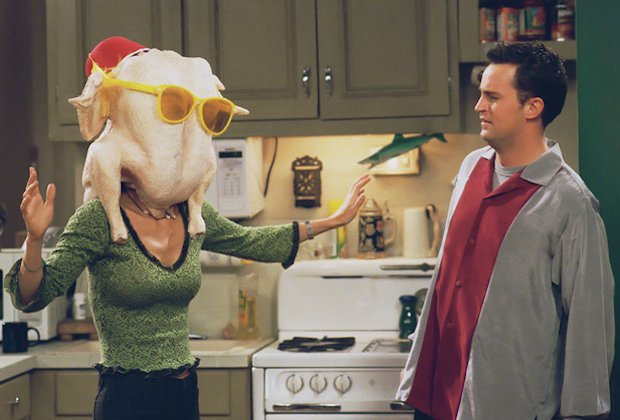 Blended Group
Your group of friends is a unique blend. Channel that same blended concept with a turducken. This Louisiana dish is a deboned chicken stuffed into a deboned duck and further stuffed into a deboned turkey! Come on… you know your friends will gobble up this dish (and the word itself).
Backyard Bash
Host a laidback Friendsgiving similar to a BBQ by deep-frying the turkey. Always use caution when using a turkey fryer. Serve with corn on the cob (instead of corn pudding), oven-roasted fries (instead of mashed potatoes) and steamed green beans (instead of green bean casserole).
Festive Fun
Think of Friendsgiving as a festive playdate for adults! Here are ways to have fun…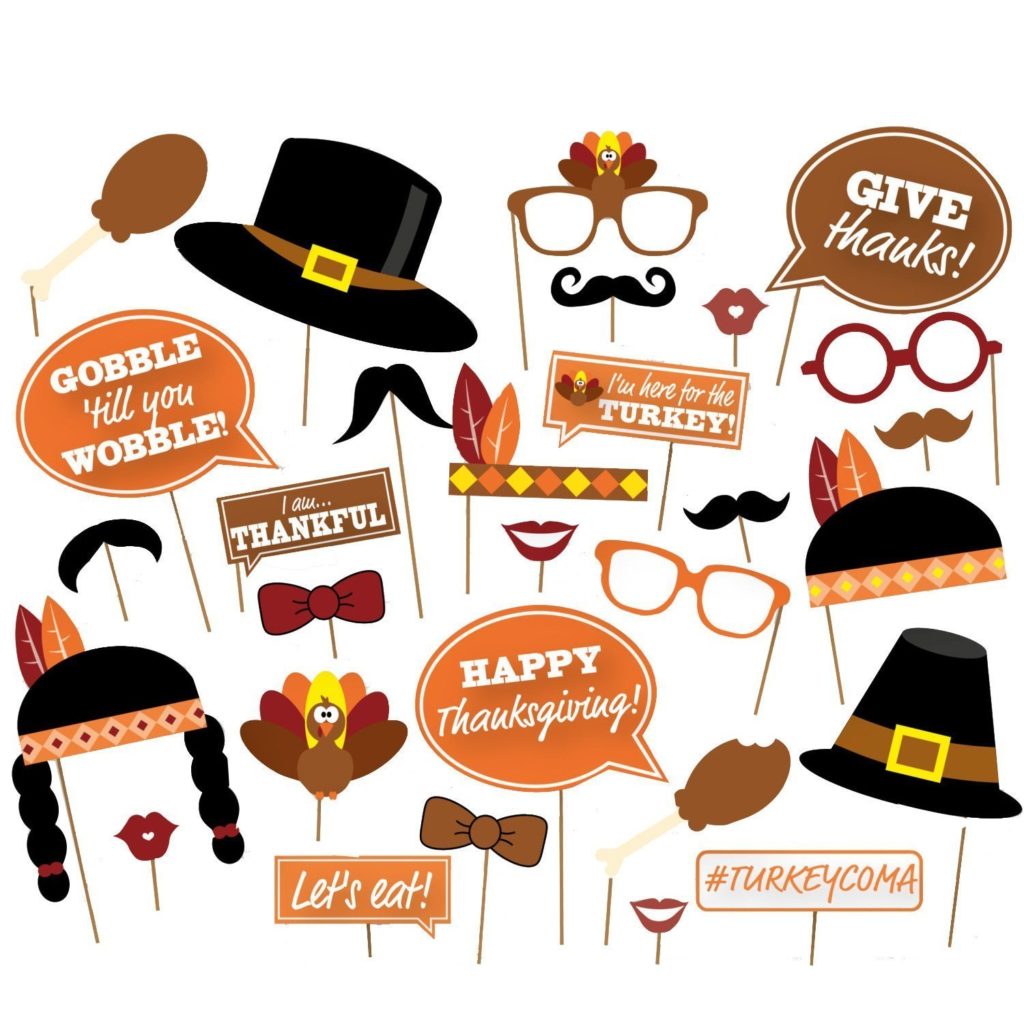 Turkey Shoot: Order Friendsgiving-themed photo props to shoot the best selfies!
Turkey-Lovin' Pigskin: You might watch a football game on Thanksgiving afternoon but, for your Friendsgiving, tackle fun head-on with a game of touch football in the yard.
Game (Hen) On: If the harvest colors present an inviting outdoor ambiance, plan for tailgate-style games (well, feathergate). Lawn games like cornhole, horseshoes and others add friendly competition. Or, stay cozy inside making warm Friendsgiving memories playing board games. Gaming may seem simple, but this classic pastime allows friends to interact, laugh and even learn something new about each other.
Tickled Pink with Brown: Turn on A Charlie Brown Thanksgiving for just 30-minutes of childhood amusement. Maybe add an adult beverage drinking game; for example, sip your cocktail every time you hear the word 'turkey.'
Get Wacky: Need to use up leftover Halloween candy? Stuff a turkey piñata and let everyone have a whack!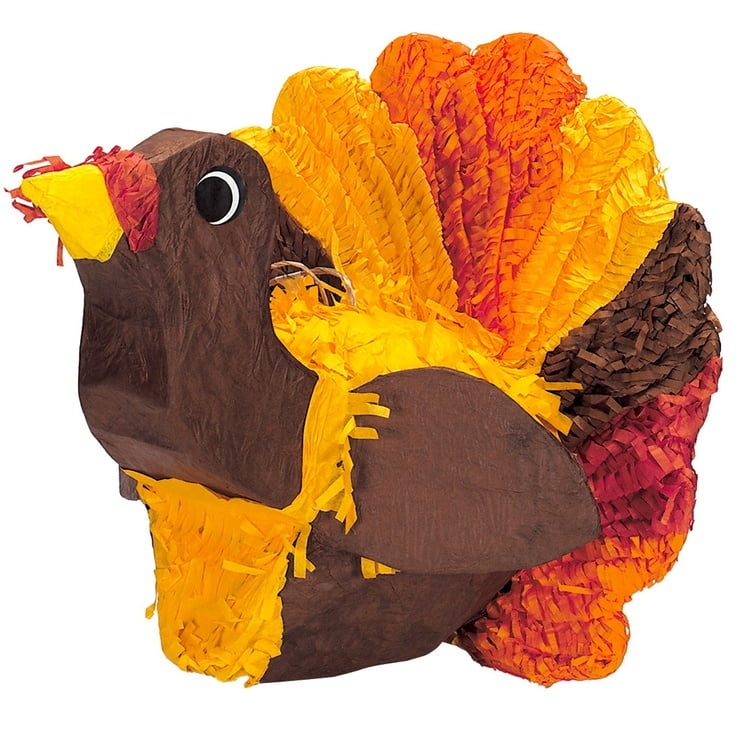 Extra Helpings
Special touches make gatherings memorable. Consider…
Interactive Stations: Try a DIY candy apple bar! Or, a Thanksgiving-themed mimosa bar using cranberry juice and apple cider instead of orange juice. Add garnishes of fresh fruit and herb sprigs.
Leftovers: Have plastic containers ready so you can send guests home with a second helping.
Parting Gift: Bid your friends farewell with a keepsake, like a Friendsgiving koozie, or a turkey-shared chocolate.
Feature photo credit: Party City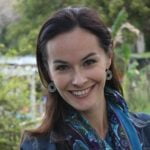 Nancy DeVault is the managing editor of Date Night Guide and a contributor to publications such as Babble, AmeriDisability Services Magazine and Orlando Magazine. She enjoys outdoor adventures with her husband and toddler.