Food trucks, while growing in popularity, aren't exactly new to American cuisine. In the mid-1800s, when settlers were heading west to discover new land, it was popular for wagon trains to include a chuckwagon. The food carried on these covered wagons was typically easily preserved items like beans, salted meats, sourdough biscuits and coffee. Thankfully, we've evolved food trucks to be modern gourmet meals on wheels!
While you'll likely find excellent food trucks in most cities, large or small, we've gathered a few food truck parks to add to your must-do date night list. Bon appetit!
Eat the Street – Honolulu, HI
Started in 2011, Street Grindz hosts the Eat The Street event which meets on the last Friday of every month in Kaka'ako Park. There are about 40 vendors in attendance with over 7,000 people munching their way through the lines. They claim they have the best street food that Hawaii can offer! You'll only have from 4 pm to 9 pm to purchase your goods and find out for yourself. There are portable restrooms and an ATM on site. While there is parking on the street and other lots nearby, Uber is an encouraged option to avoid headaches. Street Grindz and Uber have even partnered to give first-time riders a $20 credit! The code for this offer is STREETGRINDZ. Follow Eat The Street on Instagram, Twitter or Facebook.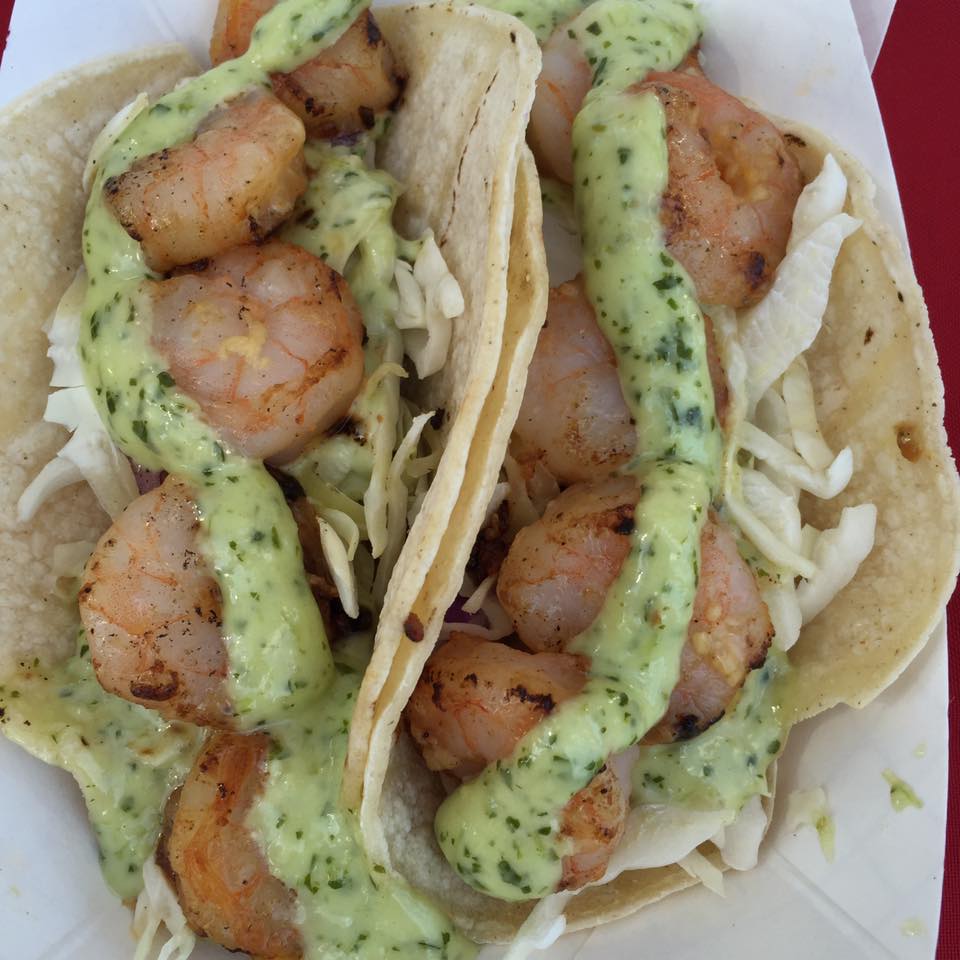 Alder Street Food Cart Pod – Portland, OR
Alder Street Food Cart Pod is one of the oldest and largest food truck gatherings in Portland. Venture to the corner of Southwest 10th Avenue and Alder Street to begin your search for the perfect lunchtime cuisine but the food carts extend well beyond that point. Carts are typically open for lunch hours only with a few remaining open for dinner. There is very limited seating but plenty of nearby plazas within walking distance to sit and eat. The website Food Carts Portland is an extensive guide to all food trucks and food pods around the city but details many of the carts offered at Alder Street.
Yelp reviewer Alison Y. from Spring, Texas had this to say about her Portland visit, "'When visiting Portland, you must visit the Alder Street Food Cart pods!' This was told to me by many, and I am doing you the same favor. Please take the time to visit this food truck lovers paradise! Your senses will be overwhelmed, choices upon choices, as far as the eye can see. My food cart partner abruptly stopped at [a] gyro cart, if she hadn't I am not sure I could have made a decision. When visiting Portland, you absolutely must visit the food cart pods!"
Street Food Cinema – Los Angeles, CA
Head to the city where mobile food has been popular since 2008 when Chef Roy Choi started Kogi. Every weekend, TIL Lifestyle Marketing and Events puts on Street Food Cinema all around Los Angeles. These events include several food truck vendors, live music and an outdoor movie on an inflatable big screen. Check the schedule for the evening's location, emcee, food trucks, entertainment and movie. Grab your blanket and your sweetie's hand for this affordable date night out! Tickets can be purchased in advance online (at discounted pricing) or at the door. Enjoy weekly outings all summer long with the Season Pass.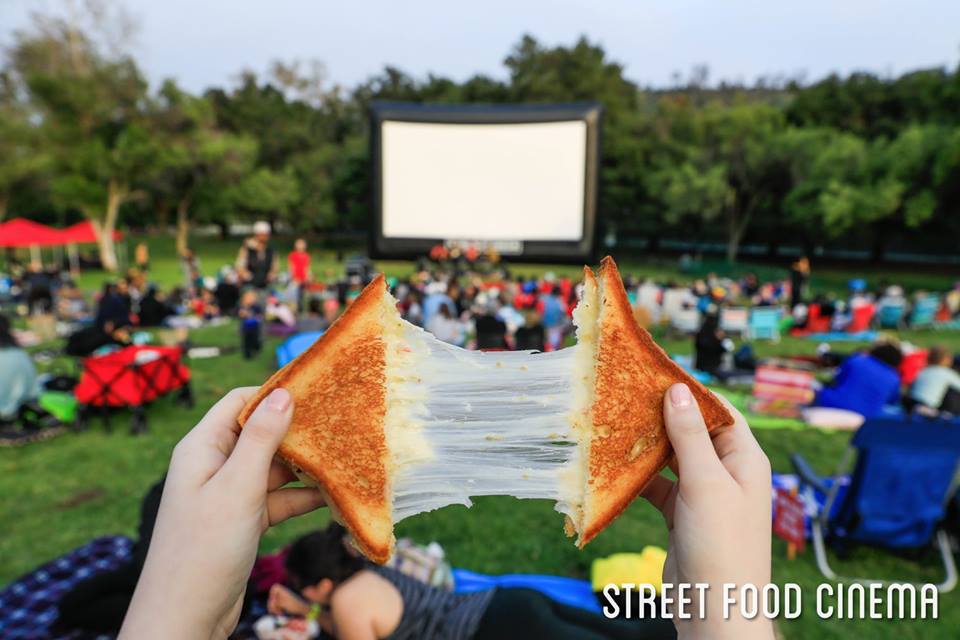 The Picnic – Austin, TX
You can't get a community with more local support than The Picnic in Austin. This food truck park was designed specifically for local food trucks to succeed. Big food chains aren't welcome here! The owners of this one-of-a-kind establishment paved 80 spaces for parking, pavilions for eating and even air-conditioned restrooms. Say adieu to the dreadful port-a-potty! While none of the vendors serve alcoholic drinks, patrons are allowed to bring their own. The Picnic is open every day from lunch through dinner. Oh, and be sure to bring Fido along as dogs are also welcome.
The Daily City Food Truck Bazaar – Orlando, FL
The Daily City Food Truck Bazaar began in 2011 by Mark Baratelli and has since grown to serve many locations in the Greater Orlando area (eight cities to be exact). So, no matter where you may be visiting in Central Florida, chances are high there'll be an event nearby to cruise the gourmet food truck scene. There are typically 10-15 trucks at each event to satisfy your savory craving or sweet tooth. The Bazaar also sets up shop for private events, office lunches and conventions.
Roxana Nunez posted on Facebook, "The food choices are great, they have many options around the Orlando area and you can find many different styles of cooking, whether just to try something new or an old favorite."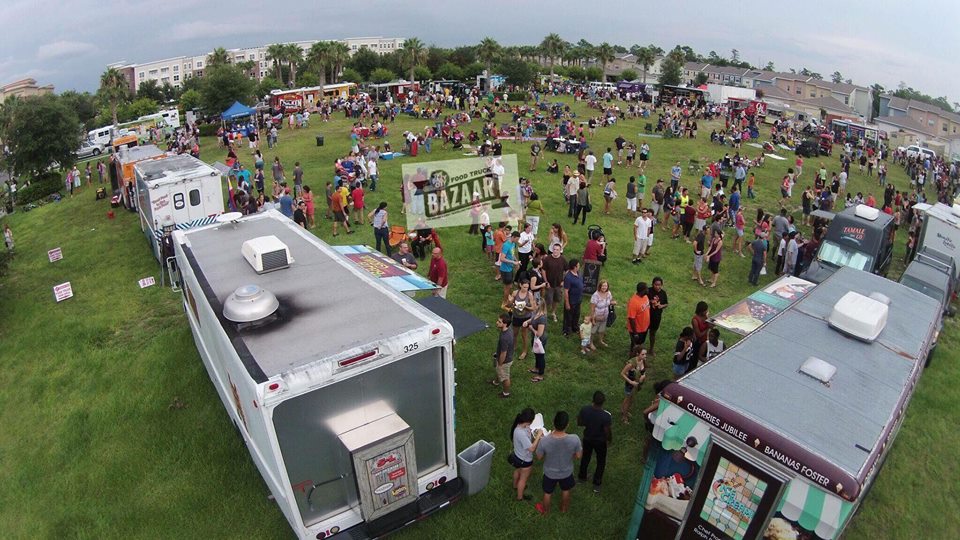 Bleu Garten Park – Oklahoma City, OK
This unique venue has created a chic spot to enjoy food lovers fare with flowing libations. Layed out similar to a German beer garten, the epicenter of Bleu Garten is filled with seating for foodies to wine and dine. Around the edges of the Garten is where you'll find the food trucks, bars and restrooms. Also provided are shade, misters, heaters, light music, a fire pit and theater entertainment. Supporting this site isn't just support for a local business but many entrepreneurs striving to grow their own businesses.
The Bleu Garten is open Tuesday-Thursday from 5 pm – 12 am, Friday and Saturday from 11 am – 2 am and Sunday from 11 am – 9 pm.  
Seventh Street Truck Park – St. Paul, MN
This one-of-a-kind hangout isn't a true food truck park but it's so quirky that it's worth a visit. Seventh Street Truck Park isn't in the great outdoors because it's in the great indoors. The central bar and seating are surrounded by faux food trucks lining the walls of this warehouse-style building; each serving up a delish dish. You'll come across pizza, tacos, nachos and ice cream to name a few. This food truck park is within walking distance from the Xcel Energy Center for nibbles and beverages before or after a live entertainment show.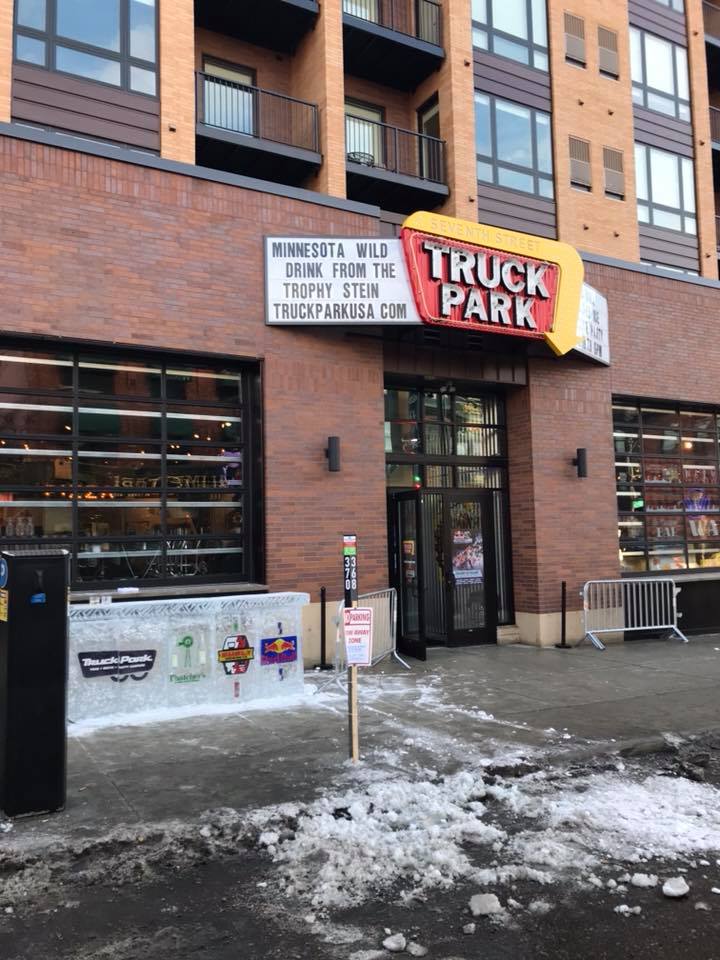 Congdon's After Dark – Wells, ME
This gem in New England is only open on weekends from Memorial Day through mid-June at which point they open daily until Labor Day. Congdon's After Dark is comprised of up to ten food trucks offering twisting tastes on food and beer. Originally a family restaurant only open for breakfast and lunch, Congdon's Doughnuts is the host for this local favorite. Congdon's After Dark is open from 4 pm until late.
Amy Gallagher Nagy wrote on Facebook, "I love that this classic is reinventing itself! What a great concept. We went with our young kids and they loved running around while each of us got different things for dinner. The beer options were fun and inventive. Refreshing not to have to wait in line at a crowded restaurant!"
What's your favorite food truck park? Tell us on Facebook or Twitter. 
Feature image credit: Weekend Notes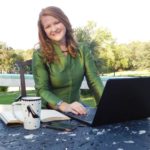 Erica Thomas is a freelance writer regularly contributing to Date Night Guide and Orlando Date Night Guide, while also managing her roles as a wife and homeschooling mom of two small children. She is a romantic at heart who flourishes with adventurous activities and travel (and, of course, date night).