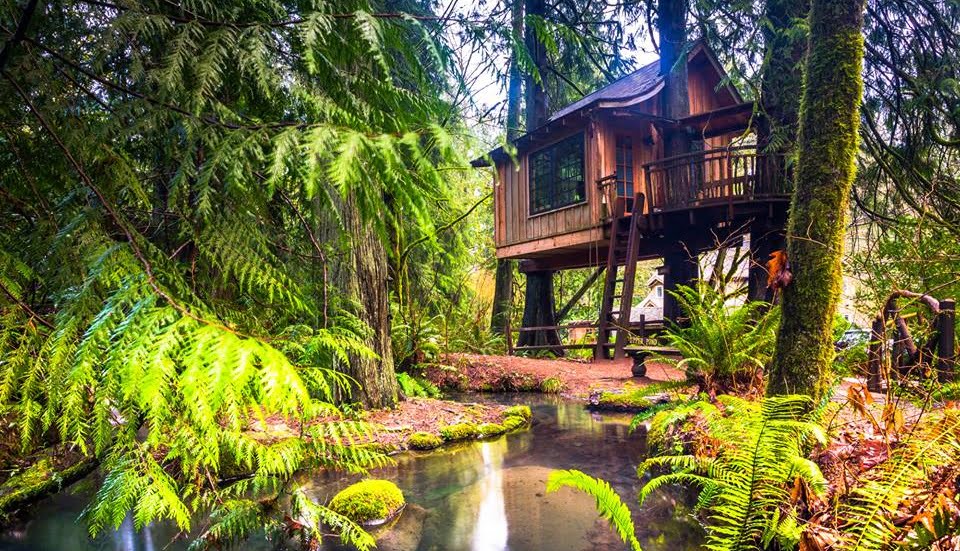 Go out on a limb – literally – on your next destination date with a treehouse rental. Why settle for a standard hotel when you can take room and board to new heights (with actual wood boards)? Just climb the ladder to let your inner child go wild!
Find a Treehouse
Treehouse rentals are building a following among adventurous couples without a fear of heights. You can find treehouse rentals – from basic to extravagant – on sites like Glamping Hub, Airbnb, VRBO and, for treehouses abroad, BookaTreehouse.com. Or, contact our picks (below) directly.
Top Treehouse Picks
TreeHouse Point
Issaquah, Washington
Located just 30 minutes from Seattle, TreeHouse Point is a bed-and-breakfast hideaway designed by world-renowned treehouse builder Pete Nelson. Six amazingly rustic-yet-modern options include a balcony, heat, electricity and forest views. Full bathrooms are shared among treehouses on the ground level but "several treehouses have emergency use toilets." Let's hope there's no such emergency needs on your date! If you're not up for "roughing it" overnight, just book a 1.5 hour tour instead. TreeHouse Point offers onsite yoga, tai chi and hypnotherapy.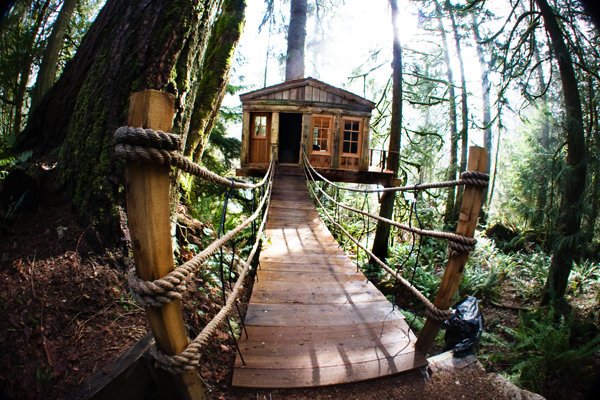 Treehouse at Winvian Farm
Litchfield Hills, Connecticut
Situated on 113 lush acres, Winvian Farm's historic estate has 18 incredible, individually-designed resort cottages including a greenhouse, refurbished helicopter and treehouse. This two-story luxury treehouse, described as "childhood fantasy turned grown-up haven," has a king-sized bed, huge bathroom, gas fireplace, steam shower, Jacuzzi and full bar. Enjoy the onsite swimming pool, organic garden and five-star farm-to-table restaurant.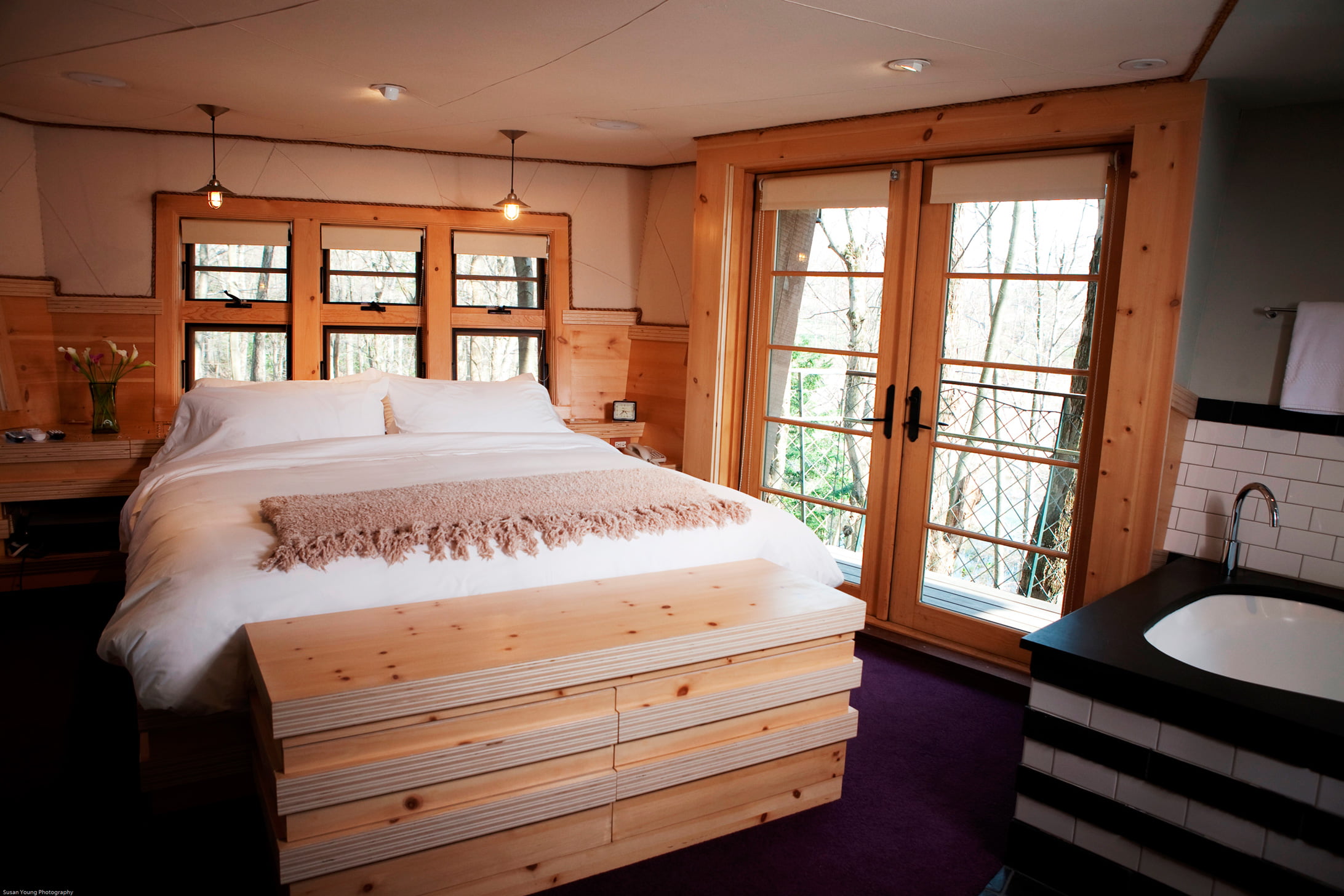 Bolt Farm Treehouse
Walhalla, South Carolina
This stunning glamping treehouse rental is nestled amid 40 private acres of farmland and woodlands. It's furnished with stunning antique and rustic pieces and has a fireplace, heating/AC, toilet, outdoor rope bed, two-person hammock, record player, ice box and propane barbecue. With an onsite organic farm and "tiny vineyard," you can have dinner delivered to the treehouse. And this treetop meal tops standard room service!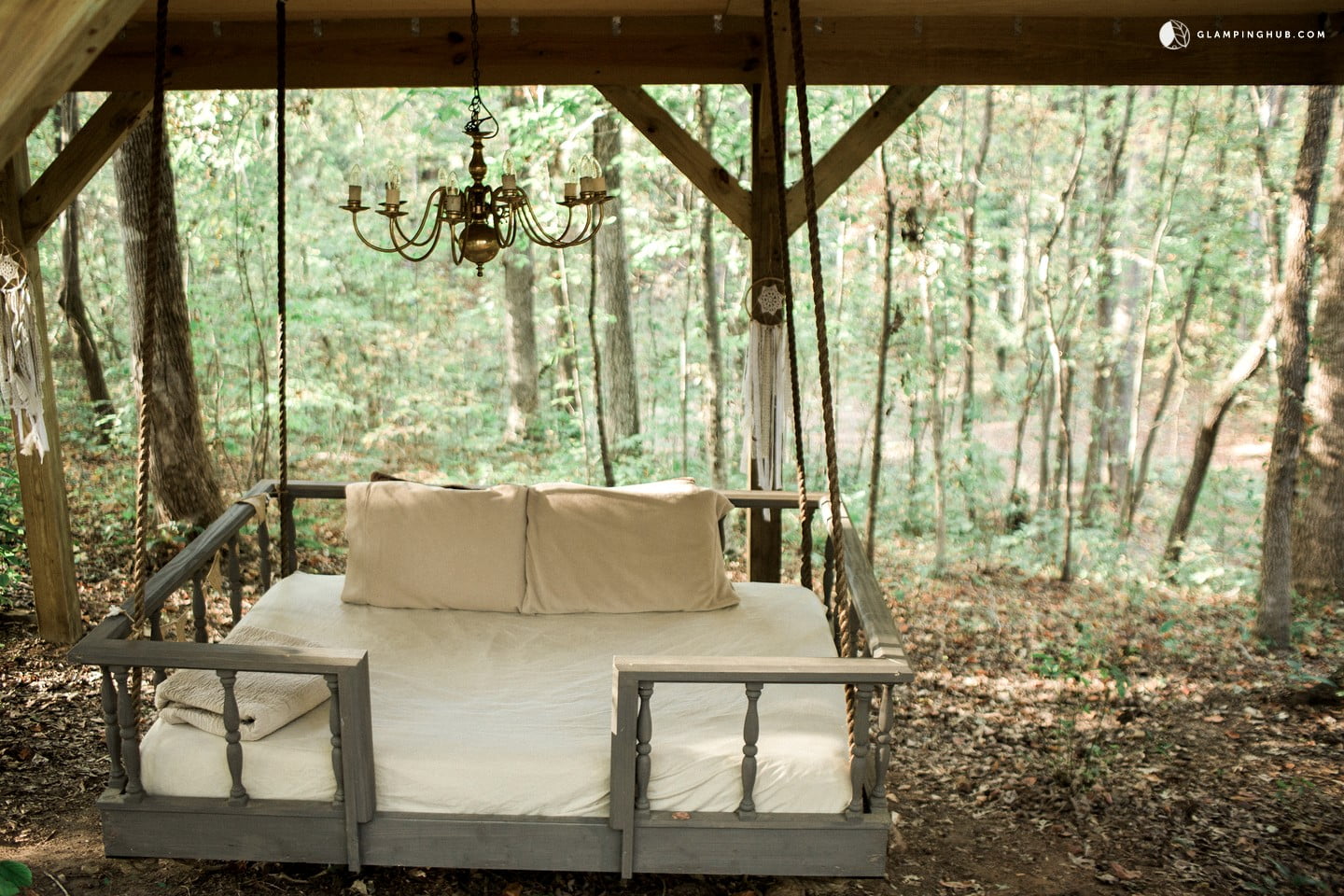 Treehouse Vineyards
Monroe, North Carolina
Get a taste of this family-owned vineyard and winery with a fun calendar of events and treehouse rentals. The property has three options: (1) The Date Night Treehouse is an hourly rental (yasssss!). Enjoy a wine tasting, winery tour and then retreat to this hideout for a sunset picnic overlooking the vineyard; (2) Papa's Dream is a cozy 350 sq. ft. treehouse with a loft bed, kitchen and bathroom; but you'll spend much of your overnight stay on the breathtaking porch. (3) The property's newest rental, Horsefeathers Hideaway, was designed in partnership with the treehouse industry's "go-to guy" Charley Greenwood. It sleeps 8, so take along other couples and watch the horses roam the vineyard.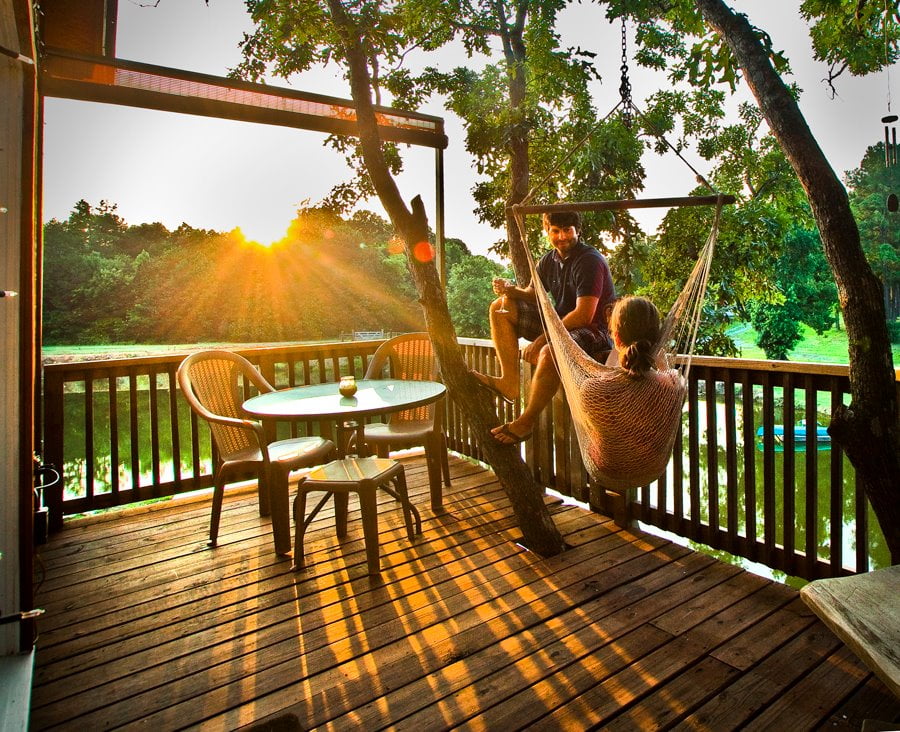 Treehouse Cottages
Eureka Springs, Arkansas
Owners Terry and Patsy Miller designed and built seven treehouses and other cottages with fellow outdoorsy couples in mind. Explore the Ozark Mountains on a private hiking trail leading to a cave and spring. Then, relax in a heart-shaped Jacuzzi overlooking the forest. Treehouses have vaulted ceilings, tiffany chandeliers, wrap-around decks and full kitchenettes stocked with homemade pumpkin bread.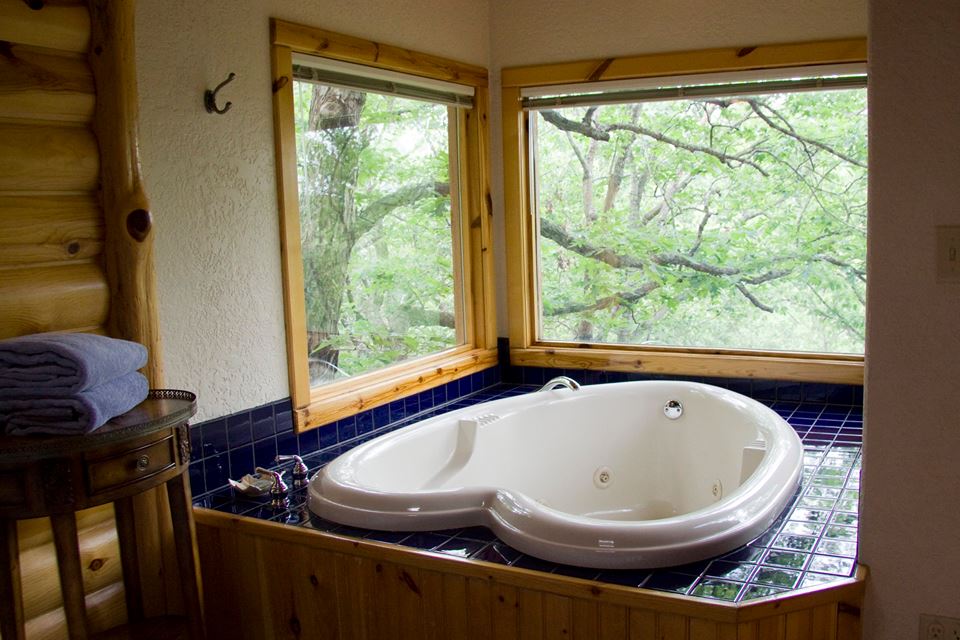 Build Your Own Treehouse
After staying in a treehouse rental, you might want one in your own backyard! No kids, no problem… Seriously, if man caves and she sheds are a thing, adult treehouses can be too. Check out The Treehouse Guide and Treehouse Guides for simple DIY building plans. There's even a freestanding blueprint in case you don't have a suitable tree option.
Feature image courtesy of TreeHouse Point; taken by Anthony Hayward Photography.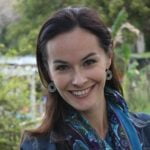 Nancy DeVault is the managing editor of Date Night Guide and a contributor to publications such as Babble, AmeriDisability Services Magazine and Orlando Magazine. She enjoys outdoor adventures with her husband and toddler.
Originally posted on July 21, 2017