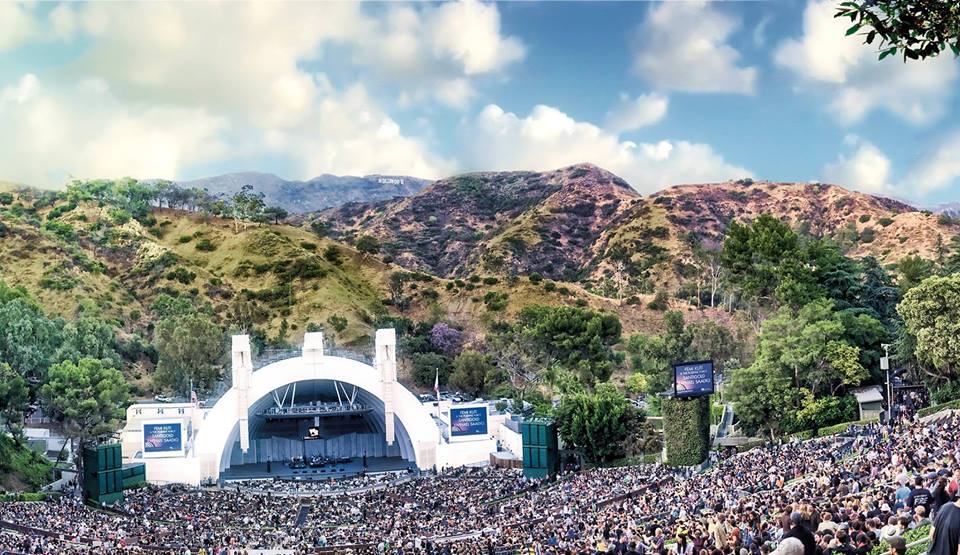 Music often plays a steady beat in relationships because music influences emotions. Some of your favorite love moments are related to songs, right? The radio tune that played on your first date, the playlist from that memorable road trip and singing along during epic concerts. With the opportunity to dance and sing with your partner, concerts make for rockin' date nights! And, during the warmer months, outdoor concert venues amp up the experience by meshing together great tunes, great surroundings and great company.
Here are awesome outdoor music venues that'll rock date night!
Red Rocks Amphitheatre | Morrison, Colorado
Red Rocks Park and Amphitheatre describes its space as "a geological phenomenon – the only naturally-occurring, acoustically perfect amphitheatre in the world." Open since 1941 and earning National Historic Landmark status in 2015, the panoramic views of the park's 738 acres make for a red-hot night in the 9,525-seat venue. This amphitheatre should be on your summer concert bucket list, and you can visit throughout the year to hit up hiking and biking trails.  redrocksonline.com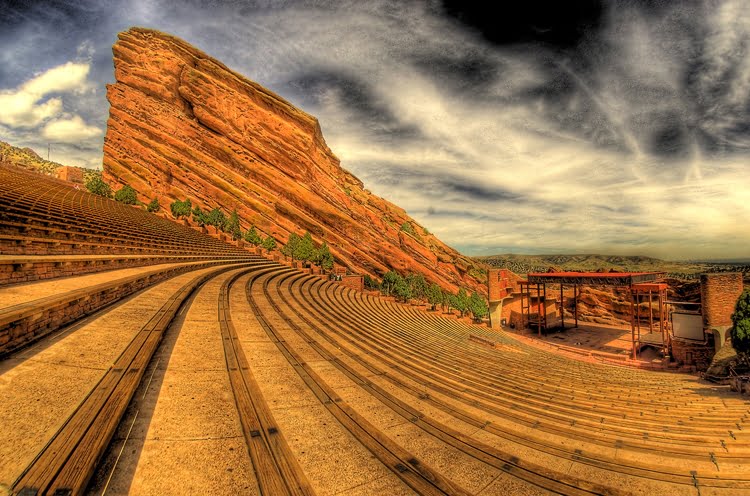 Wolf Trap National Park for the Performing Arts | Vienna, Virginia
In the 1960s, Catherine Filene Shouse donated 100+ acres of her working farm to build the outdoor amphitheatre. In partnership with the National Park Service and the Wolf Trap Foundation, which oversees artistic, education and other programs, the site hosts everything from opera singers to today's chart-toppers.
From May through September, Wolf Trap hosts nearly 100 outdoor concerts at its Filene Center. A rarity for performance venues, attendees are encouraged to bring in their own food and beverage (including alcohol) to enjoy a picnic on the lawn. The 2018 line-up includes Jake Owen, Slightly Stoopid, Boy George & Culture Club, Ziggy Marley, Alanis Morissette, Queen Latifah & Common and Gavin DeGraw with Phillip Phillips. wolftrap.org 
Jones Beach Theatre | Wantagh, New York
Since it's where I saw my first concert, I may be biased in declaring the Jones Beach Theatre as one of the best venues (though many agree). This waterfront space first opened in 1952 and welcomed theatrical performances. Today, the 15,000-seat venue overlooking Zachs Bay on Long Island hosts top artists during its summer series and beyond. Snag tickets to see Kendrick Lamar, Sting, Rascal Flatts, Foo Fighters, Lauryn Hill, Dave Matthews Band, Miranda Lambert and others.  NorthwellHealthjb.org
Saratoga Performing Arts Center | Saratoga Springs, New York
In a 2,400-acre preserve surrounded by hiking trails, geysers and natural mineral springs, you'll find the Saratoga Performing Arts Center (SPAC), comprised of an outdoor amphitheatre, the Spa Little Theatre, the Charles R. Wood Gazebo Stage and the Jazz Bar. Open since 1964, the amphitheatre has a large 25,000-person capacity with sheltered seats for 5,200 people and lawn space ideal for another 20,000 concert-goers. While SPAC is praised for its ballet and orchestra performances, it also dominates as a summer concert venue.  Spac.org
Chastain Park Amphitheatre | Atlanta, Georgia
Rather than stadium-style seating, the amphitheatre in Atlanta's largest park uses a candlelit "Table Setup" where concert-goers have the option to sit at a table with six chairs, orchestra seating or the lawn. Bring a cooler with food and drinks (including alcohol) or, if you prefer, buy from onsite concessions. This set-up is unique and perfect for date night… no need to rush dinner before the show when you can dine alfresco right in your venue seats.
The amphitheatre opened in 1944 and its popular summer concert series, which still attracts A-list acts, kicked off in 1984. Chastain offers "Series Holder" choices, so you can lock in tickets for multiple shows.  ChastainSeries.com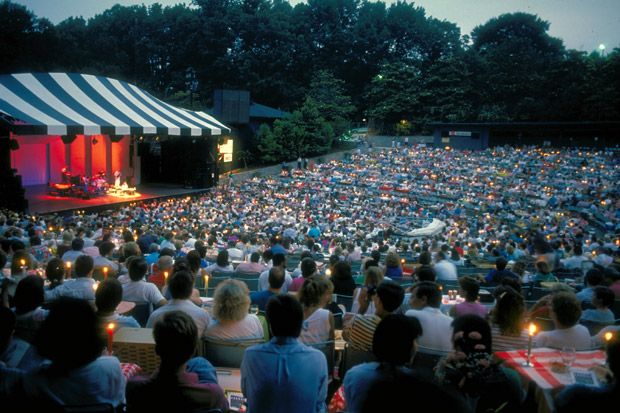 Starlight Theatre | Kansas City, Kansas
Want to treat your music lover like a king or queen? Catch a show at the Starlight Theatre! Its construction resembles a castle and performances – ranging from Broadway shows to rock concerts – are fit for royalty too. Outdoor seating is set for 8,000 patrons so it's still a semi-intimate vibe (compared to large indoor stadiums). For some shows, including the summer concert series, take advantage of the dinner selections at the Applause Club.  KCStarlight.com
Gorge Amphitheatre | George, Washington
The land was supposed to be used to grow grapes for wine but, instead, concert enthusiasts have been drinking up the scenery and musical talents. Open since 1985, this memorable outdoor venue is situated by the Columbia River and the Cascade Mountains. The summer fun kicks off early with the Sasquatch Festival — three full days of entertainment over Memorial Day weekend. If you just can't get enough of the beautiful setting, stay at the nearby Gorge Amphitheatre Campground.  GorgeAmphitheatre.org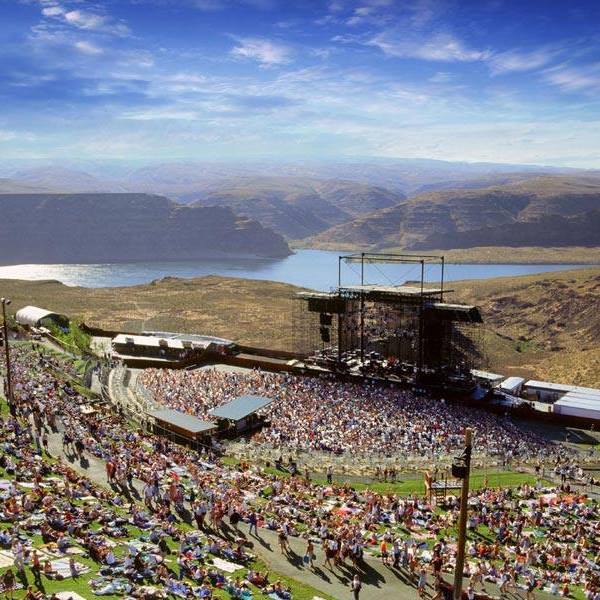 Hollywood Bowl | Los Angeles, California
Open since 1922 in the star-studded town of L.A., it should come as no surprise that this bandshell stage has hosted all the greats. With a backdrop of rolling hills and the iconic Hollywood sign, this venue is the perfect place to catch an outdoor concert or theatrical performance. It has a swanky wine bar and a few fun eateries, but you can also skip the long concession lines with mobile ordering and pre-ordered meals.  HollywoodBowl.com
Jay Pritzker Pavilion | Chicago, Illinois
Just opened in 2004, the Jay Pritzker is a fairly new bandshell-style outdoor venue in Millennium Park in the Loop community area of the Windy City. It has a modern design of stainless steel panels and metal ribbons with the backdrop of city buildings. Catch the occasional contemporary concert, a symphony performance or stop by for other events like lawn yoga.  JayPritzkerPavilion.com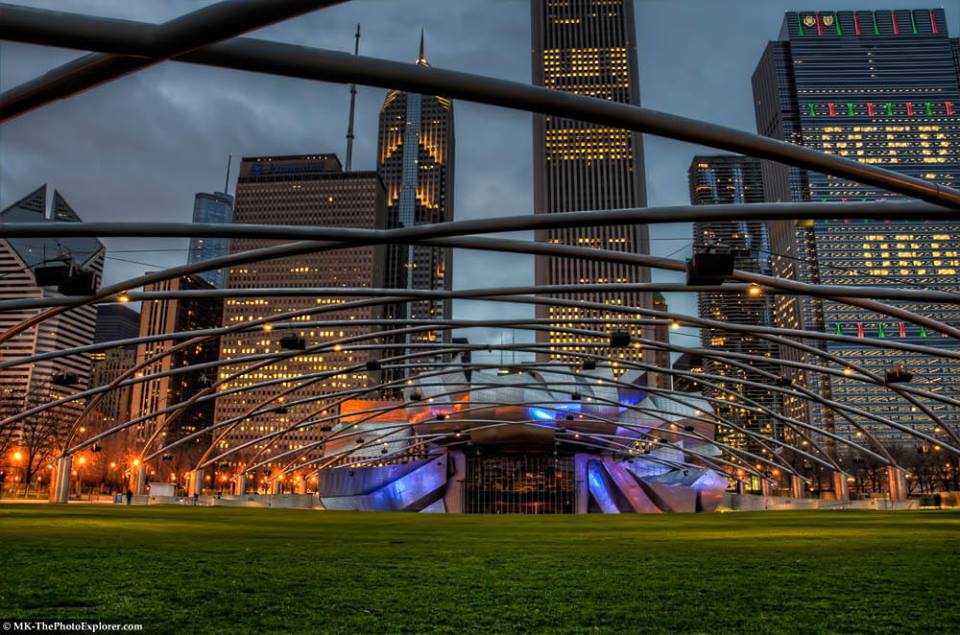 Also try:
Feature image credit: Hollywood Bowl via Facebook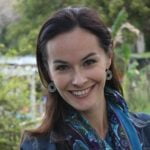 Nancy DeVault is the managing editor of Date Night Guide. She also contributes to publications such as Babble, AmeriDisability Services Magazine and Orlando Magazine. She enjoys outdoor adventures with her husband and toddler.