Love to get cozy? Researchers say cuddling is highly beneficial! Get snuggled up and you'll be releasing oxytocin, which lowers stress, boosts the immune system and promotes overall happiness. Cuddling can also improve your connection with your partner through non-verbal communication and intimacy, among other benefits. And, it invites us to slow down and do nothing, which are two things we all need more of. Before you put a fork into the spooning concept, check out these ten must-haves for cuddly couples.
Indoor Hammock
Ready to swing into cozy relaxation? Hammocks are typically used in outdoor spaces. But indoor hammocks are the latest design trend… and we're down with that! The XL Navy Jacquard Handwoven Brazilian Double Hammock by Island Bay ($165) recently won the 2017 Women's Choice Award Winner for America's Most Recommended Hammock. So, ladies (and gents), swing over to Hayneedle to order one.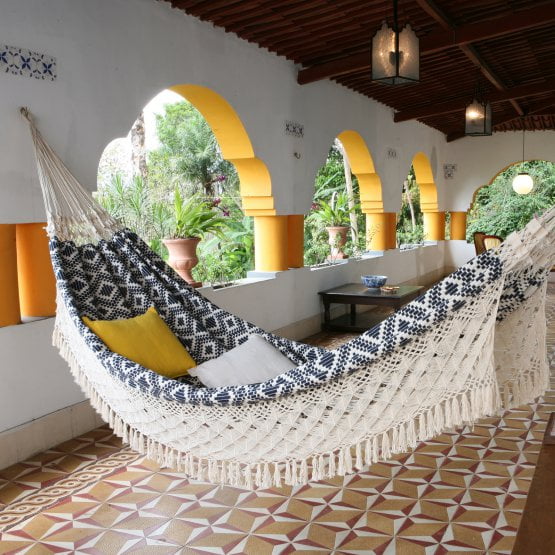 Breakfast Tray
Breakfast is the most important meal of the day. And it can be the most romantic too! Stay in the sheets for sweet eats via a breakfast in bed date. Check out this a custom built bed tray from The Rustic Ranch Co. on Etsy. We think it's a perfect way to serve hot muffins to your stud muffin.
Two-Person Folding Chair
Tailgating with your beloved MVP? You can still be game for cuddles! This two-person folding chair ($100) is the ultimate tailgate loveseat with adjustable arms, mesh storage pockets, two bottle openers and two drink holders.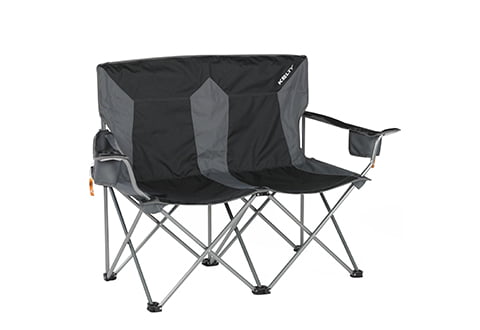 Smittens
Nothing beats a romantic stroll. But cold weather can hinder lovey-dovey hand-holding when wearing bulky gloves or using pockets. Solution? Smittens! Invented by a couple with couples in mind, "Smittens are mittens specially designed so that two people can hold hands inside of one mitten." Yup, let your heart melt with your hottie – even on a chilly day – for just $35.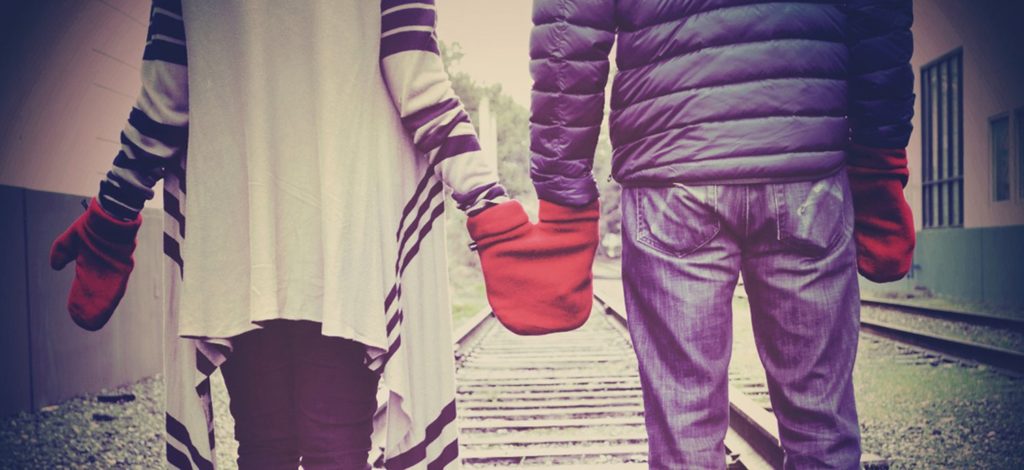 Couple Pillowcases
You share sheets and blankets, so why not share a pillow too? One large, body-sized pillow ($27) will surely entice snuggling. Or, if you prefer your own pillow, opt for matchy-matchy patterns. These couple's pillowcases have scene illustrations that are complete only when connected. For example, the Big Kiss ($25 for a set of two) reminds you to smooch your bedmate.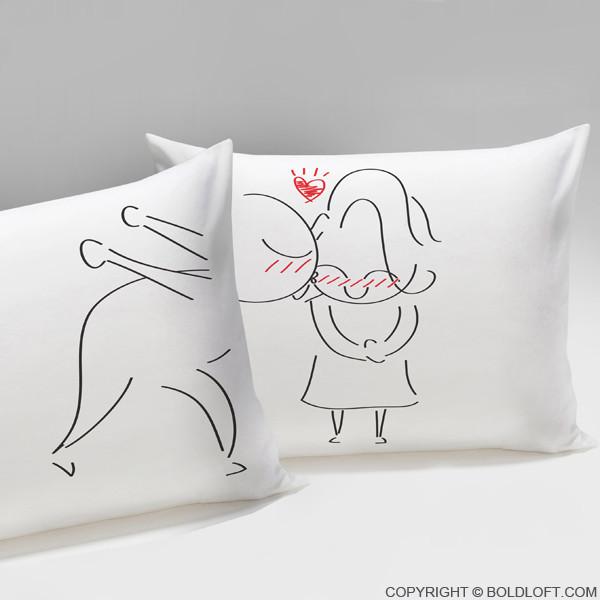 Two-Person Float
Why lounge by the pool when you can lounge in the pool? And on the same float as your partner! This double-sized floating mattress ($25) makes for a real waterbed experience.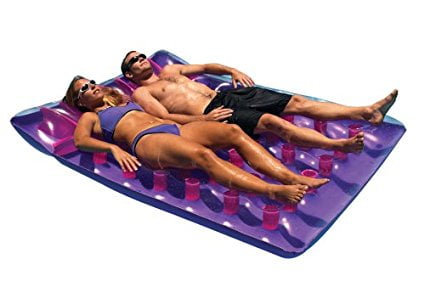 Interlocking Hubby & Wifey Mugs
Coffee makes couples happy… literally. Caffeine triggers the production of dopamine in the brain and, thus, stimulates warm cheerfulness — a lovely ingredient indeed. Coffee shop dates are delish, but sipping hot java at home can be hot too. Drink up this set of heart-shaped, interlocking coffee mugs ($31)… because your hearts belong together.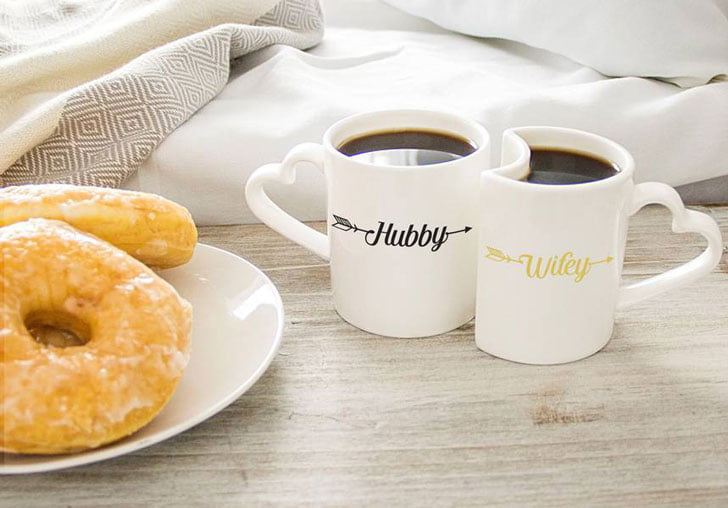 The Snuggie Sutra Book
Do you have a snuggie? You know, the sleeved blanket that became a pop culture phenomenon about a decade ago. Authors Lex Friedman, Megan Morrison and Sam Gasner say you should pull your snuggie out of the closet and put it to good use in the bedroom. Order The Snuggie Sutra book from Barnes and Noble for just $10.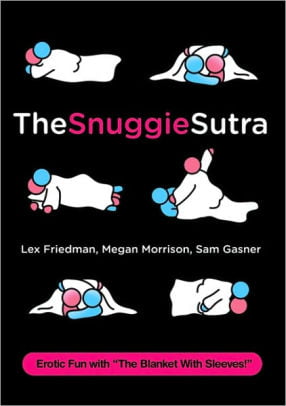 Double Sleeping Bag
Yes, camping can make for a wild couples getaway. Want to truly be happy campers? Well, single sleeping bags just won't do. Try the NEMO Mezzo Loft Duo Double Sleeping Bag ($225). Mother Nature lovers just hit the mother-load with this cuddle item! Find it and other versions at Rei.com.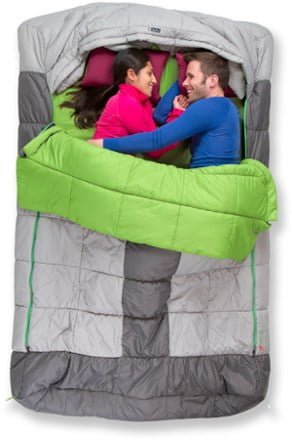 Couples Tattoos
Cuddling, in general, is good but skin-to-skin contact may be best! If you're really committed to your partner and also into ink, couple tattoos may be for you. Cuddle up to align your corresponding body art to create the most romantic masterpiece.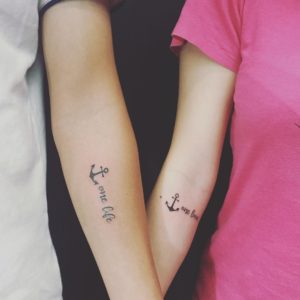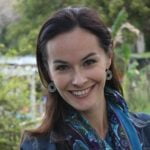 Nancy DeVault is an editor for Date Night Guide and a contributor to publications such as Babble, AmeriDisability Services Magazine and Orlando Magazine. She enjoys outdoor adventures with her husband and toddler.