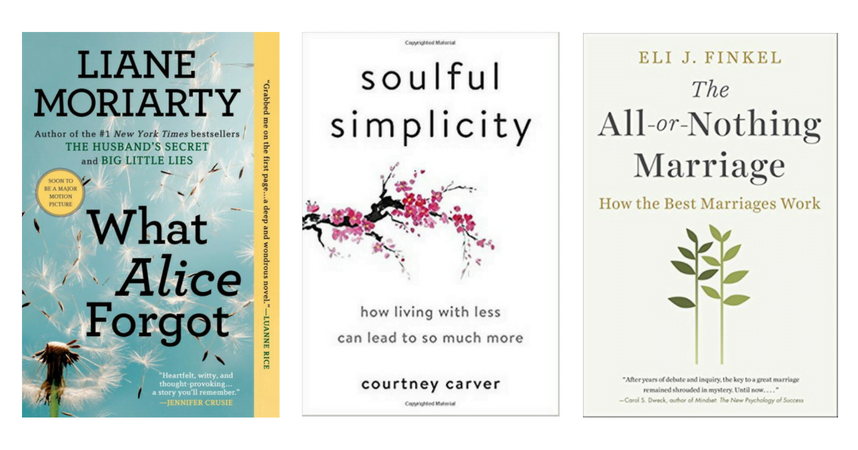 Who doesn't love a page-turner at the beach or an insightful non-fiction book that invites deep reflection on a lazy, summer Sunday? Whether you've got some wide open hours during a vacation or you're digging the way the extra daylight gives you more nighttime energy for reading, these three relationship books could be great additions to your summer reading list.
What Alice Forgot
A light fiction by famed author Liane Moriarity (Big Little Lies, The Husband's Secret) with a deep message about long-term love. As one friend put it, it's the best marriage therapy she's ever had.
Alice Love is twenty-nine, crazy about her husband and pregnant with her first child. So imagine Alice's surprise when she comes to on the floor of a gym and is whisked off to the hospital where she discovers the honeymoon is truly over—she's getting divorced, she has three kids and she's actually 39 years old. Bewildered and befuddled, Alice tries to reconstruct the events of her lost decade and find out whether it's possible to reconstruct her marriage at the same time. Ultimately, Alice must discover whether forgetting is a blessing or a curse, and whether it's possible to start over.
Date Night Action Step: Reach out to a few couples in your life and offer up the idea of a couple's book discussion based on this book.
Soulful Simplicity
Author Courtney Carver chronicles her journey to massively simplify and minimalize her life and finds that all that truly matters is love, sweet love.
"Simplicity is the way back to love," Carver writes and she devotes an entire chapter to making room for more love in our lives by eliminating all the things that don't really matter: clutter, stress, overcommitted schedules and boxes filled with mementos. "Our hearts know that our real treasures are not in the attic or contained in any physical thing. Our hearts know that real treasures are smiles, tears, moments and people." Besides encouraging readers to create space (both physically and psychologically), to be more engaged, present and connected with the people we share our lives with, she offers practical ideas for how to distill your life down to its most essential elements.
Date Night Action Step: Carver suggests having a "Simplicity Summit," which began as a conversation with her husband about how to start simplifying their life together. Set a date with an undistracted hour and plan to have a conversation about the state of your stuff, money and relationships. Create an action plan for how cultivating simplicity will upgrade your life and love.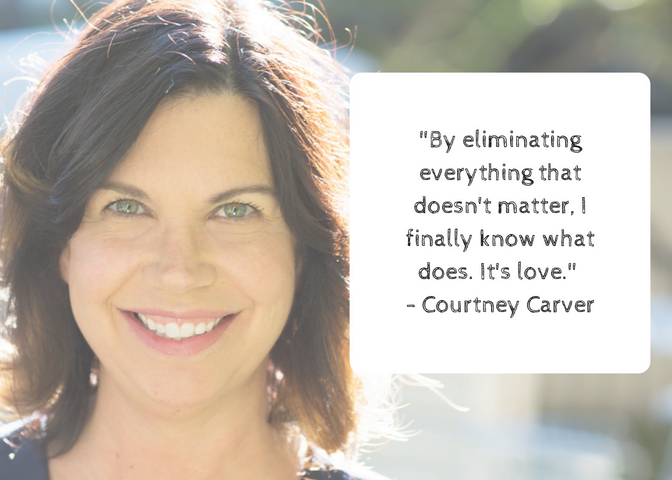 The All-or-Nothing Marriage: How the Best Marriages Work
Packed with scientific research, fascinating studies and historical perspectives for understanding how marriage has evolved over centuries, Eli J. Finkel invites readers to geek out on the state of the modern marriage and how to make it work.
We expect more of our marriages than ever before. We want to marry the person that not only makes us laugh and swoon, but that also helps us evolve as a person, live our best life and feel like we're pursuing a meaningful existence. This is what Finkel's research discovers, and the conclusions are bittersweet. Yes, marriage can be better and more fulfilling than ever. And… it takes an incredible amount of effort, awareness and intention to create and sustain a marriage that reaches a bar that's set so high. For some, this might be totally unrealistic, in which case, expectations for the marriage must be lowered. But for those who strive to climb to the tip of Mount Marriage, Finkel offers lots of advice, personal insights and fair warning about how (and if) to reach such a summit.
Date Night Action Step: Finkel is a big fan of date night. So schedule some QT with your sweetie this week — whether out on the town or at-home.
Want more book recommendations? Check out Date Night Guide's blog "Four Books for Couples in Your Life." And for related date night ideas, check out the blog "Love Story! 10 Literary Date Nights to Woo Wordsters."
ABOUT THE AUTHOR: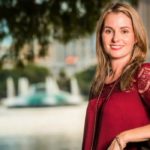 Kristen Manieri is the Founder and Editor of Date Night Guide, as well as a prolific freelance writer. She regularly appears on FOX35 Orlando and has been featured in Good Housekeeping Magazine and on Babble.com. Kristen lives in Orlando with her husband, Marc, and her two daughters. Listen to her on The Synced Life, a podcast dedicated to conversations on human connection.