As Mark Twain once wrote, "Throw off the bowlines, sail away from the safe harbor, catch the trade winds in your sails. Explore. Dream. Discover." For an unforgettable date outing, take the advice of Mr. Twain and step on deck of a sailboat to enjoy a few hours or days riding the waves with the breeze caressing your face. The beauty of marine life will give you a feeling of freedom, calm and adventure. We explore a few of the many sailing excursions available for a truly stress-free and romantic escapade with nature and your love. And we hope this inspires you to find a sailing experience near you. 
Day Trips
Maui Sunset Dinner Cruise
Receiving the title of "Best Island in the US" for over two decades by Conde Nast Traveler, "The Valley Isle" is a soothing sight for sore eyes. The mountainous terrain is a gorgeous backdrop from an oceanic stance. While there are more than enough activities to keep you exploring all that Maui has to offer, we think a trip on the Maui Sunset Dinner Cruise is a must. Offered by Pride of Maui, the yacht sails Tuesday, Thursday, Friday, and Saturday from 5:30 – 7:30pp. A live band keeps the energy high indoors while mother nature captivates those outdoors. As an added bonus, sailors during the winter months (December – May) can delight in sightings of the migrating humpback whales.  Tickets, which include a full dinner, are regularly $79 per adult but can be purchased online for $69 per adult. prideofmaui.com/trips/sunset/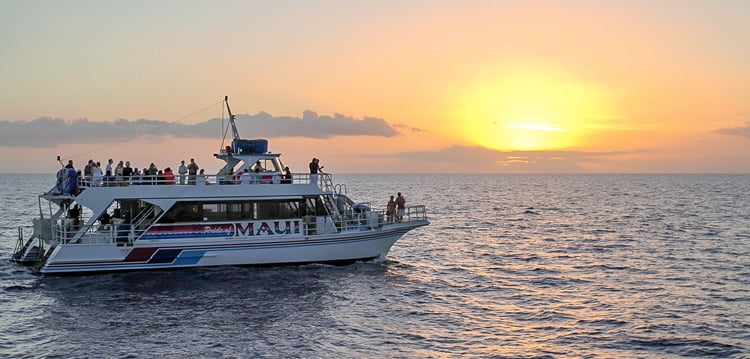 San Francisco Bay Sailing Charter
Located in the Northern California region sits the iconic Golden Gate Bridge, picturesque Victorian homes, bustling cable cars, and a shimmering bay. There's so much to see and explore when visiting the San Francisco Bay area.
Adventure Cat Sailing Charters has been named #1 on HuffPost's list of activities to do in San Francisco. Each excursion spends 97% of sailing time using wind power alone for a peacefully pleasing sail. While on the water, you'll sail around Alcatraz, under the Golden Gate Bridge, with views of the stunning skyline of the city. Have your camera ready for the unexpected pelicans, dolphins, and sea lions you may encounter.
Glide through the water on a day sail or sunset sail. The day sail is $45 per adult for a 90 minute cruise. A snack bar is available to purchase food and drinks for this family friendly adventure. For something a little more adult, the sunset sail is $60 per person for a 90 minute cruise. Two complimentary beverages plus light hors d'oeuvres are included with tickets. adventurecat.com
Key West National Wildlife Refuge Sail
Head to the most southern point of the continental United States to explore mangroves, coral reefs, and an array of wildlife. The Key West National Wildlife Refuge has been protected since 1975 and is made up of mangrove islands extending from Key West to Marquesas Keys. Known as the "backcountry," the Refuge has over 200,000 acres of wildlife to experience. The flourishing sea life allows recreational fishing attracts visitors from all over the world.
Danger Charters, which is anything but dangerous, hosts a sail, snorkel, and kayak day trip by knowledgeable guides all through the year. You not only get to sail through this pristine ecosystem but immerse yourself into it with snorkel gear with glimpses of natural beauty in the coral reef. The Charter team provides wetsuits and prescription strength masks during the winter months to keep you warm.
A full lunch is provided as you kick back and relax while sailing in the open water. Also included are beer, wine, sodas, water, and snacks. It is $120 per person for a day on the water. Half day tours in the morning and afternoon are also available. dangercharters.com/sail-snorkel-kayak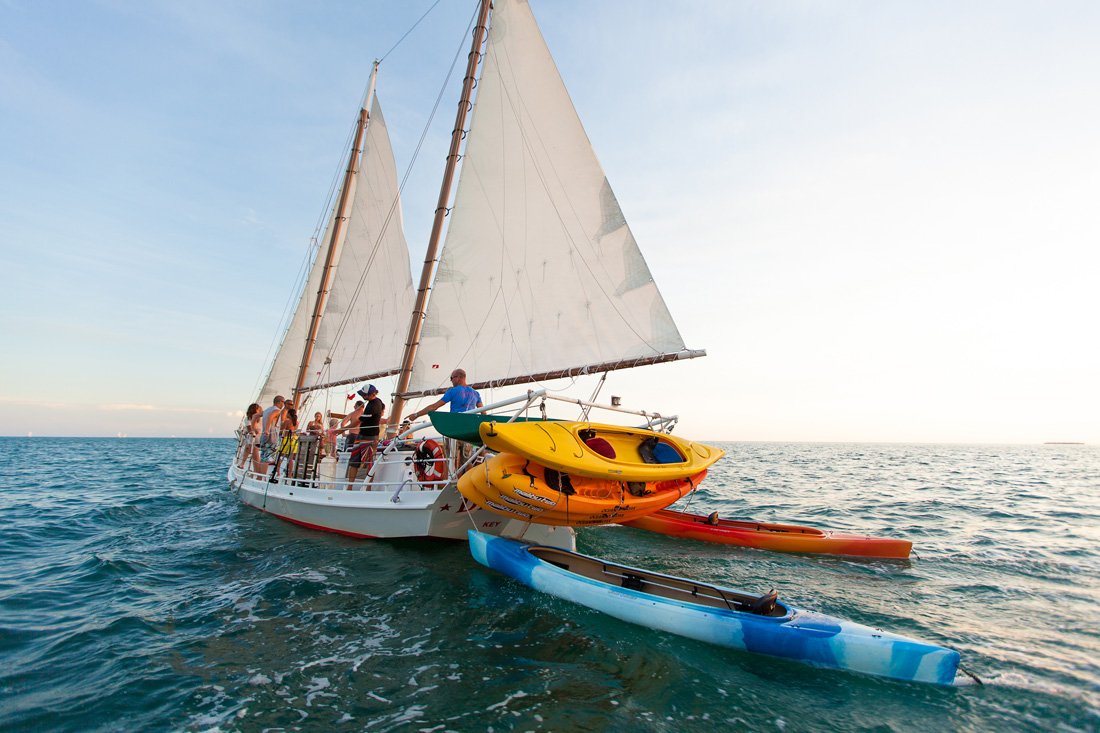 New York City Lights Sail
A humming city like New York will keep you hopping around the clock. Whether you are visiting this thriving metropolis or you call it home, why not take some time to slow down, breathe, and enjoy some quieter moments on the water?
Classic Harbor Line offers several tours aboard sailboats and yachts to match the taste of every guest. We suggest the breathtakingly romantic City Lights Sail for charming views of the New York City skyline lit up at night. Grab your glass of champagne and your sexy sidekick to board the 1800's styled schooner, America 2.0. Prices are $56 per person.
During the cooler months or if you prefer the wind not whip your hair, book your cruise on the 1920's modeled motorized yacht, Manhattan. The Champagne City Lights cruise offers a complimentary beverage for guests and comfortable seating within the climate controlled cabin. Tickets can be purchased for $56 per person. sail-nyc.com/browse-by-theme/city-lights-sailscruises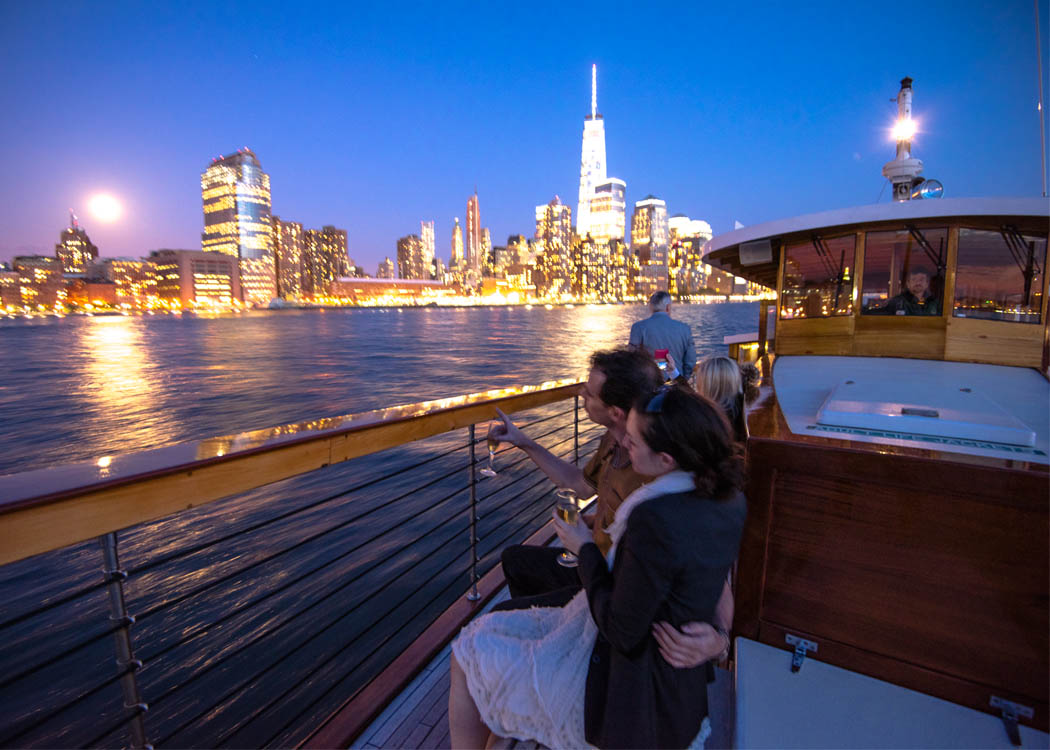 Bufflehead Sailing Charters
Off the coast of Maine you'll find waters brimming with classic seafood ingredients used in famous New England dishes like clam chowder. The seaside town of Rockland, Maine is nestled in the region of Midcoast Maine and has a history and nautical roots that run deep, including its infamous windjammers in the Penobscot Bay.
Bufflehead Sailing Charters is an intimate sailboat that lets you get up close and personal with the tall ships seen from land. It is a family owned and operated business with Captain Daniel Bennett spearheading and guiding all tours aboard the Bufflehead. There are several sailing excursions offered to best suit your desires.
Guests can choose from a "Quick Minute" tour lasting 1-2 hours to "A Week's Vacation" lasting 8 hours and everything in between. For a more extravagant experience, book the "Lobster Bake" or "Sunset Sail." The "Lobster Bake" takes you to an uninhabited island where fresh lobster, corn, and potatoes are cooked and served with all of the fixings including beverages. This excursion usually lasts 8 hours or more with time to meander the sandy beaches. The "Sunset Sail" has been described as magical to observe. As the sun sets atop the dancing water, the moon rises for an unforgettable glowing shimmer. The evening atmosphere turns quiet and awe-inspiring as the sails are turned back to land. Prices vary upon charter selected. sailrockland.com
Charleston Harbor Sail
Charleston, South Carolina is the epitome of southern elegance and charm; historic plantations, patriotic monuments, rich historical culture, and streets lined with mossy oak trees. Guests can choose from shopping, dining, carriage and ghost tours, and expeditions in the Charleston Harbor.
The Schooner Pride is an 84-foot-tall ship setting sail daily for two-hour ventures bringing you a new perspective of the Charleston area. It was inspired by the 18th century trading schooners that once populated this destination. The sails are raised as the wind and tides take the vessel on a journey at its whim. Whether you choose the afternoon dolphin sail ($42/adult), the sunset sail ($54/adult), or the moonlight sail ($40/adult), adventure and excitement await with every gust of wind! schoonerpride.com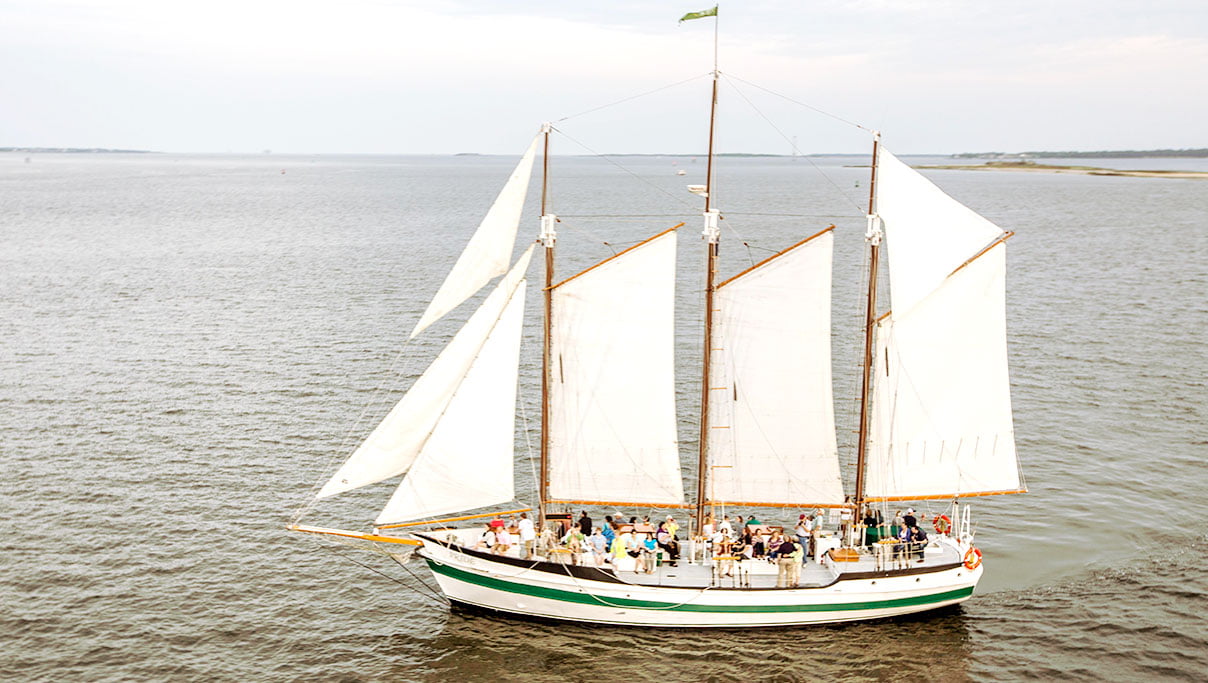 Sailing Vacations
Looking to get away on an extended outing? Take a peek at one of these sailing vacations aboard beautifully crafted vessels and set sail on a vacation you won't soon forget.
Sunsail
Sunsail offers skippered sailing vacations letting you be as hands-on or as laid-back as you want your vacation to be. Skippers are knowledgeable about the yacht and local area to ensure peace of mind. They also know the hottest spots to dine, play, and snorkel. Skippers are trained to be as visible or as discrete as needed depending upon your preference at the time. You can choose a short vacation of one-two days or a full week! Sunsail offers 25 destinations worldwide allowing you the freedom to explore many parts of the world by sea. Pricing depends upon location. sunsail.com/sailing-vacations/skippered-yacht-charter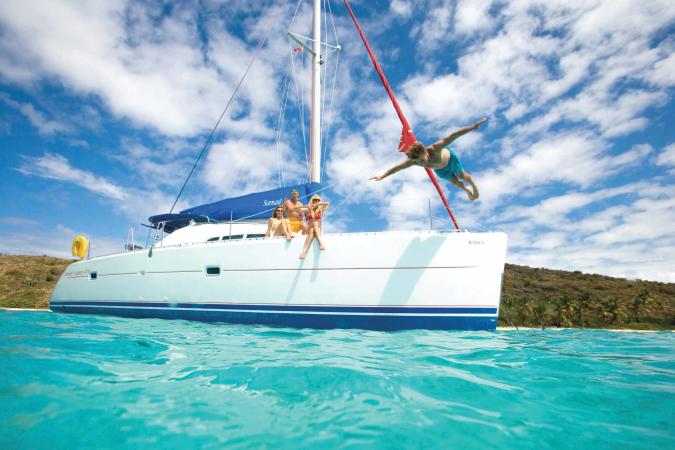 Sailing Ship Adventures
Sail away on what looks like a pirate ship for a getaway that's relaxing but also full of adventure. Sailing Ship Adventures is a hub for some of the world's top sailing tour companies giving you a chance to dive into sailing a massive ship. These routes can last anywhere from several days to several weeks. Crews are highly trained to tackle anything that may arise while instructing you on the ins and outs of sailing. Keep in mind that if you are looking to relax on deck with a mojito in hand, this may not be the best option for you. You will be submerged into the daily workings and teamwork of a true floating ship. But in doing so, you gain invaluable knowledge and explore the open seas of the world during a once-in-a-lifetime holiday. Pricing depends upon vessel and itinerary.  sailingshipadventures.com
Feature image credit: Danger Charters