Missing your love? Whether you're in a long-distance relationship, traveling for business or pleasure, or just non-stop missing each other during double shifts, it's time to put mind over matter. And here's the good news… there's relationship-friendly gear to help you do just that! When novel-length texts and marathon FaceTime chats grow stale, freshen things up with fun stuff that'll keep your love top of mind.
Message Box  
$50 | UncommonGoods.com
The art of love notes is alive and well… thanks to this beautiful pewter heart box. But since we've become accustomed to short and sweet ala text, you can keep loving communication going with just a short one-liner. Pen your message on a slip of paper (104 provided – one for ever week of the year for each partner), and slip it into the box for your lover to discover. Offering sweet nothings, words of encouragement and gratitude is as simple as that. My husband travels for business and I'd love to read a mini love note while he's away (so, um babe, if you're reading this blog… hint, hint – we need this)!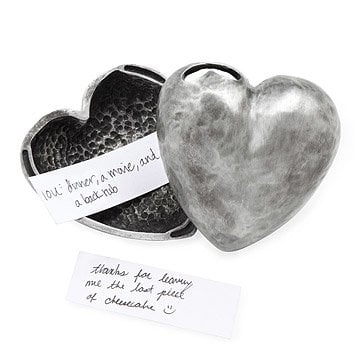 LoveBox  
$99 for one box or $190 for two boxes | en.lovebox.love
Real-life couple Marie Poulle and Jean Gregoire were living worlds apart in a long-distance relationship — she was in France and he was in the United States. They wanted to keep their love present so the pair developed a unique message system using an easy-to-use app. When a message arrives, the red heart on the beechwood box spins to alert the recipient and, then, when your love opens the "present," they're gifted with your sweet sentiment shown on a mirrored screen. Bonus: One can also return the virtual hug by spinning the heart to send, for example, digital hearts. The anticipation of opening a heartfelt gift box is definitely more romantic than swiping for an everyday text message!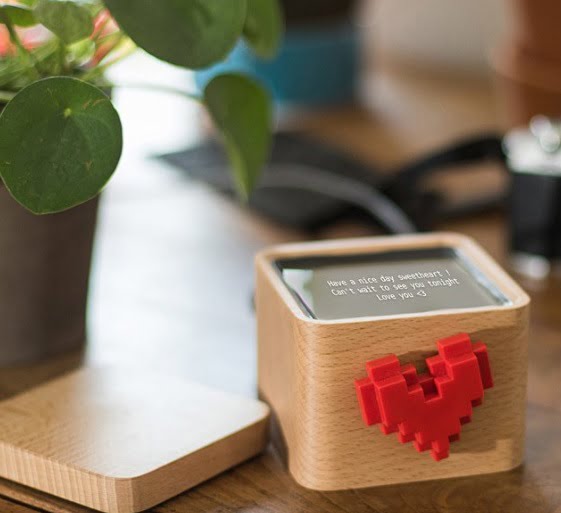 LoveBook  
$43 | lovebookonline.com
Your love story is unique and special. Need a little reminder of the charms of your twosome tale? Turn to LoveBook, a custom-made book that lists all the reasons why you love someone! When apart, you can just pick up your LoveBook and skim the pages of genuine emotion. Want to author this book for your lovely bookworm? Creators design the entire piece using the LoveBook design database to match personalized 'reasons why' with cute illustrations.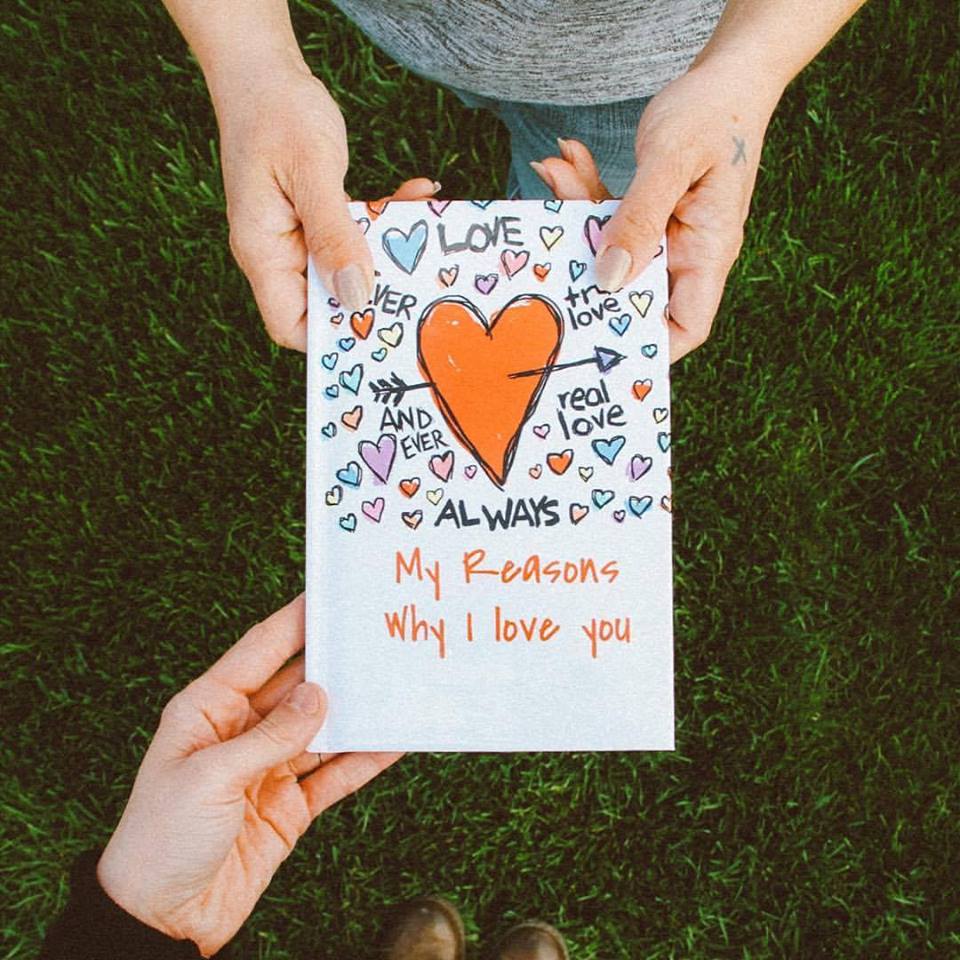 Long-Distance Love Letter Kit  
$25 | OpenWhenGifts on Etsy
Does "absence make the heart grow fonder?" Perhaps… but it's still REALLY hard. This long-distance love letter kit invites you to share life's moments despite the miles in between. How? Well, first, pick a kit to suit your needs (some specific themes are available, such as military deployment). Then, fill out each card according to its prompt, add a complimentary item if applicable, note when each letter should be opened (like 'If you need a laugh' or 'If you need a reminder of how I feel') and send! This isn't a lame pen pal task… it's a modern relationship builder using well-intentioned love letters.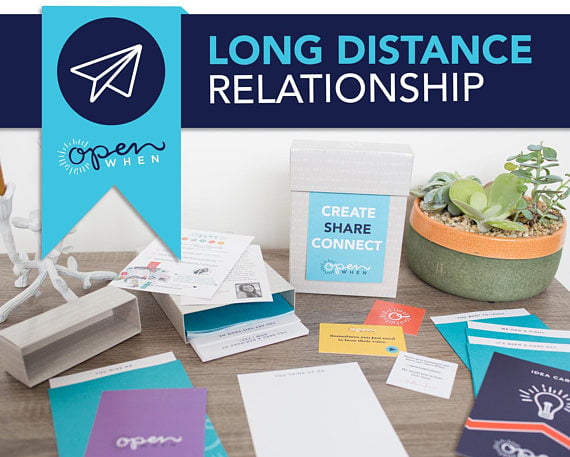 Love Tokens
$ 8.65 | StampingStreet on Etsy
Want to give your love something extra special that can't exactly be wrapped in a box? Love Tokens are basically tangible placeholders for promises to your partner. They can be sweet or spicy! For example, if you're feeling guilty about that silly fight, leave your love the "blame token, win an argument." This small 'I'm sorry' gesture could definitely get you out of the doghouse. Or, if you want to add a little anticipation to your foreplay and blow the mind of your partner, leave behind a token for a lovely love act.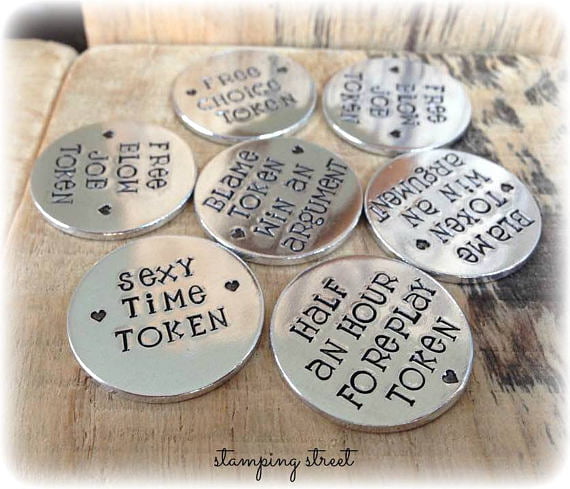 Couple App  
Free | Couple.me  
Have you ever accidentally texted the wrong person? I have! Thankfully, the mistaken message wasn't a sext but I was still embarrassed that someone other than my partner read my private couple's chatter. The Couple app boasts itself as the app for two that keeps all "special moments saved privately in one place and connects you to the most important person in your life for the most private messaging experience." It features a timeline to build a shared history, real-time messaging (videos, voice messages and photo), private/temporary pictures (kind of SnapChat-like), sketches, audio/video calls and shared to-do lists and calendars.

Wish Bracelets
$10.99 | LovelyDawn on Etsy
If wishing on a lucky star seems like a far-out concept, try something more tangible. This set of matching bracelets encourages couples to make a meaningful wish… perhaps a shared wish. When your bracelet falls off, your wish may come true. Talk about a heartfelt fashion statement! Choose your bracelet size, color and card message.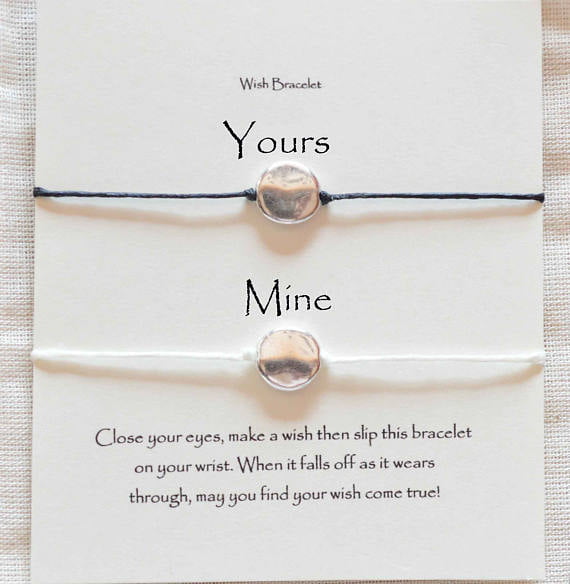 Love Socks
$14.99 | AndONNESocks on Etsy
You make the perfect pair so why not have a little fun with the perfect pair of socks? Consider this a sweeter version of 'what's under that dress' or 'what's under that trench coat?' Get a leg up on kicking missing your love to the curb just by lifting up your pant leg! I'm totally sneaking a personalized pair of these love socks into my husband's suitcase for his next trip.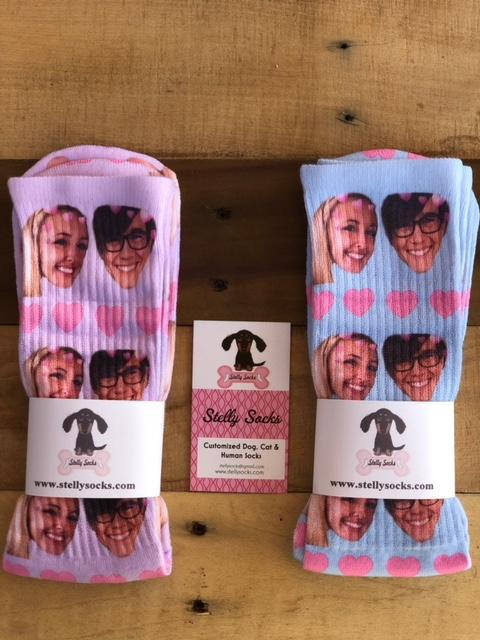 Key Ring
$16.95 | AGiftFromAtlantaLane on Etsy
You hold the keys to one another's hearts, right? Check out this matching key ring set that creates a perfect heart when placed together… oh, how sweet! Quite simply: You need each other to be complete. The maker says the charms are made of aluminum which is hypoallergenic for sensitive skin, lightweight and durable.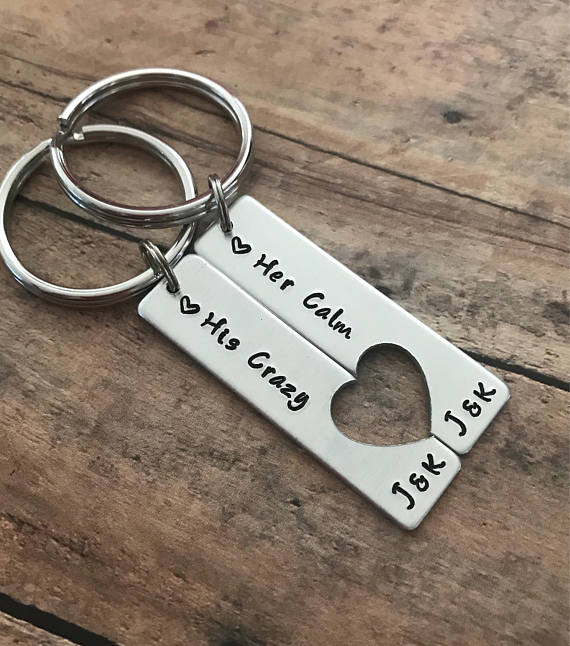 Feature image credit: https://couple.me/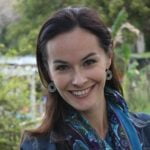 Nancy DeVault is the managing editor of Date Night Guide and a contributor to publications such as Babble, AmeriDisability Services Magazine and Orlando Magazine. She enjoys outdoor adventures with her husband and toddler.