There is nothing quite like date night to allow us to focus one-on-one with our partner. Every now and then though, it's fun to get together with a group of friends, and we think hosting a murder mystery party is a devilishly fun way to throw a shindig. Yes, you could go to a dinner theater where actors play the part and you're entertained as you dine. But why not put yourself into the middle of the action by playing a part in the mystery yourselves? Here's how to host a slam dunk night:
Pick the perfect storyline
You'll want to have an idea of your guest list when choosing your party kit. Picking the perfect theme will depend a lot on the type of people attending and the size of your group. You'll want to invite attendees who really want to participate in the evening. There's nothing worse than a Debbie Downer over in the corner who refuses to play their part.
Each kit includes a background of the murder which can occur during the party or before the evening begins. You will have a set number of characters so be sure you align your group size accordingly. The host will have a guide included to help ensure everything runs smoothly. The guide is full of tips and suggestions to make the most of your scandalous evening.
A quick Amazon search gives you over 100 options. Or you can check out the Mystery Night App (shown in the feature image) where you can download freeform murder mystery games. Players receive a link to a Web App that replaces boxed and printable games by allowing players to easily access game information and even transfer game money through their mobile devices. You can also order kits on Etsy.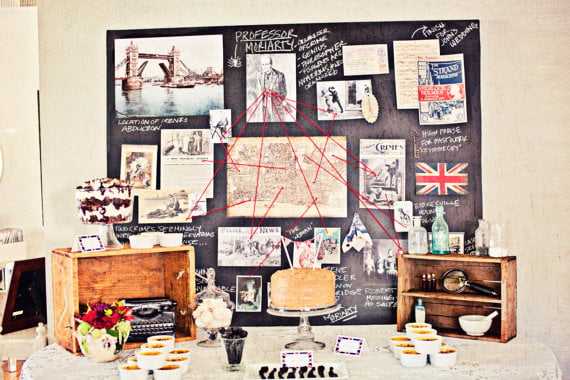 Choose the scene of the crime
Most groups decide to have the party at someone's home. It's intimate and more comfortable allowing guests to really let loose and get into their character. You could also rent a space, say a quaint bed and breakfast or known haunted mansion. A party bus, city recreation hall, or a restaurant's private dining area would all work too. You decide what fits in your budget and attendees.  
Create intrigue and suspicion with invitations and characters
Each guest will receive an invitation and character booklet with their costume suggestions, character history, and clues to scatter in conversation throughout the evening. This is a great way to pump up your invitees with excitement for the big night. The more your guests get into character, the more everyone will have a good time. Have fun with this! You can assign roles that closely match each person or give them a character with a polar opposite personality. It is imperative guests RSVP though. If you have someone absent, it's almost guaranteed major pieces of the puzzle will be missing.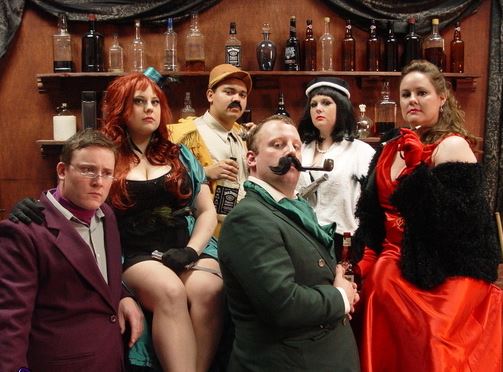 Pick your poison and set the scene
Mysteries are done in three rounds (usually) and last two to three hours, which gives lots of time to serve food. You can serve hors d'oeuvres each round, have a formal dinner, or have an appetizer round, dinner round, and dessert round. I've done both a formal dinner and the traditional three-course meal. The traditional way with an app, entree, and dessert usually functions best…unless you have wait staff arranged for a formal dinner.
Many party kits come with dinner suggestions and recipes but that doesn't mean you have to follow them. You can get as creative as you'd like. If your mystery kit doesn't come with food ideas, look for recipes like a death cocktail or death by chocolate cake, etc… As the host, you can also decide to handle all of the food preparation yourself or suggest a potluck style dinner where each guest brings an item or course.
Next, you'll be encouraged to decorate to set the scene. It could be as simple as candelabras around the main room with some spider webs for an old manor setting. Some hay, cowboy boots, cowboy hats or wooden signs if the party takes place in the Wild West. Use what you have around already and if you must purchase items, check out the local thrift store. A few kits make this part really easy and come with decorations included. Be prepared to pay a higher price for those. And of course, don't forget the background music or the perfect Spotify playlist!
Lights, camera, action!
Kits can vary slightly with key clues being handed out at the intermission of each round or included in the character booklets. Rounds one and two are the fact-finding rounds. Sometimes forensic evidence is uncovered throughout these rounds. During each round, characters are told what clues to give at what time. There are usually responses to specific questions another character may ask you as well. For example: when Ms. Daniels asks why you were in the cellar tell her you were grabbing the reserve wine. It's not completely scripted though so be ready to improvise. Each character will want to pay attention to clues given, as well as pay attention to surroundings. This is the time to play investigator as if you were the real Sherlock Holmes!
The final round is the accusation round where each player has the opportunity to deduce their clues and say who they think committed the crime. The murderer will then confess at the finale of the game. If you choose, you can give away prizes for those who guessed the killer correctly, had the best costume, or played the best character.  
Be a great host
As the host, remember that your job is to direct your guests and keep the "game" moving at a steady and enjoyable pace. You don't want to rush but don't linger too long on a round either. You want everyone to have fun. It is a party after all. Play up your character and others will follow suit.
Murder mystery dinners are guaranteed to be a great time for all involved. You can expect fresh memories to be made with friends, both new and old. You'll find that these parties are an excellent way to bring everyone together for a good time and see an unfamiliar side to those familiar faces.
Have you hosted a murder mystery dinner party? Add your tips in the comments section below!