Tap into your childlike spirit and bust out the board games for a fun and flirty date night spent at home. But instead of following along with the regular rules of play, why not put a sinful spin on an old favorite to help you turn up the heat on date night with one these clever variations.
Shake Up Your Scrabble Scene
Dust off the old scrabble board and try playing by a new set of rules. Start by adding a time limit to your turns to keep the night moving along as a racy pace. In this version of speed scrabble players only have 30 seconds to make their move. Or add an interesting twist with this variation by etherwork.org that features enhanced scoring, the option to swap tiles at any time, and eliminates the need to wait your turn. Say what! Check out over a dozen more variations to the classic game here:
Get Sweet On Scattegories
Word lovers rejoice. In this adorable adaptation of Scattegories created by Maggie over at Love Nerd, couples can spend an evening reminiscing and reconnecting with these categories that focus on your relationship and what you love about each other. You can download and print this date night version and use it with your existing die or use the handy printouts to cut out your own letters to draw for each round.
J…J…J…Jenga
Take the beloved game of balancing wooden blocks to the next level with a mini makeover by adding creative quips and questions to your blocks. Use these free printables created by the Dating Divas in this truth or dare version or customize your own with quirky questions or actions for each player to partake in. Players then take turns removing one block at a time and react to the scenarios on the block. It adds a whole other layer of entertainment to this classic game that can be as naughty or nice as you like.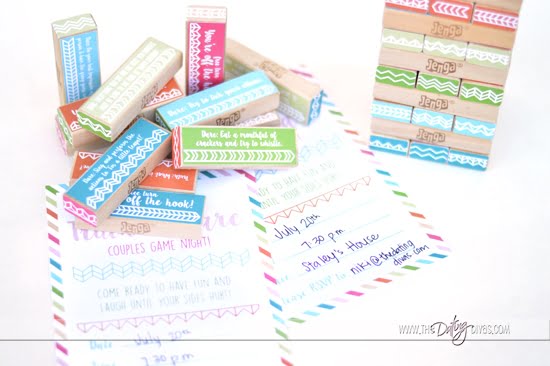 Twister with Your Mister
Playing Twister as grown ups can be a hilarious challenge for any couple, but why not take it to the next level. Add some action (wink, wink) and adventure to your weekly game night ritual with this fun alternative. Simple add big blobs of tinted whipped cream (or shaving cream) to the game circles on your playing mat and you'll be slipping and sliding your way to some side splitting action in no time. While this version is a messy one, a shared shower seems like a logical way to end the evening.
Ask And You Shall Receive
Turn this inquisitive game of Q & A that poses "this or that" scenarios for each player to respond to, on its head. Since there's no equipment needed you can play just about anywhere. Simply take turns asking the questions and stating your preferences to learn a whole lot more about your love. The roundups put together by Find Love and Tonight's Better Together are particularly appealing, but feel free to invent your own and use this as an opportunity to explore a side of your significant other you might not know about.
Show 'Em Your Poker Face
Whether you know when to hold 'em, know when to fold 'em or have no clue what I'm talking about, Poker is an age-old game everyone should try at least once. And if you're willing to give it a whirl from behind closed doors, you can add an extra element of fun as each losing hand adds up to a lost piece of clothing for you or your playing partner. These printable playing instructions for the classic Texas Hold 'Em along with scoring cheat sheets and paper poker chips are a guaranteed ace up your sleeve for your next date night.