Here's a way to really get to know someone: Lock yourself in a room with that person and try to escape.
That's basically the concept of the escape room, the immersive adventure game where up to 10 players work together to solve puzzles and get out of the locked room.
The first escape room opened in Japan in the mid-2000s, and the concept eventually spread to the United States. Escape rooms are now a global phenomenon with more than 2,800 escape rooms worldwide.
Often set in a fictional location, the timed adventure – typically an hour – has players solve a mixture of math problems, word quizzes and critical thinking tests. Think of it as a real-life video game, only there are no power-ups or cheat codes. Most escape games cost between $25 – $30 per person.
For couples, it's the perfect way to get to know each other's problem-solving abilities and how each of you handles stress. Escape rooms are also a great way to test a couple's compatibility, because if you can't work together for an hour, chances are you may not want to be locked into a lifetime relationship.
Escape Rooms We Love
The Escape Game (Orlando, FL)
Do you want to go to Mars, an art museum, a gold mine or a prison? Players at The Escape Game can do all four. The attraction on International Drive in the heart of Orlando's tourism district gives players the opportunity to solve puzzles in a variety of exotic settings without leaving Central Florida.
Mission Escape Games (New York, NY)
There's a killer on the loose and you must escape or become the next victim. For the brave couples out there, this Manhattan-based escape room offers a must-try, horror-themed adventure. To add even more fright, the entire game is played in the dark with flashlights.
Escapology (multiple locations)
Sleuth your way out of creatively designed spaces at 10 different Escapology locations, including Orlando, FL, Las Vegas, NV, Cincinnati, OH and Austin, TX. These live escape games offer a wide range of themed experiences, including one designed to challenge your ability to free yourself from the 800-ton Chinese ship you've been shanghaied on.
Escape the Room (Detroit, MI)
Deep underground is a mystery and your team has been summoned to solve it. The Dig is one of two adventures at this downtown Detroit escape room. The other game, The Agency, is a top-secret mission that has a FBI vibe.
Mission: Escape Atlanta (Atlanta, GA)
Fans of the board game Clue may get a kick out of Mission: Escape Atlanta's escape room called The Study. A team of up to 10 detectives must steal back a coveted jewel that's been taken from the British Royal Family. You have 60 minutes before a billionaire playboy mastermind returns and catches you. Good luck!
Ultimate Escape Game (Dallas) – This Texas-based escape game claims it will "stimulate the mind and awaken your inner detective in a mind-bending time challenge." Be sure to try Amnesia, a game set in a 1950's mental hospital where players discover the truth behind an amnesic patient's mysterious past.
Ninja Escape (Seattle)
You're a ninja in this one. 'Nuff said.
Escape Works Denver (Denver)
Sports fans will like The Big Game at this Mile-High escape room attraction. In the football-themed game, you are the star quarterback and the opposing team has locked you in the coach's office. There's 60 minutes until the championship game. Can you escape before kickoff?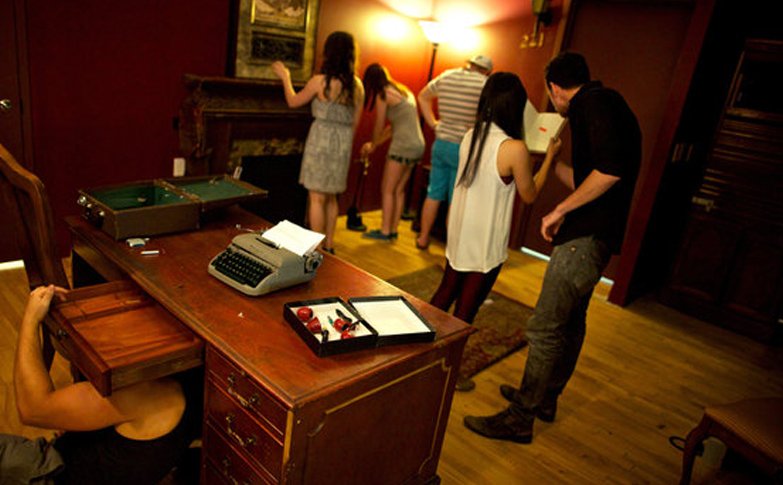 Alcatraz Escape Game (Salt Lake City)
Get on the bus, Gus. No, really, because Alcatraz Escape Game's Prison Bus Escape actually takes place on a real bus. (Don't worry, it's not moving) Set in 1934, you and your crew must escape the bus taking you to Alcatraz. And if you don't get off, you'll have to spend the rest of your life inside history's most notorious prison.
PanIQ Room (San Francisco)
If you think you have a terrible boss, chances are the boss in PanIQ Room's escape game Geek is worse. In the game, your boss isn't satisfied how things are going at your startup company. He's decided to rig the office with explosives. Get out or you'll be terminated…. permanently!
Mastermind Escape Room (St. Louis)
Get in the holiday spirit at Mastermind Escape Room's Elf Escape. In this game your team needs to work together and find the Christmas spirit to power Santa's sleigh. And if you can't find the spirit, no toys will be delivered on Christmas. You don't want to ruin Christmas, do you? DO YOU?