When you think of Walt Disney World in Orlando, your first thought is not normally date night, right? So, you might be surprised that an adult day at Disney can lead right into a magical date night within the parks! I spent an entire multi-park day locating secret romantic spots where children do not normally venture. But admittedly, most of the "adult" spots included a kid or two. However, each spot I found offers up something truly unique for couples.
Disney's Animal Kingdom
Nomad Lounge
This is a perfect Disney in-park date spot because of the many thoughtful details. First, I am in love with the wraparound patio filled with couches (yes, couches!) and chairs. Next, the menu is a travel log similar to the menu at Jock Lindsay's Hangar Bar at Disney Springs — an interesting touch. Throughout the menu, you'll find notes from Imagineers about their travels while doing research for Disney's Animal Kingdom. But what absolutely makes this the ultimate date spot are the questions peppered all over the walls probing you to think and talk about your own travels with your date. Bonus: Write your own travel story on a tag to hang from the chandelier above the bar!

Also try: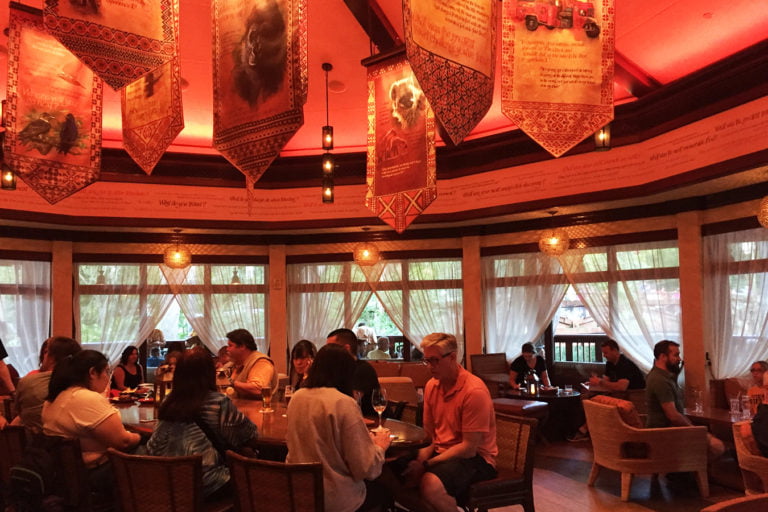 Disney's Hollywood Studios
BaseLine Tap House (NEW!)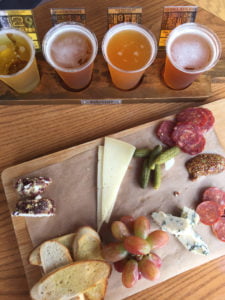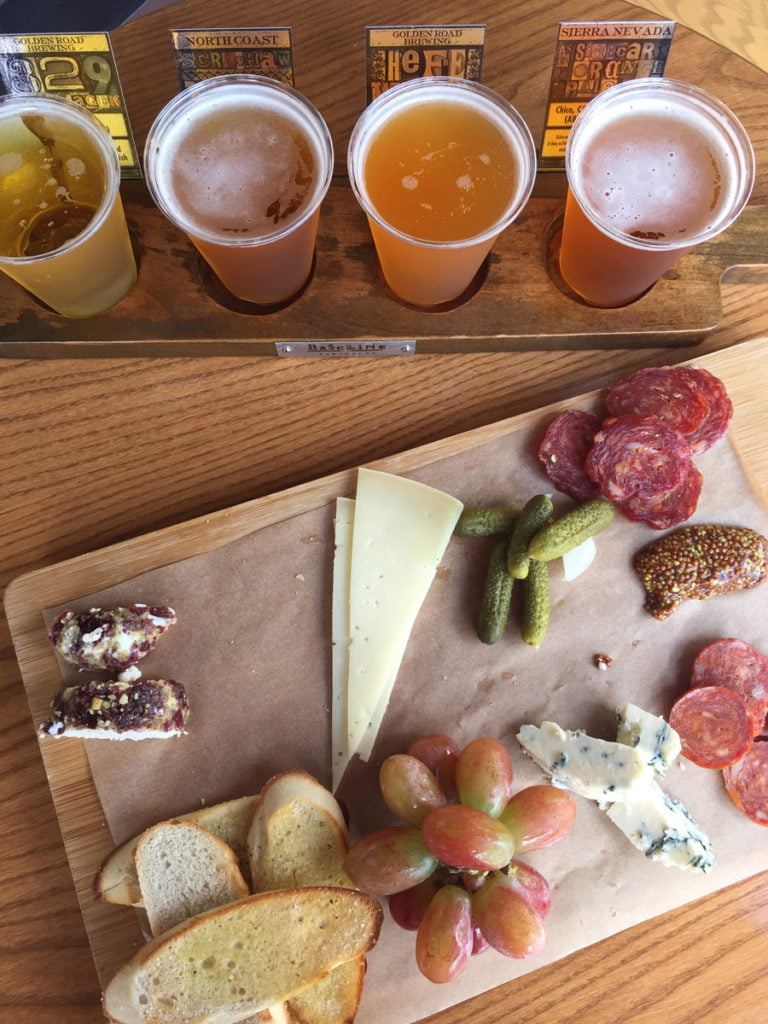 Being the beer lover I am, this was my favorite stop of the entire day. All of the beer, wine, cocktails and food are from or inspired by the state of California. I chose to have a beer flight and a charcuterie board. Then, I sat outside and shared a picnic table with, ironically, a mother and her small child. The atmosphere was very lively and there was a line out the door. I easily could have spent most of my day there without even realizing I was at Disney! Even the prices seemed similar to what I would find outside of the park. BaseLine is one of the first places to open with the new renovations of the park.
Tune In Lounge
While the 50's theming in this restaurant is on point, I have to admit, when I walked in I almost walked right back out. This lounge is located right beside the 50's Prime Time Café and serves as its waiting area, so it was packed! However, once I was seated at the bar, the chaos behind me disappeared. I ordered the featured cocktail, Dad's Electric Lemonade, which comes with Disney's contribution to "adult fun" – a souvenir glow cube. Then I struck up a conversation with the couple beside me, who happen to be regulars and were visiting from Vermont. When I asked what brings them to this particular bar every time, they simply said "the cast members."
Also try:
Epcot has a nearly endless supply of bars and restaurants, but a select few will give you the date night feel with few kids in sight.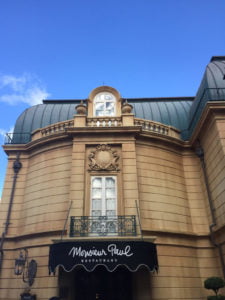 Monsieur Paul is so exclusive that I had never realized this was a dining option until I went on my recent Disney exploration day. Newly renovated and open only for dinner, you can find the entrance on the backside of Les Chefs de France. The fine dining restaurant is actually on the second floor overlooking the World Showcase promenade, which will give you a romantic view for dinner. You have the option of an entrée or a "pre-fixe" menu including an appetizer, main course and dessert. This is one of the few in-park dining options that has a dress code. Reservations are highly recommended.
Tutto Gusto Wine Cellar
The wine cellar has become a staple for my Epcot visits since it opened five years ago because I love the atmosphere. It is dimly lit and has a rustic, cellar feel. The people's lively voices echoing throughout make it come alive. On my most recent visit, I chose to stand at the bar instead of grabbing a table. They have an extensive Italian wine list (including red and white wine flights), in addition to beer and liquor. There are also small bites of the Italian variety. While I would not consider this a quiet spot, it is definitely a great way to escape the heat and the kids (I did not glimpse one while inside!).
Pro Tip: Venture off the main walkway to explore each of the countries in the World Showcase. You never know where you might find a quiet spot to continue your date night conversation.
Also try: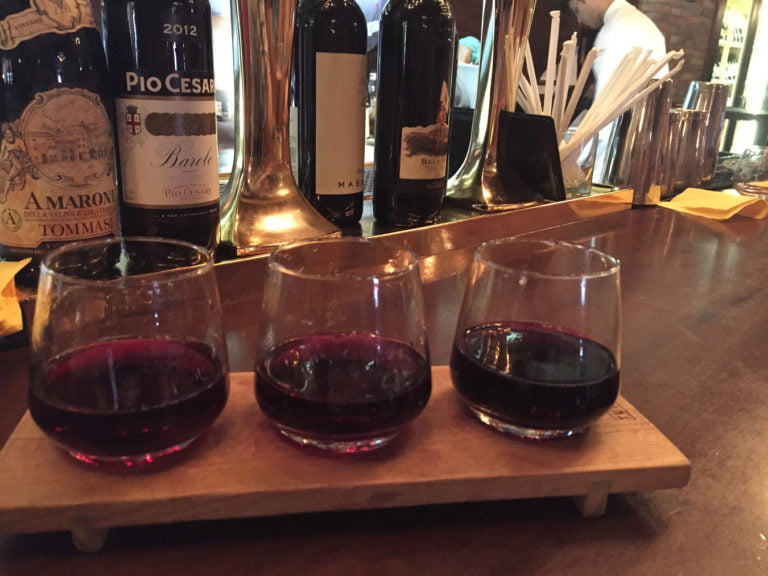 Magic Kingdom
While this park is much busier and offers limited adults-only options, there are still two quintessential date night experiences couples can enjoy. Please note: Reservations can be made months in advance and are highly recommended for both of these experiences.
Be Our Guest Restaurant
Whenever I make dining recommendations for Magic Kingdom, dinner at Be Our Guest is top of my list. From the snow falling outside to the rose folded napkin at your place, everything about this spot is truly magical. For the most romantic experience, I would suggest sitting in the West Wing or by the window in the Grand Ballroom. The French cuisine served is some of the best food I have had on the resort property. This is one of the few places in the park where you can drink alcohol with your meal. Finally, definitely do not leave without trying dessert – The "Grey Stuff" really is delicious!
Fireworks Dessert Party at Tomorrowland Terrace
If you feel like splurging, this is a must! You can enjoy endless desserts and drinks for one hour before the fireworks start. All the desserts are miniature, so you'll definitely have room for several different types. Two dessert options that caught my eye are the ice cream sundaes and create-your-own cookie station. They also offer fruit and cheese to counteract all the sweets (but really, who needs that?), and champagne flutes of sparkling cider. Included with the price is coveted seating for the fireworks on the terrace. If you would like a cheaper option, minus the seating, you may book the dessert party with Plaza Garden viewing.