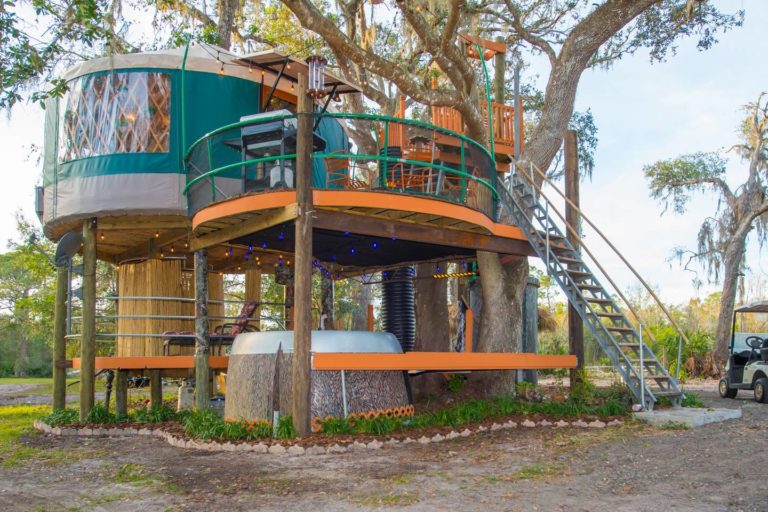 There are certain times in our lives when we want to journey to new territory and really splurge on a way to connect with our loved one. Whether it be an annual vacation, anniversary or birthday celebration, honeymoon, babymoon, or just to show someone how special they are to you, we've found several top Airbnb rentals for your next opportunity to vacation, unwind, and explore unique spaces across the country. Check out these extraordinary digs to enjoy on your next night away. And be sure to let us in on any others you know about!
YURT
Danville Yurt – Geneva, Florida
Venture out of the ordinary and mellow out in a yurt; a tent-like, cylindrical domicile. Think camping in style! While rooming in this romantic setting, you'll be able to enjoy A/C, a comfy king-size bed, mini kitchen, full bathroom, living room area, large patio deck, grill, and more than enough options for outdoor seating. Mingle with owners Dan and Deborah during the daily happy hour in O'Shaw's Pub located in downtown Danville. The "downtown" area is hidden inside the main building. When the wall of the building opens, you will find yourself immersed among shop facades on a main street.
Spend your day meandering throughout the beautiful hiking trails or try your hand at a Segway as you take in the scenic views at no additional cost. Brush up on your sharpshooting skills on the firing range. Dan requests that you bring your own ammunition or reimburse for what is used. Pitch in for fuel and take flight in Dan's Cessna for a bird's eye view.  At night, lay tangled with your beloved as you both gaze through the yurt skylight adorned with icicle lights.There is also a man cave apartment sheltered in an airplane hanger, Inn with master suite, parlor, and kitchen, and a tree house available on the property for booking.
The yurt starts at $90/night plus taxes and fees. Rates may be higher on weekends. Be sure to bring cash for any activities you would like to participate in. Photo shown in feature image. 
TREEHOUSE
Mountaintop Treehouse – Asheville, North Carolina
Secluded in the treetops of the Asheville mountains is a quaint home inviting all guests to devour the sights of beautiful elevated views. While this retreat feels as though it is a world away from city life, you are only a ten minute drive from the bustling downtown activity. In this "home away from home," you'll enjoy a living area, kitchen, upstairs "love nest," bathroom, outdoor seating, locally sourced goods, fire pit and outdoor electric grill. 
From visiting America's castle, The Biltmore Estate, to shopping local goods, trying innovative beer flavors, listening to homegrown music, and enjoying native artists, there will be more than enough activities to keep you busy. You also won't want to miss the artistic culinary scene happening in this popular destination. Be sure to check out Asheville Date Night Guide for ideas on vacationing like a local! 
Those who prefer to linger with their love indoors, the mounted television features Netflix and Amazon Fire. Crank up the bluetooth speaker with music and have a dance party for two. Create your own gourmet meal as a couple in the fully equipped kitchen.
Rates for the treehouse vary depending upon season and day of the week.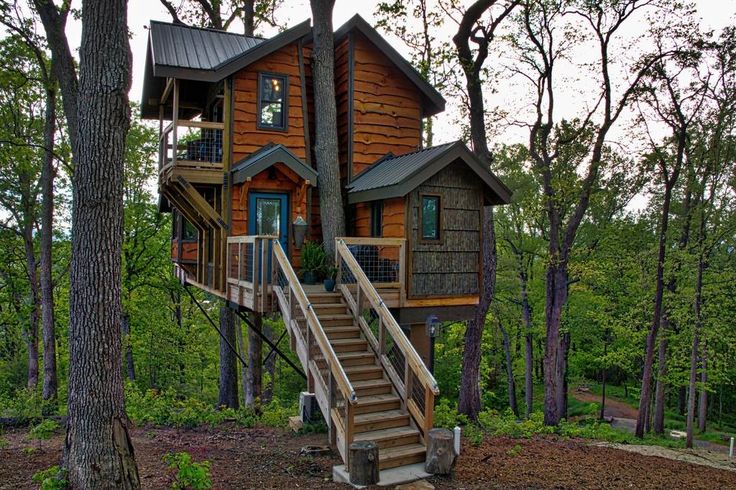 PRIVATE ISLAND
Old House Cay Private Island – Hilton Head Island, South Carolina
Spend your holiday like a celebrity on a set of three interconnecting private islands off of Hilton Head. This spacious and luxurious two bedroom home will allow you to prop up your feet while taking in the rejuvenating salty air. The home is solar powered giving you that off-grid feeling. Don't worry though, your phone will still get signal and wireless internet is available for guests to use during their stay. Since the islands are accessible by boat only, prior arrangements will be made with the owners to taxi you the short ten minute ride to the dock for check in and check out and assist you with settling in. While owners Sarah and Bill do not allow usage of their boat, they do have information on boat rentals in the area.
Scout the intercoastal waterway and neighboring marsh by boat or kayak and stop along the way for sport fishing. Climb to the top of the house to digest 360 degree views from the crow's nest. Meander your way along the boardwalk that takes you to the second and third islands, one of which is equipped with a three story viewing tower. Be sure you take time to find the many seating areas located on the islands. You won't want to miss the sunset views over the water!
Rates are $500/night plus taxes and fees.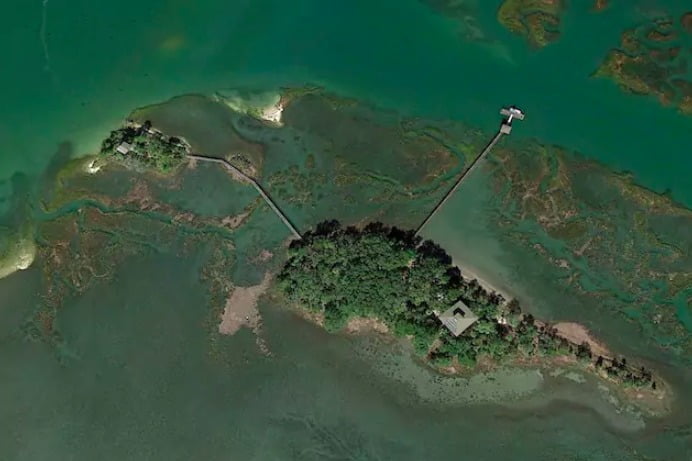 HOUSEBOAT
Lake Lanier Houseboat – Flowery Branch, Georgia
Lake Lanier is not only Georgia's largest lake, it also has a convenient location. Within a short drive, visitors can enjoy the hustle and bustle of all that Atlanta has to offer, take a hike on an Appalachian Trail, sit and sip at a north Georgia winery, or stop in at the neighboring towns of Helen and Dahlonega. Anchor your stay at a three-story houseboat floating atop calm waters on its own private dock, featuring  bedrooms on the upper level, the living and kitchen areas on the main floor, and a master suite on the lower level.
Crank up your favorite tunes and dance away on the rooftop deck. When you're ready to take a dip, jump off the diving board or glide down one of two slides and plunge into the refreshing water below. The boat stays anchored at the dock but there are floats and water toys for guests to use at their leisure. With heating and air conditioning, you'll be comfortable indoors no matter the season outdoors.
It's $275/night plus taxes and fees to laze around this aquatic abode.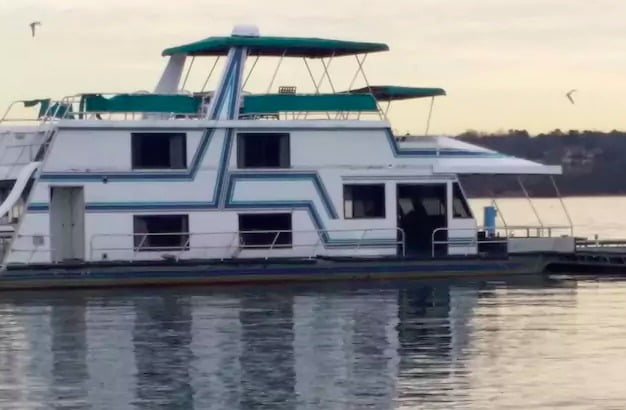 FARM
Big Picture Farms – Townshend, Vermont
Nestled in the hills of southern Vermont sits a charming farmhouse on Big Picture Farms. This is a working family farm that is home to dairy goats, bees, pigs, laying hens, and gardens. The farmhouse is equipped with 8.5 bedrooms, 5.5 bathrooms, four fireplaces for prime snuggling, state-of-the-art appliances in the kitchen to create culinary cuisines, and a large back deck for sunset nature shows. If you would prefer to have a more modest stay, owners Louisa and Lucas would be more than happy to isolate part of the house for you.
With 100 acres to explore, you won't find a dull moment during your stay. Guests are invited to hike around the property to search for adventure or respite. During the winter, you'll find a plethora of cross-country ski and snow-shoe trails without ever leaving the premises. Schedule a tour in advance of the barn and creamery where tasty cheese and confection creations are brought to life. Don't forget to arrange a picture-perfect cocktail hour in the pasture during the early evening.
The farmhouse is $500/night during the week and $700/night on the weekends plus taxes and fees.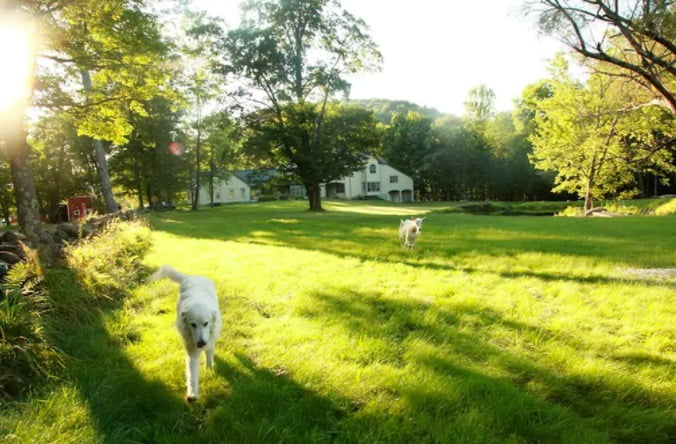 VINEYARD
MoniClaire Vineyards – Healdsburg, California
The family winery, MoniClaire Vineyards, invites guests to vacation in the heart of wine country above the wine tasting room. The space offers two bedrooms, one bathroom, and picturesque views of the rolling vineyards just outside. A complimentary bottle of an estate wine is included with every stay along with private outdoor areas and a refreshing pool to cool down on a hot day. When you decide to embark upon an expedition off property, you'll discover several wineries nearby to rest, relish, and ramble.
When the winery is booked for stays, wine tastings are held at another location on the property. Rest assured you will have complete privacy during your escape. Jeffrey stayed at the vineyard earlier this year and said, "Amazing experience in a beautiful boutique winery with gracious hosts that make very delicious wine to taste and share. Highly recommend for anyone interested in a unique, personal, and intimate wine-land adventure."
Rates vary upon the season.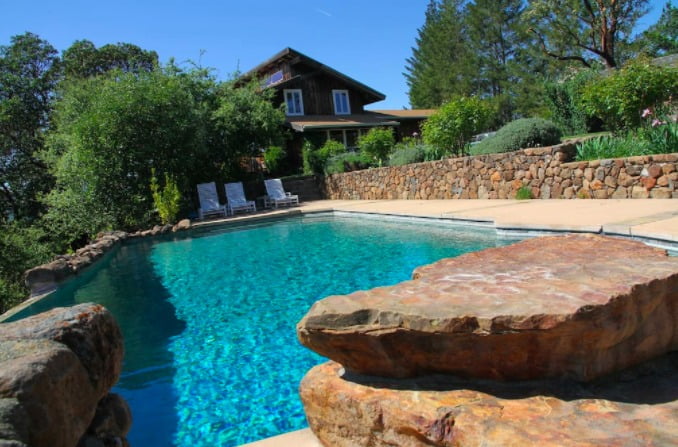 HOUDINI ESTATE
The Houdini Estate – Los Angeles, California
Spend your next long weekend in a cryptic setting filled with mystery and magic. The Houdini Estate is said to be the former home of magician Harry Houdini. Sitting on five acres, this space is filled with sprawling lawns, terraced gardens, fanciful gazebos, hidden tunnels, and concealed caves. There is also a deep-water tank on site that Houdini supposedly used to practice his grand underwater escapes. You'll have an outdoor spa and fireplaces, patios for grilling, and heated pool at your fingertips. Inside, the home is filled with carved stone, stunning tile and woodworking, adorning art and beauty everywhere you look.
Being only a few minutes from Beverly Hills, Sunset Strip, and Universal City, you won't lack for things to do. If you prefer to spend your entire recess close by, you'll discover hiking trails to reconnect with nature and your sweetheart. This home is eclectic and brimming with luxury. As an added perk, fido is welcome to room with you on the premises.
Rates are $1,500/night Monday-Thursday and $2,000/night Friday-Sunday. Taxes and fees are not included in the base rates.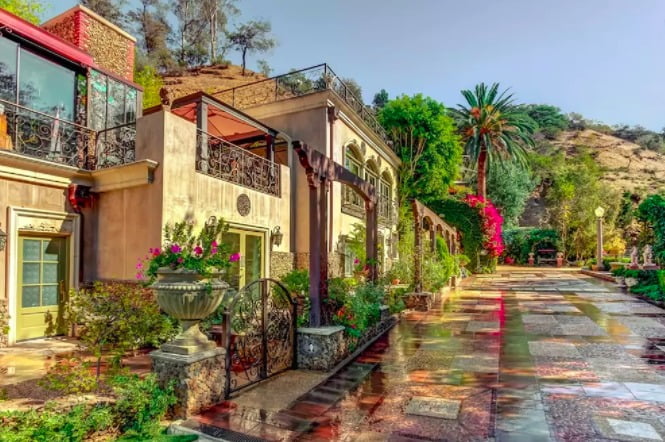 FRANK LLOYD-WRIGHT HOME
Still Bend – Two Rivers, Wisconsin
Frank Lloyd Wright is a well-known American architect who believed structures should harmonize with not only humanity but also the environment. Still Bend is one of Wright's designs featured in LIFE Magazine in 1938. Guests are able to experience each detail of the home as was intended by Wright when staying at this unique dwelling. With the panoramic floor to ceiling windows, you'll have stunning sunrises and sunsets to glimpse at while watching nature just outside.   
Two Rivers is a quintessential American fishing town that is sure to leave you refreshed. Visitors can walk to the docks for freshly caught fish, listen to a band in the town square, and meander through one of the many museums in this historic, small town. Back at the house, you'll have abundant choices of yard games for friendly competition on the large lawn, a private dock for fishing, and any other essentials you can think of. There is no air conditioning in the home as it is 78 years old, however, the climate is mild during the warmer months. Should it get too warm, fans are available. Nature enthusiasts will appreciate every inch of this stunning setup.
Rates vary depending on season.